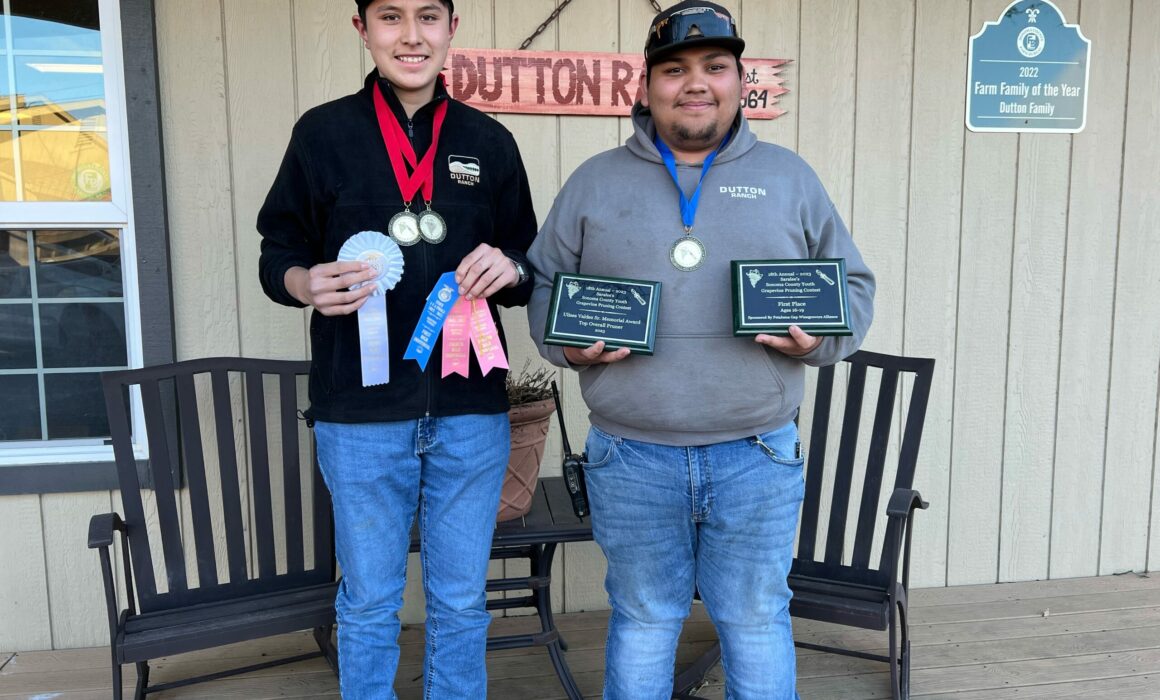 The long legacy of farming in Sonoma County only continues if there are farmers. A lot of kids that grow up around agriculture opt out of following in their parents' footsteps. 
But not Gabe DeLoza Sanchez and Jesus (Chuy) Martinez Diaz, whose fathers both work at Dutton Ranch. Gabe, 18, and Chuy, 15, are all in. 
Gabe's father, also named Gabriel, has worked with the Dutton family for 25 years. He is a foreman on the apple side of the business, having taken over for a foreman that worked previously for the family for 53 years. 
Chuy's father is a supervisor at Dutton and has been there 12 years. A former Sonoma County Vineyard Employee of the Month, his dad is currently a member of the Leadership Academy, a professional development program for vineyard employees run by the Sonoma County Grape Growers Foundation, newly named Fundación de la Voz de los Viñedos. 
Both boys attend Analy High School in Sebastopol where they take viticulture classes and participate in Future Farmers of America (FFA).  
Twice a week that includes hands-on learning in the one-acre vineyard planted by the Russian River Valley Winegrowers at El Molino High School, which the Duttons farm. This is where both Gabe and Chuy have honed the skills they first learned from their dads to become championship pruners. 
The 18th Annual Saralee McClelland Kunde Memorial Sonoma County Youth Pruning Contest and Viticulture Challenge took place on January 29, 2023 at Santa Rosa Junior College Shone Farm. Open to all Sonoma County youth, including high school viticulture students, 4-H and FFA members, the contest is broken into age brackets beginning at ages 9-10 and up to 16-19. Pruning is judged on time and quality, with a separate quiz on viticulture. 
Members of the Sebastopol FFA vine pruning team came in first place at the Sonoma County contest, with Gabe named champion overall pruner and received the Ulises Valdez Sr. Memorial Award, Champion Senior Division and 1st place in the 16-19 age division. Chuy won 2nd in pruning in the 14-15 age division and 2nd in the Viticulture Challenge quiz. 
The team then finished third overall in grapevine pruning at the California FFA Mid-Winter State Finals on February 4, 2023 at Fresno State University. Chuy also won third highest overall, first in Cordon Table Grapes and 4th in both Cane Raisin and Cordon Wine categories. 
Asked what it takes to be so good, Gabe answers it's about decision-making skills. 
"You have to think about future years when you think about your cut," he says. 
These kids have grown up on Dutton Ranch, where they both live with their families, and around agriculture. They've both gone out into the field with their fathers and like the work.  
At age 14 both Gabe and Chuy were offered part-time jobs at Dutton, working during the summer and weekends to clean trucks, cars and keep the shop tidy, and will have full-time careers in agriculture waiting for them if that's what they want.  
Gabe, since he's turned 18, is able to get on the tractor and has started learning about mowing. He plans to attend Santa Rosa Junior College next year to add welding and mechanical knowledge to his skill set. 
Chuy, who is an officer with FFA, is eager to learn more leadership skills to make the future better. He's concerned about fossil fuels for one thing. He also hopes to mentor his younger siblings, three sisters and a brother, who he hopes one day may also take an interest in agriculture. 
Gabe says that they've both learned from an early age about having a good work ethic from their dads, about being responsible, on time and about good decision-making. Dutton agrees, calling both boys self-starters, hands-on with the work. It's exactly what the Future Farmers of America hoped to achieve when it was first conceived in 1917, part of the Smith-Hughes Act to advance agricultural education in public high schools. 
The first Future Farmers organization was established in Virginia in 1925. It served as the model for others, including the Santa Rosa FFA, which became the second official chapter within the California FFA in 1928. Like all chapters, it aims to bring together students, teachers and agribusiness to provide a path to achievement in premier leadership, personal growth and career success through agricultural education. 
A national FFA radio program debuted in 1931. Two years later a blue corduroy jacket was adopted as the official dress of the FFA, and a group visited President Franklin D. Roosevelt at the White House. A National FFA Foundation was formed in 1944. In 1969, women were finally permitted to participate in FFA. 
The California Association FFA serves over 95,000 students across the state in some 338 schools. Today the North Coast region boasts several FFA chapters, from Mendo-Lake to Solano-Alameda. In Sonoma County, the biggest memberships are Elsie Allen (316 members), Sebastopol-Analy (283) and St. Helena (247).