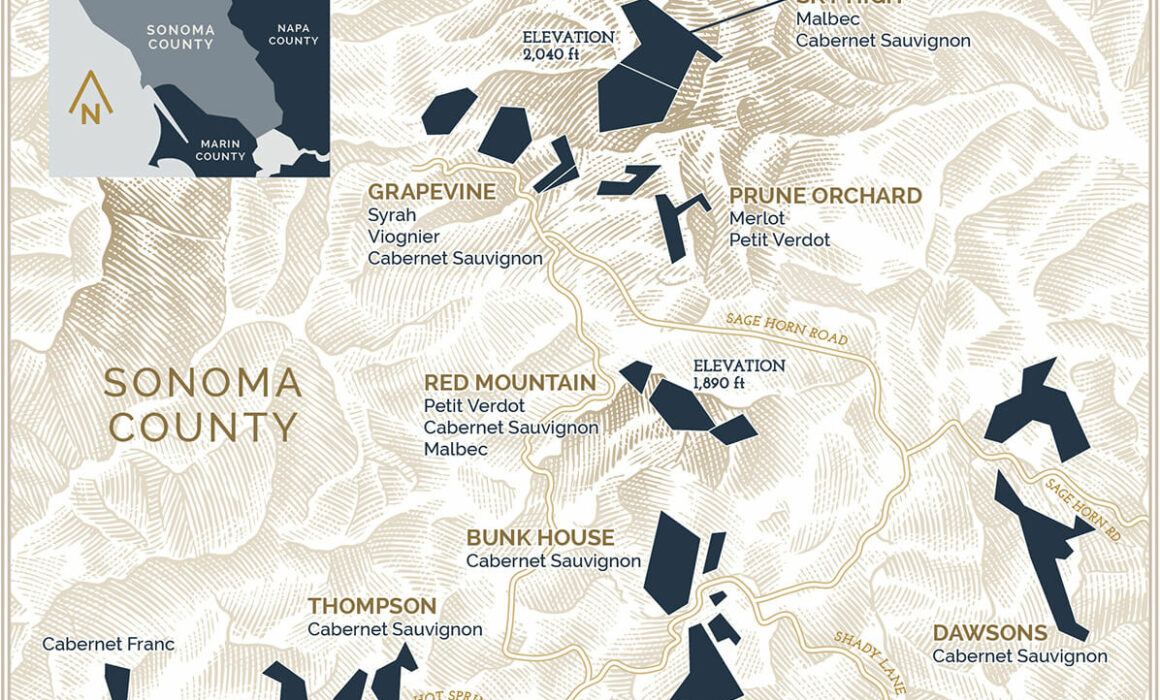 Arthur Crawford Cooley, who went by Crawford, lived nearly 100 years on this earth, most of that time in Marin and Sonoma counties. A fifth-generation Californian, he was best known as one of the inaugural venture capitalists at Draper, Gaither and Anderson, the first venture capital partnership in the state. 
Born in San Francisco in 1926, he was a smart guy who saw the early promise of color television and microwaves. But Cooley also believed strongly in agriculture. 
With family roots in California dating back to 1845, there were multi-generational ranches to sustain. For six decades of his life, Cooley oversaw agricultural land holdings in Marin, Sonoma and Mendocino counties devoted to dairy, cattle grazing and wine grapes. 
In the mid 1970s Cooley moved to the North Bay full-time to run Hacienda Wine Cellars, a small winery based in the town of Sonoma on grounds once owned by Buena Vista Winery, in a building that had been the Sonoma Valley Hospital.  
Frank Bartholomew had owned the historic Buena Vista Winery since the 1940s but sold it to Young's Market in 1968. He retained the home and adjoining vineyards, about 125 acres in all. Hacienda was borne from that; Bartholomew was best friends with Arthur Edward Cooley, Crawford's father and the founding partner of San Francisco-based global law firm Cooley, LLP. 
In its heyday Hacienda produced about 20,000 cases a year of Chenin Blanc, Chardonnay, Gewurztraminer, Zinfandel, Cabernet Sauvignon and Pinot Noir. Many won gold medals at the Sonoma County Harvest Festival.  
Steve MacRostie was hired as Hacienda's winemaker out of UC Davis with Brad Webb formerly of Hanzell serving as a consulting enologist. Cooley's son Robert, or Bob, ran sales and marketing for many years.  
The Cooleys sold Hacienda to Bronco Wine Company in 1992 which continues to make a sparkling wine, Cabernet Sauvignon, Chardonnay, Merlot, Pinot Noir, Riesling and wine box under the Hacienda name. The building in Sonoma became Bartholomew Park Winery in 1994. 
[As an aside, what we now know as Williams Selyem started out in the early 1980s as Hacienda del Rio with its first commercial release in 1983 but the Cooleys issued a cease and desist about the similar name; they became Williams Selyem in 1984 and the rest is history.] 
After Hacienda, Crawford Cooley managed grapegrowing at his Oat Valley property in Cloverdale, which had been in the family since 1870 and in grapes since 1890.  
Winemaker Carol Shelton makes an old-vine Carignane from Oat Valley Vineyard which is still owned by the Cooleys and farmed by Brett Domenichelli, the vines head-trained, head-pruned and dry-farmed on St. George rootstock. Ridge has made an Oat Valley Carignane, too. 
Cooley's father was born in Cloverdale and bought the first 4,000 acres of what would become Cooley Ranch in 1910, which at its height encompassed 21,000 acres. A hunting ranch first, known as Hot Springs Ranch, it ran sheep, then cattle, and had a hot mineral spring. The first wine grapes were planted in the 1930s. Lake Sonoma was created beneath it in the 1980s. 
In 2001, Cooley sold the development rights of the Cooley Ranch to the Sonoma County Agricultural Preservation and Open Space District, the largest single piece of land acquired by the Open Space District at 19,000 acres, and in 2002 oversaw a long-term lease with the Kleins of Rodney Strong Wine Estates to develop a couple hundred acres of vineyard.  
This endeavor began with detailed studies of the microclimates, soils and elevations throughout the property. Soil scientists Paul Anamosa and Daniel Roberts dug over 200 pits to look at all aspects of the soil composition and topography to find the best locations to plant vineyard blocks.  
Steep and reaching to elevations between 500 and 2,040 feet above the fog line, its soils are highly desirable metamorphic greenstone. Cabernet Sauvignon was mostly planted, its grapes able to develop thick skins and dense tannins. 
There is also Malbec, Merlot, Cabernet Franc, Petit Verdot, Syrah, Viognier and a little Chardonnay. The vineyard is predominantly dry-farmed and tilled sustainably. Grapes go into Rodney Strong's ROWEN Wine Co. wines; Benovia and Ramey also make Cooley Ranch-designated Cabernet Sauvignons.