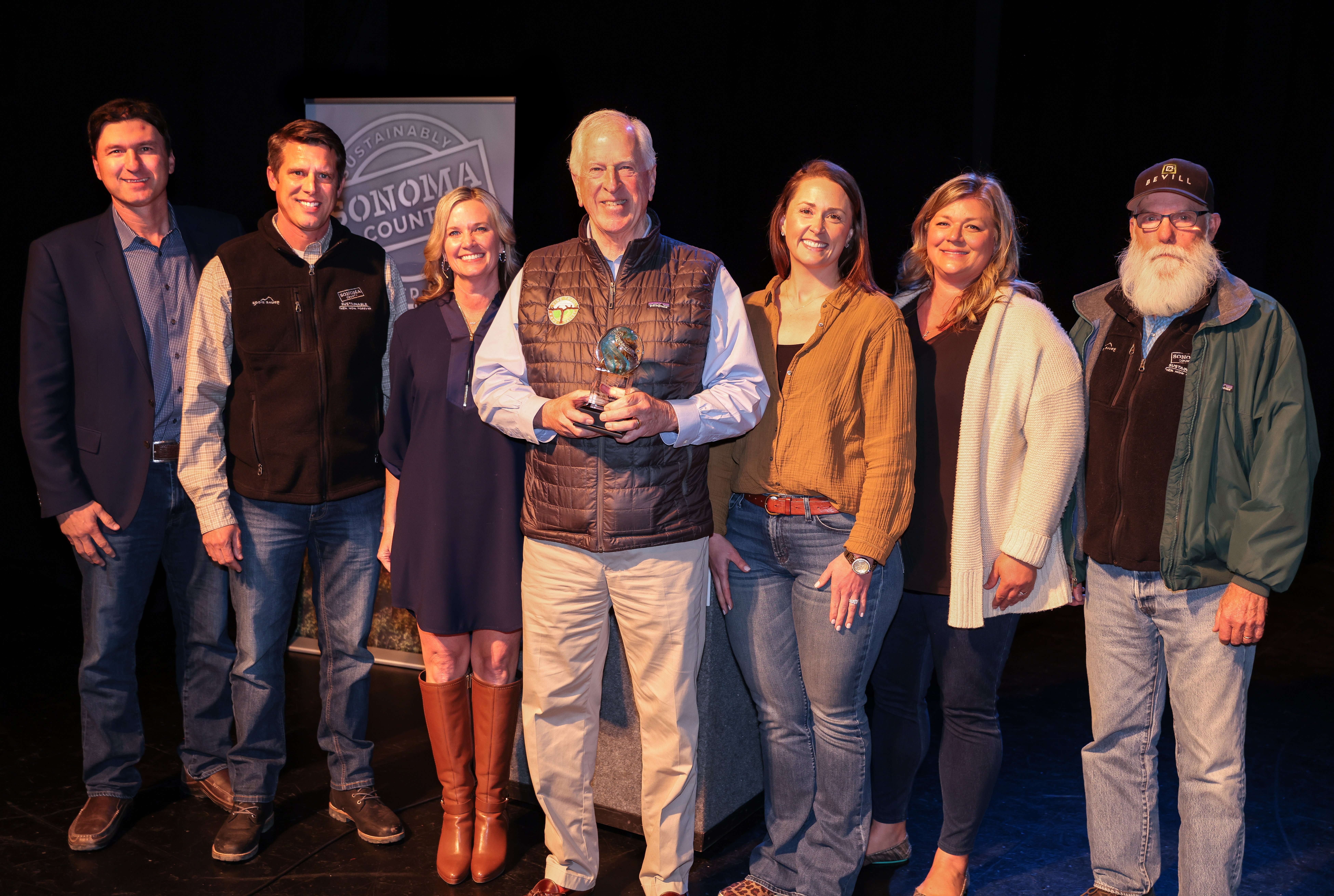 Last week the Sonoma County Winegrowers awarded Congressman Mike Thompson the 2022 Nick Frey Community Contribution Award, an award established in 2013 to recognize individuals and organizations that go above and beyond to support the grapegrowing community. 
Thompson represents California's 4th Congressional District, which includes Sonoma County, Napa County and parts of Contra Costa, Lake and Solano counties.  
He was first elected to Congress in 1998 after eight years in the California State Senate, where he was the first elected Vietnam veteran, having served in combat with the U.S. Army and earned a Purple Heart. He is a member of the House Committee on Ways and Means and a senior member of the Health Subcommittee. 
Thompson is also a small vineyard owner and St. Helena native who played basketball and football at St. Helena High School. Growing up with Italian grandparents on his mother's side, wine was always on the table. Thompson's father worked at Stony Hill Winery; he grew up with members of the Martini, Mondavi, Raymond and Wagner kids. 
He has long championed the farming and grapegrowing communities in his district, including through the Sonoma County Grape Growers Foundation.  
Each year, Thompson makes time to attend the Foundation's Employee Recognition Celebration that recognizes all employees of the month from the previous year, naming an Employee of the Year from that group in front of family, peers and employers. 
Thompson also supports the Leadership Academy, a program that offers vineyard employees the opportunity to enhance their leadership skills and access resources in the community. 
Importantly over recent years, Thompson has been a major source of support during times of crisis. He led the reauthorization of the Emergency Relief Program—ERP, formerly known as WHIP+—to provide $10 billion in direct payments to producers for crop losses due to smoke damage, wildfire and drought in 2020 and 2021. He has further helped farmers weather crisis with emergency drought and wildfire relief. 
A proponent of local and regional farms and food systems and avid outdoorsman, Thompson has passed legislation to conserve and protect vineyards and open spaces; advocated for viticulture research and management funding; combatted the European Grapevine Moth and Glassy-winged Sharpshooter; fought for fair market access for American wines in foreign markets; enacted and extended bipartisan legislation to modernize the Wine Excise Tax; and recognized the value and contributions of U.S. wines and grapegrowing regions.  
Thompson once worked as the maintenance supervisor at Beringer Winery, fixing farm equipment. Beringer gave him a deal on 10 acres of hay field, which he and a partner turned into a 10-acre vineyard. Selling it helped pay for his higher education. Andy Beckstoffer later convinced Thompson to buy 20 acres of land and plant Sauvignon Blanc in Lake County. 
In 1999, Thompson helped found the Congressional Wine Caucus, along with former Congressman and grapegrower George Radanovich (R-Fresno), which today consists of 215 U.S. Senators and Representatives.  
The Wine Caucus believes Members of Congress benefit from learning about the challenges of growing grapes, a specialty crop, and making wine. They also believe that people in the grape and wine business are interested in hearing more about the federal regulatory and legislative developments that impact them. Importantly, they share a deep appreciation of wine. 
The Caucus holds policy briefings and wine receptions on Capitol Hill and has become involved in a wide variety of legislative issues, all with the goal of promoting the wine industry. The Sonoma County Winegrowers are hosted by Thompson and the Congressional Wine Caucus every year for a wine reception.  This is a unique opportunity for Sonoma County ag and wine to showcase its sustainability efforts, climate stewardship and, of course, fabulous wines to decision makers on both sides of the aisle.  
So raise a glass to this year's recipient of the Nick Frey Community Contribution Award for all of Congressman Thompson's work on behalf of agriculture and wine in our region.