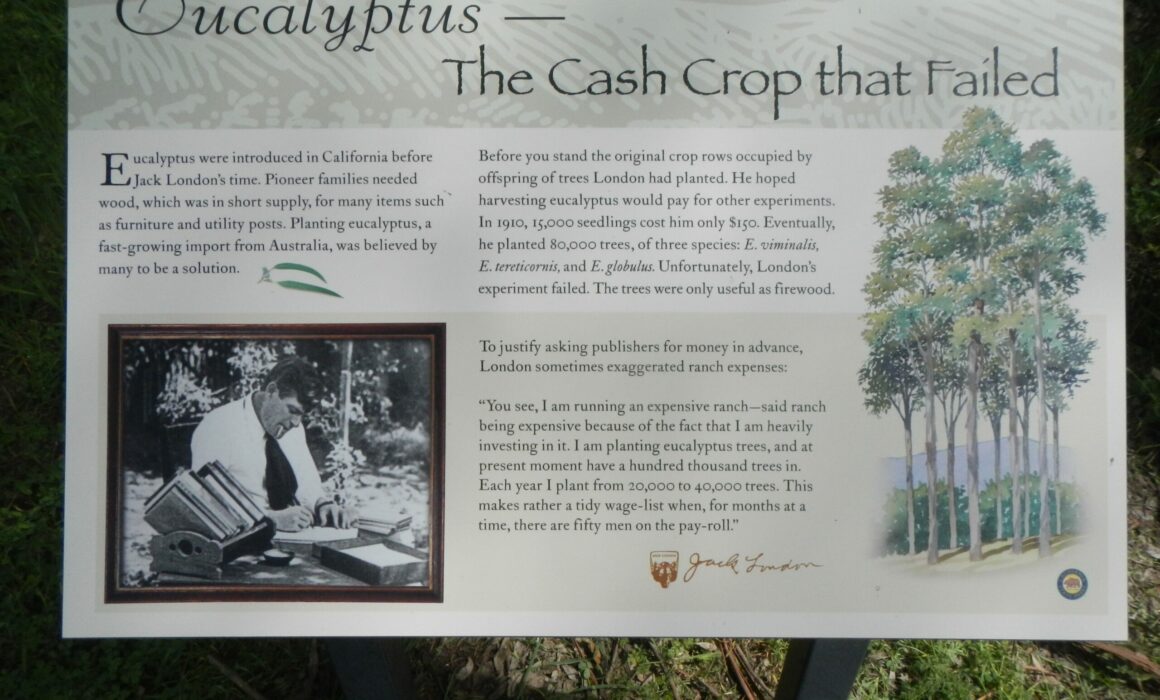 Famed author and world traveler Jack London thought eucalyptus would be good for Sonoma County; he was wrong. 
Sonoma County, like many regions, has had its share of get-rich-quick booms and busts, though when it comes to agriculture, wine grapes have been a fairly steady and financially viable crop for nearly a century. Not so for eucalyptus, the king of the busts. 
London is part of the reason why. The author and would-be agriculturalist, who was born in San Francisco in 1876, planted 25 acres of eucalyptus groves in Glen Ellen, where he lived for many years on what he called the Beauty Ranch with his wife, Charmian. It is today the site of Jack London State Historic Park. London died there in 1916. 
His land had once been part of a 66,000-acre tract granted to General Mariano Vallejo known as Petaluma Rancho. In 1859 Vallejo sold 500 acres of it along the eastern slopes of Sonoma Mountain to Hungarian immigrant Louis Csmontanyi, who built the farm house where London later lived.  
A friend of Agoston Haraszthy, a fellow Hungarian and the founder of Buena Vista Winery in Sonoma, Csmontanyi put in prune orchards, olive groves and grapevines, built the first stone winery building and called his operation Tokay Vineyard. He operated the ranch until his death in 1869. 
In 1873, the property was sold to Kohler & Frohling, a successful wine business based in San Francisco. 
Charles Kohler and John Frohling had both emigrated from Europe, Kohler from Germany and Frohling from Prussia. But after Frohling died young, Kohler partnered with his brother Henry and replanted the Tokay Vineyard's phylloxera-infected vines with varieties grafted on sturdier rootstock. In 1884, the Kohlers put in a winery to produce sherry, adding a distillery four years later. 
The business thrived and Kohler & Frohling became one of the biggest wineries in California, producing a range of wines, as well as sherry, port and brandy. When Kohler died in 1887, he not only had the Glen Ellen property, but owned thousands of acres in Fresno and an interest in the Italian Swiss Colony in Asti.  
Kohler's heirs carried on for a while, before being absorbed by the California Wine Association, while the Tokay Vineyard property was bought by Joshua Chauvet, who later sold it to London. 
London had first become interested in the ranch in 1905 when visiting his wife's aunt, Ninetta Eames Paine, who owned the Wake Robin Lodge nearby. He wrote several of his books while there. 
In 1911 he finally bought it, renaming it Beauty Ranch. Zinfandel had been growing on the property for 30 years, but with the price of grapes at only $11/ton London pulled most of it out, never making wine of his own.  
The vineyard would be re-established in 1972 by London's grandnephew Milo Shepard and renamed the Jack London Vineyard; its grapes have been sold to Chateau St. Jean and Kenwood Vineyards. 
When he came to Glen Ellen, London was the highest-paid novelist in America, having found huge success with his books, "Call of the Wild," and "The Sea Wolf." Opting out of the wine grape business, his plan was to plant eucalyptus trees to grow hardwood lumber, a seemingly great idea that had gained favor during the Gold Rush. 
It is thought that the first eucalyptus trees were planted in California in 1851, the seeds sold and distributed by the Shell Mound Nursey in Alameda. The species was Tasmanian Blue Gum, which could grow 20 feet in a year. By 1871 the California Academy of Sciences was advocating for mass plantings of the trees and soon thereafter, the University of California was distributing seedlings far and wide. 
London seized on the idea around 1910, meeting with professors at UC Davis to push his interest in planting eucalyptus across the state.  
Before long, he had planted 15,000 trees on his ranch; two years later he planted 100,000 more, tearing out existing vineyards along the way. By the time he was done, London had planted 200,000 trees at a cost of $50,000. 
Many of the first seedlings came from the W.A.T. Stratton nursery in Petaluma, the first in Sonoma County to specialize in eucalyptus. 
But alas, the Blue Gum made terrible lumber and the once-heralded next big thing in California soon became a cautionary tale. 
Bad as lumber, eucalyptus also pose fire risks, and, as a non-native invasive species, compete with other trees for nutrients and consume groundwater. They are a bad idea. 
London would have been better off sticking with wine.