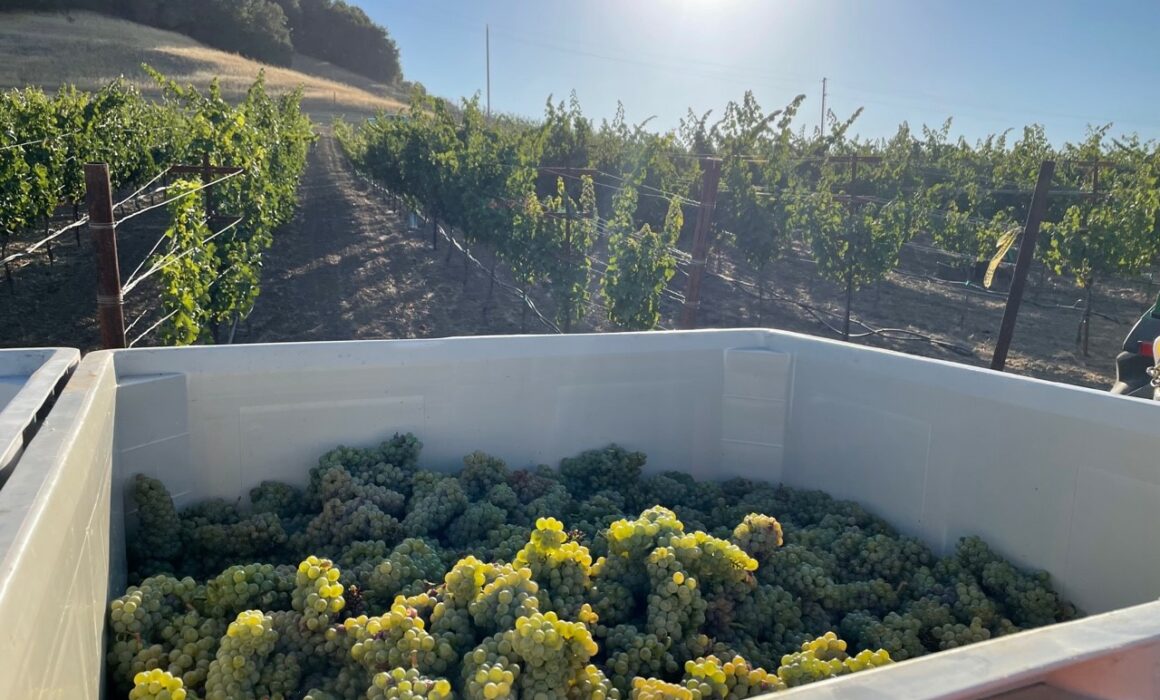 For nearly its entire history, the agricultural bastion that is Sonoma County has grown many products, from apples to nuts to hay to dairy cows.  
But for the last 50 or so years, one crop has been king: Wine grapes. 
The annual California Grape Crush Report for 2022 was released last week and it confirmed what we already know: that wine grapes remain the most important and economically feasible form of agriculture in much of California, particularly in Napa Valley and Sonoma County.
The Napa Valley is categorized by the California Department of Food and Agriculture as District 4 while Sonoma County and Marin make up District 3. 
Of note, in 2022 across California, Cabernet Sauvignon surpassed Chardonnay as the variety with the largest percentage of total tonnage at 15.5%. Chardonnay, which once was number one, moved to second place (14.4%). For both varieties, average prices were up considerably from 2021. The next highest tonnage crushed across the state was taken by Zinfandel (8.5%).  
All three of these varieties are important grapes in Sonoma County. 
The total amount of Sonoma County wine grapes farmed last year was 187,489 tons, down considerably from the five-year average, but those grapes were more valuable in price.  
To break it down further, Sonoma County's average price for Cabernet Sauvignon was $2,853/ton, up 3% from the year before.  
For Sauvignon Blanc, a popular grape that is not as widely planted, the price for Sonoma County grapes went up 11.6% for a total of $1,913/ton. 
Here's a look at the top five in red and white categories across our region. 
2022 District 3 Top Red Grape Tonnage/Average Price per Ton: 
Cabernet Sauvignon: 41,276.7/$2,853

 

Pinot Noir: 40,542.9/$3,749

 

Zinfandel: 10,067.3/$3,274

 
Merlot: 6,331/$2,088

 

Syrah: 2,469/$3,120

 
2022 District 3 Top White Grape Tonnage/Average Price per Ton: 
Chardonnay: 58,990.6/$2,439

 
Sauvignon Blanc: 13,931.2/$1,913

 

Pinot Gris: 933.7/$1,896

 

Viognier: 433.3/$2,842

 

Semillon: 307.7/$2,904

 
As we know, the prominence of wine grapes in Sonoma County wasn't always so. In 1993, the Sonoma County Crop Report noted the 10th anniversary of the Sonoma County Grape Growers Association (today's Sonoma County Winegrowers) with this statement: 
"Ten years ago, Sonoma County faced depressed demand and sinking profits for its grapes. Wine consumers heard little about Sonoma County. The world's best-selling wine book mapped the city of Sonoma in Napa Valley and devoted five paragraphs to 'Santa Rosa and Cucamonga' on the same page. In spite of that – or because of that – growers, who had faith in Sonoma County as one of the world's great winegrowing regions, formed the Sonoma County Grape Growers Association. From its inception, the Association set out an ambitious mission to enhance the image of Sonoma County wine and increase demand for Sonoma County grapes, while helping growers improve productivity and quality." 
The report also stated that wine consumption in the United States "has steadily declined over the last decade, while Sonoma County wine sales have increased. It seems people are 'drinking less and drinking better.'" 
Haven't we heard this again recently? 
Still, what remains clear is Sonoma County is a great place to grow wine grapes and that the growth decade-by-decade in value remains impressive: 
1982: $56 million 
1992: 149 million 
2002: $376 million 
2012: $583 million 
2022: $536 million 
Want to see more crop reports from Sonoma County? They live here.