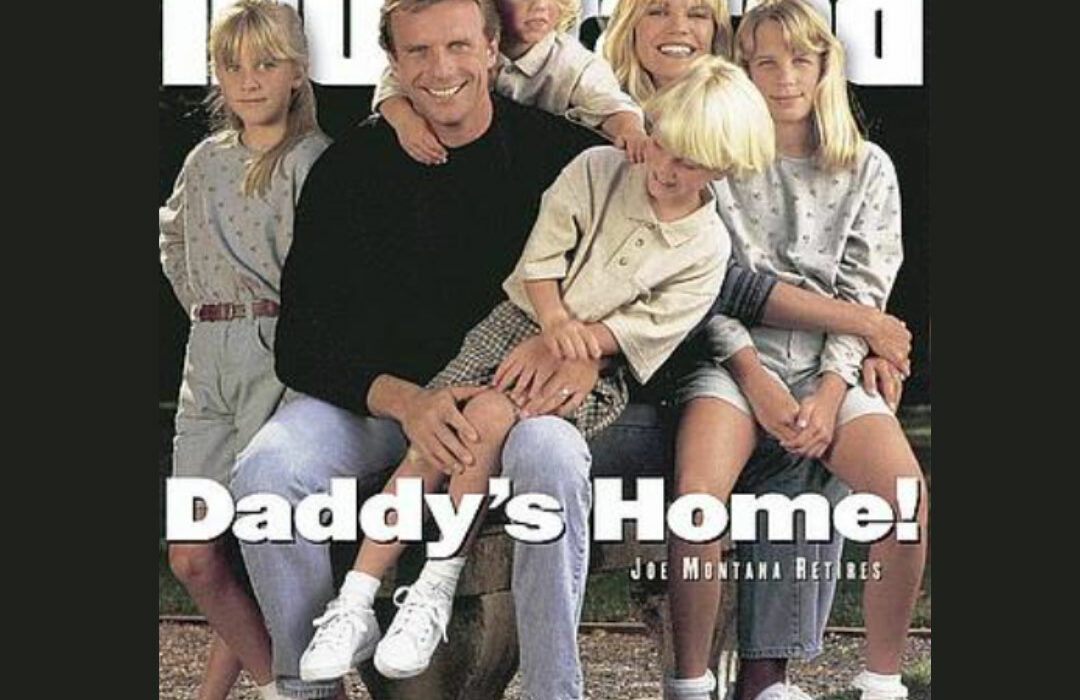 In the late 1990s, Joe and wife Jennifer Montana built an Italian villa-style home on a 500-acre estate in Knights Valley. They called it Villa Montana and it took them five years to complete.
Around that same time, Montana was teaming up with then-Beringer winemaker Ed Sbragia to make a Cabernet Sauvignon that could be primarily sold at charity events (the two had met at a wine auction). Called Montagia, when released in 1999, it cost $75. A bottle found on Wine Searcher today lists the most recent average price at $225.
Quoted by ABC News in 2007 as saying, "I gave up the pigskin many years ago and now I am involved with the grape skin," Montana also told the news organization, "What made me want to get involved is not the process of making wine but the consumption side. My wife Jennifer and I both love red wine. It was something that I always wanted to do."
Montana loved drinking good wine to the point he tried to buy Williams Selyem when it was for sale in the late 1990s. Instead, it sold for $9.5 million to New York-based businessman and vintner John Dyson (who in 2021 sold a minority stake of the winery to Burgundy's Domaine Faiveley).
Instead, Montana ended up in Knights Valley building Villa Montana and tending to a small vineyard on an adjacent property on Franz Valley Road, selling the grapes and making homemade wine. The interest in fine wine came from Jennifer, who introduced the quarterback to wine during his playing days.
Those days were the stuff of legend.
After growing up in Pennsylvania, Montana was a sensation at Notre Dame, winning a national championship in 1977. Then, over the course of 16 seasons, Montana won four Super Bowls as quarterback of the San Francisco 49ers, throwing 40,551 passing yards and 273 touchdown passes in addition to being named Super Bowl MVP three times and regular-season MVP twice.
After playing for San Francisco from 1979 to 1992, he spent 1993 and 1994 with the Kansas City Chiefs, leading the team to its first ever AFC Championship Game. He made millions from both football and endorsements and retired from the game for good at the age of 38.
Nearing retirement, in 1995 Sports Illustrated's Michael Silver wrote this about Montana, as he searched for water on his Sonoma County land.
"Because Montana made quarterbacking look so stylish and so natural, it was tempting to assume his life would be empty when he retired. What seems to be happening instead is that Montana, by virtue of his uncomplicated manner, is deriving stimulation from life's basic pleasures: hanging out with the family, stoking the barbecue, working the land and laughing whenever possible."
At the time, the Montana kids were age 9, 8, 5 and 3.
His water witcher back in those days was Frank Lawrence Wood, or "Laurie," as he was known, who grew up in Napa Valley agriculture and was a much sought-after dowser. Wood also co-founded Freemark Abbey Winery with Chuck Carpy in 1967.
That same SI story continued: "Montana… envisions a red-wine operation that would produce 500 cases a year for friends and family to consume. 'Lord knows I'll drink enough of it myself,' he says. He has big plans for taming the land, from spraying the poison oak to cruising around on a tractor and moving mountains."
Montana settled into Sonoma County very well and was a regular at many of its events. In 2005, according to Lowell Cohn in The Press Democrat, Montana attended the Imagine Auction at Chalk Hill Winery, where he bought a limited-edition Rolls Royce for $380,000.
One of his sons attended Cardinal Newman High School for a time, playing quarterback and wide receiver on the football team. His oldest son played quarterback for Notre Dame, where Montana's two daughters also went to school; the younger son played quarterback for University of Washington.
As for himself, Montana got into riding cutting horses, even participating in competitions.
With insane views of Mount St. Helena and Knights Valley, in 2019 the property was listed for sale for $29 million. It had been listed previously in 2009 for $49 million but was taken off the market at the request of the kids. The Montanas also owned an 87-acre ranch in Calistoga that they priced for sale at $3.1 million. Both properties sold last year.
The Montana Wine cellar was as legendary as the player, holding 3,500 amazing bottles. While living at Villa Montana, the family also produced 30 to 60 gallons of olive oil a year from trees on their property.