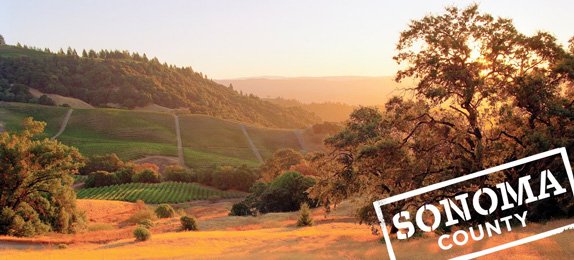 2019 Winegrape Harvest Begins in Sonoma County
SANTA ROSA, Calif.  (August 16, 2019) – Following a record rainfall this past winter and a cool spring, the summer growing season has been near-perfect for Sonoma County winegrapes.  Now grape growers and winemakers throughout Sonoma County are in constant contact coordinating their schedules as the 2019 harvest began overnight.
Among the first grapes of the season harvested in Sonoma County were picked this morning just after midnight at Sasaki Vineyards in Schellville.  The Pinot Noir grapes will be going to Gloria Ferrer for their sparkling wine program.  This year's harvest start is only one day later than the 2018 vintage, despite predictions that it would begin a week to ten days later than last year. In Sonoma Valley, vintners, growers and members of the community will gather today at the Mission San Francisco Solano on the Sonoma Plaza to officially ring the harvest bell to signal the beginning of the harvest season in Sonoma Valley.
"This is the most exciting time of the year as the guessing and anticipation are over and 'go time' has arrived.   The action is picking up and we are all looking forward to harvesting our grapes," said Karissa Kruse, president of Sonoma County Winegrowers.  She added, "Every report we are receiving from throughout Sonoma County indicate 'good' to 'outstanding' quality. Ideally, this weather pattern holds for a smooth harvest but, during this time of year, you have to be prepared for anything Mother Nature throws at you."
Early reports from the vineyards also indicate that the recent hotter temperatures are providing the right amount of stress to occur at the right time.  The cool spring appears to have originally slowed down some of the fruit growth and held back the degree day accumulation slightly pushing back harvest in many areas compared to recent seasons.
The harvest begins just as Sonoma County Winegrape Growers close in on its goal of reaching 100% sustainability this year.  This summer, wine consumers can now purchase the first wines bearing the new Sonoma County sustainably grown logos.  Sonoma County's Francis Ford Coppola Winery is releasing some of their Director's Cut wines with the new Sonoma County sustainably grown labels.  This follows the recent release of sustainable wines from Cline Cellar's and Ferrari-Carano which also bear the new sustainability label.  The label went through extensive consumer testing and proprietary research to measure effectiveness. After several revisions, the brand was finalized.  Brand guidelines were developed and adopted before the TTB-approved label was made available to qualified Sonoma County growers and winemakers.
Here are some of the first 2019 harvest reports from the front lines of some of our AVAs:
Dutcher Crossing, Dry Creek Valley:
Dutcher Crossing Winery picked 4 tons of Chardonnay for sparkling wine on their Dry Creek Road estate in the early morning hours on Tuesday, August 13th.
Gloria Ferrer, Carneros:
Harvest kicked off today in the early morning hours. At their 12-acre vineyard property off San Luis Road in Schellville, winegrower Janet Sasaki predicted crews would pick around 61 tons, which is similar to their total tonnage last year. They are picking Pinot Noir for Gloria Ferrer sparkling wines. Janet Sasaki has been selling her grapes to Gloria Ferrer for 18 years.
Iron Horse, Green Valley of Russian River Valley:
Joy Sterling is expecting that they will kick off harvest on Tuesday, August 20th but they are keeping a close eye on the heat to see if they need to move that date up. They will be picking Pinot Noir from their estate.  According to Sterling, "This year we are particularly excited about kicking off harvest as this vintage represents the 40th anniversary of the opening of Iron Horse winery and my father's 90th birthday."