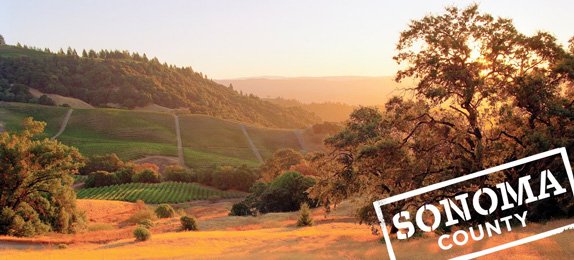 Sonoma County Winegrowers Share Early Outlook on 2019 Harvest Crop Expected
As It Nears 100% Sustainability, Local Wines Bearing New Logo Will Hit the Market
As Sonoma County Winegrape Growers close in on its goal of reaching 100% sustainability this year, there is an awful lot to celebrate.
Foremost, despite record rainfall amounts, early reports indicate the fruit set was good throughout Sonoma County though harvest will be running two to three weeks later than last year.  Next, Sonoma County Winegrowers is closing in on its sustainability goal.  And, just in time to celebrate, wine consumers can begin purchasing the first wines bearing the new Sonoma County sustainably grown logos.
"Mother Nature again showed us this winter she can be large and in charge," said Karissa Kruse, president of Sonoma County Winegrowers.  She added, "After last year's big crop, it now looks like we will experience average yields, but it is still too early to be sure."
The grapes appear to be taking their time to develop and ripen following a cool, wet spring.  Late rains brought some initial worry about the impact on bloom, but early reports indicate the crop is in good shape though harvest is likely to be pushed back later.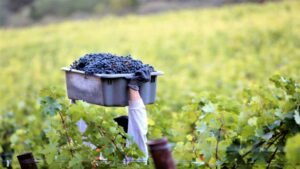 Sonoma County's commitment to sustainability marks another huge milestone this summer as  the Francis Ford Coppola Winery is releasing some of their Director's Cut wines with the new Sonoma County sustainably grown labels.  This follows the recent release of sustainable wines from Cline Cellar's and Ferrari-Carano which also bear the new sustainability label.  The label went through extensive consumer testing and proprietary research to measure effectiveness. After several revisions, the brand was finalized.  Brand guidelines were developed and adopted before the TTB-approved label was made available to qualified Sonoma County growers and winemakers.
"This is such an exciting time for our growers, for lovers of Sonoma County wines and for our community," said Kruse.  She added, "As we near becoming the nation's first 100% sustainable wine region, consumers now have a chance to show their support for sustainability and purchase Sonoma County sustainable grown wine.  It is pretty amazing to think how far we have come in just the last five years!"
Here is an early look at the various regions in Sonoma County:
Russian River Valley:
Despite floods throughout the Russian River Valley, quality looks to be good.  Though still too early to fully assess, it does appear that the size of the crop will be close to average.  The late spring and early summer temperatures have warmed but have not been overly hot.  Harvest is expected to be delayed at least two weeks than last year and it is expected to last until Thanksgiving.
Sonoma Valley:
Rain, rain, rain was the common theme in Sonoma Valley.  While it is still too early to determine crop size, one current challenge is large canopy growth and vine vigor which has resulted in crews having to re-sucker the vines in some places.  Harvest may not begin until after Labor Day.
Dry Creek Valley:
The cold spring delayed development in the Dry Creek Valley.  On average, the bud break for Chardonnay was about two weeks later than last year and the bud break for reds was about a week behind 2018.  All signs indicate a late August start of harvest in Dry Creek Valley.  
Alexander Valley:
Much the same as elsewhere in the County: late rains, condensed growing season and late bud break.  Heat has yet to be a problem.  Harvest likely not to start until September 1. 
Throughout Sonoma County:
Fortunately, most everywhere the record rains came right when the flowers showed up and not later which has helped minimize any shatter issues.  Given the wet spring and cool weather during bloom, the fruit set is varied but looks good throughout the County with average numbers of clusters per vine.