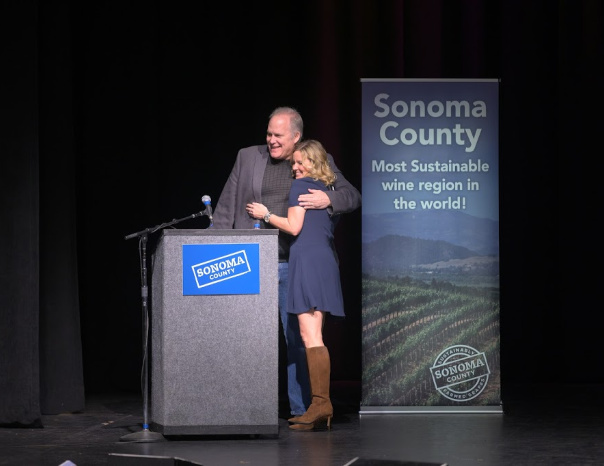 SANTA ROSA, Calif.  (January 16, 2020) – After celebrating Sonoma County being recognized as the 2019 Wine Region of the Year by Wine Enthusiast, it was time for local winegrowers and vintners to get down to business at the 29th annual Dollars & $ense Seminar and Trade Show and the first joint annual meeting for the two organizations.  Over the years, attendees have come to expect significant industry announcements from the organization's president, Karissa Kruse.   This year Kruse again delivered as the attendees expected.
With Sonoma County established as the leading sustainable wine region in the world, the Sonoma County Winegrowers will continue to build upon its leadership by targeting climate change.  Starting this year, the organization is the exclusive participant in the California Land Stewardship's Climate Adaptation Certification Program which is the world's first program of its kind for agriculture.   Sixteen winegrape farms and wineries are participating in the launch of the program representing diverse soil types and topography.  Customized farm plan will track the impact of climate-friendly farming practices and develops recommendations that reduce greenhouse gas emissions. This program builds upon and goes beyond the healthy soils best management practices developed through sustainability certification to be the most comprehensive approach to climate friendly farming to date.
"Climate change is a critical concern, but we don't know yet what role agriculture can play.  This certification program is unique because it recognizes there is not one cookie cutter approach to reducing greenhouse gases (GHC).  Instead, we will be developing and implementing a variety of local solutions based on real data to combat and reduce GHC," said Kruse. She added, "Sonoma County's terrain varies greatly, and every vineyard is different which is why each participating vineyard will have its own land management program specifically to address the sequestration of GHC's including nitrous oxide and carbon emissions."
The Climate Adaptation Certification program, developed in collaboration with scientists from around the country, seeks to address how much carbon vineyards sequester. It will focus on proven scientific concepts that growers can implement without compromising their farming practices.  By limiting nitrous oxide emissions and focusing on carbon sequestration, the health of the soil and vineyard will improve. The program meets both the State of California's climate goals and the United States Department of Agriculture's Healthy Soil goals. The greenhouse gas reductions will be monitored and documented with the information shared with farmers and the general public.
"Through the Climate Adaptation Certification program, both the grower and the public will be able to better understand the role of vineyards in climate change and the immediate benefits of agricultural practices that reduce greenhouse gas emissions and sequester carbon," said Laurel Marcus, executive director of the California Land Stewardship Institute.  She added, "We are so pleased to work with the Sonoma County Winegrowers who are among the best at land stewardship and environmental responsibility."
CLSI will work with each winegrower to prepare a Climate Adaptation Farm Plan documenting current and future practices and quantify reductions in GHG emission and increases in carbon sequestration. The plan will be certified by regulatory agencies.  The effort will utilize COMET-Farm, a site-specific, detailed model developed by the USDA and Colorado State University to calculate GHG emissions for each vineyard for current and revised practices. The Commission and CLSI will also work with scientific researchers to support field trials that answer outstanding questions on the effects of certain agricultural practices to further refine our program and general knowledge.
In addition to Kruse's report, Dollars & $ense attendees learned more about the current dynamics of today's wine market including consumer preferences, challenges to wine and the current marketplace for winegrapes.
According to Danny Brager, senior vice president of the Nielsen Company, "While the trends aren't favorable, the sky is not falling!"  He pointed out that wine ranks 14th in sales growth in dollars last year out of 300 product categories monitored by Nielsen.  When it comes to Sonoma County wine brands, of the top 100 brands, 25 are growing by double digits.  Finally, consumers continue to demand environmentally friendly which pares nicely with Sonoma County's sustainable commitment.
Kruse also took time to update the audience on the ongoing efforts of the Sonoma County Grape Grower Foundation (SCGGF) which is comprised of farmers, families and community members dedicated to being leaders in social equity by supporting the skilled workforce that sustains agriculture in Sonoma County. Since its relaunch in 2016, the Sonoma County Grape Growers Foundation has focused on employee education, housing, health safety and quality of life. It is managed by the Sonoma County Winegrowers.
"The intent of SCGGF is to support Sonoma County farmworkers and their families through innovative partnerships and programs that make a direct and immediate difference," said Karissa Kruse, president of Sonoma County Winegrowers, who is also serves as the executive director of the Sonoma County Grape Growers Foundation.    She added, "Our long-term goal is to be a part of the solution for the affordable housing crisis in Sonoma County so that farmworkers and their families can live, work and thrive in our county."
As part of its efforts, the Foundation recognizes outstanding workers with its popular Vineyard Employee Recognition Awards presented to vineyard employees who achieve excellence in the vineyards.  Four employees are recognized each month for their individual achievement and exceptional performance in a program designed to showcase the various skills and many contributions made each year by Sonoma County's vineyard workers.
Most recently, the Foundation has been distributing much-needed financial assistance to local farmworkers who were impacted by the Kincaid Fire this past fall.  Through its Farmworker Resiliency Fund, direct financial assistance was provided to nearly 1,000 farmworker families for new or temporary housing, provided financial assistance to offset lost wages, helped pay utility bills and helped replace household items, food and supplies lost due to the fires. In all, the SCGGF has provided more than $1,000,000 in direct assistance to all farmworkers in the County in just the past two years.
Sonoma County Winegrowers presented Jackson Family Wines and Francis Ford Coppola Winery with the Nick Frey Community Contribution Award for their leadership and support of the certified sustainability program.