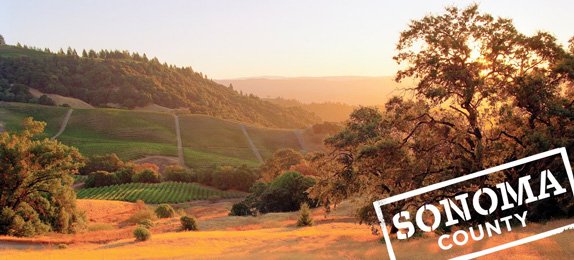 SACRAMENTO, Calif. (January 30, 2019) – Looking to continue to tell their sustainable story in new and impactful ways, the Sonoma County Winegrape Growers will begin utilizing augmented reality in 2019 to reach wine drinkers interested in or wanting to learn about sustainability.  Sonoma County Winegrowers is the first wine region in the world to use the unique technology to reach consumers with information about its commitment to become the first 100% sustainable winegrowing region
"This coming year, as we strive for 100 participation in our sustainable winegrowing program, we will be focused on our sharing that commitment with wine lovers all over the country.  We will be utilizing augmented reality to break-through to consumers in a most memorable way," said Karissa Kruse, president of the Sonoma County Winegrowers. She added, "We've tested this and the response has been fantastic.  We can't wait to get these special bottles into the market."
Augmented reality is exploding in popularity throughout the country especially among the millennial demographic. This is a critical demographic to reach that has challenged the wine industry for a few years.  Of note, according to the Nielsen Research Company, 66 percent of millennial consumers around the world are willing to pay more for sustainable goods, making them the most willing demographic to pay extra for sustainable offerings.  Given this, and their preference for augmented reality, the Sonoma County Winegrowers may be on the verge of "cracking the Millennial Code."
Using a smart phone, consumers download the Sonoma County Sustainable Wine augmented reality app available on Google Play and the Apple App Store.  From there, they simply place their phone over a participating wine label programmed with augmented reality and the label comes to life immediately, engaging the consumer with stories, video and information on sustainability for wineries using the 'Sonoma County Sustainability Farmed Grapes' label.
"This is a unique wine label that is a great way to draw the attention and engage consumers at the point of purchase especially those who are seeking to purchase sustainably produced wine," said Kruse.  She added, "The shopping experience is changing rapidly, and Sonoma County Winegrowers want to be at the forefront of successfully reaching consumers with our story to help motivate more purchases of sustainable wines from Sonoma County."
The Augmented Reality wine experience will be available on select wines from Ferrari-Carano, Dutton Estate, Dutton-Goldfield, Cline, Frances Ford Copola and Lynmar as the wines are released in 2019.  Throughout 2019 and the years to follow, additional wine brands will carry the new Sonoma County Sustainable Wine label and participate in the augmented reality effort.
2019 marks the final year in the Sonoma County Winegrowers' five-year quest to become the nation's first 100% sustainable wine region.  To date, more than 97% of Sonoma County's nearly 60,000 vineyard acres are participating in the sustainability program.  Even more impressive is that more than 89% of those acres have completed or are in the process of completing a third-party audit to obtain sustainable certification.