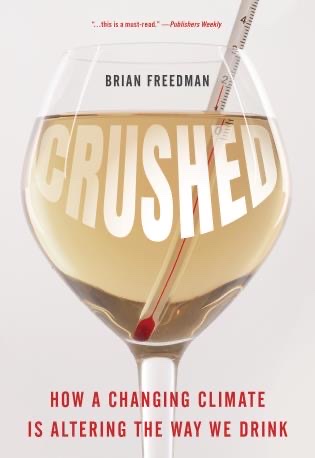 If you love Sonoma County and are looking for a good book to read or to gift this holiday season about agriculture, food or wine, these are some of the newest and the best. 
By Steven Spurrier 
The man behind the famous Paris Tasting details his life in wine in this 2020 book, published the year before he died. There is much to savor about America's rise in wine around the world, which Spurrier helped document and create. In a chapter about the 1980s he tells a story about being asked to judge at the Sonoma County Wine Fair in 1983 and arranging to visit Jordan Winery. His contact at Jordan suggested they meet at the local bar (I'm guessing the former corner bar on Alexander Valley Road, current-day site of Medlock Ames?), where two huge men approached Spurrier and asked what "a city fella" like him was doing in their bar. Spurrier replied that he'd come to "get picked up." Luckily his Jordan contact and friends chose that moment to burst in through the doors. 
Crushed: How a Changing Climate is Altering the Way We Drink 
By Brian Freedman 
Released in October 2022, Freedman is a wine, spirits and travel writer who contributes to Food & Wine, Forbes and other outlets. Here he travels to several regions around the world that produce wine, beer or spirits and takes a look at how issues around climate change are impacting what they grow and make. The book begins in Sonoma County during the 2017 fires, detailing the travails of winemaker Jamie Kutch as he tries to save his vintage of Sonoma Coast Pinot Noir. It's a well-researched reminder to, as we like to say, drink the good stuff when you can. Travels to Kentucky, Patagonia, England, South Africa and Texas contribute further perspectives. 
Six California Kitchens: A Collection of Recipes, Stories and Cooking Lessons from a Pioneer of California Cuisine 
By Sally Schmitt 
The original owner of The French Laundry in Yountville (pre-Thomas Keller) who later decamped from the Napa Valley to open the Philo Apple Farm in Anderson Valley, Schmitt is considered the unsung heroine of California farm-to-table cuisine. She passed away in March 2022 just days after turning 90. Through more than 100 recipes she tells the stories of how Northern California cooking developed and evolved over her lifetime. Along the way she sings the praises of Sonoma County staples like the Gravenstein apple, Liberty Duck and Laura Chenel goat cheese. 
Sonoma Wine and the Story of Buena Vista 
By Charles L. Sullivan 
Released in 2013, this book remains a definitive source on Sonoma County's early days of viticulture and winemaking, tracing two centuries' worth of history, beginning in the 17th century through 2011, with superb detail and meticulous research behind every word. Much is centered around the mighty contributions of Agoston Haraszthy and the trials and tribulations of Buena Vista Winery, California's first commercial winery. But all of Sonoma County's booms, busts, dry times and good times figure into the mix. This is a fascinating resource and read. 
Under the Sky we Make: How to be Human in a Warming World 
By Kimberly Nicholas, PhD 
Published in 2021, this best-selling book is by Dr. Kimberly Nicholas, who serves as associate professor of sustainability science at Lund University in Sweden. More significantly, she grew up in Sonoma County on her family's vineyard, and her PhD from Stanford University focused on the California wine industry. She's also a "turkey heiress," as she puts it – her grandfather was George Nicholas of Sonoma County turkey fame (father of the modern turkey who operated Nicholas Turkey Breeding Farms in Carneros). The book is imminently readable, personal and profound, with plenty to feel encouraged about. 
The Whole Duck: Inspired Recipes from Chefs, Butchers, and the Family at Liberty Ducks 
By Jennifer Reichardt 
Released in October 2022, this exceptional cookbook comes from the multigenerational family behind Sonoma County Poultry in Petaluma, best known for its Liberty Ducks, which was founded by Jim Reichardt in 1992, himself a fourth-generation duck farmer. The author, his daughter Jennifer, serves as COO of her family farm and is also the owner and winemaker of Raft Wines in Sonoma County. Liberty Ducks are considered among the most flavorful, a strain of Pekin Duck that grow slowly without antibiotics or hormones in Sonoma County's ideal climate. Many of the tips and recipes come from the Reichardts themselves, in addition to many of their chef friends and fans. 
Wild Sonoma: Exploring Nature in Wine Country 
By Charles Hood 
Published in 2022, with a foreword by Jane Goodall, this is a lovely field guide on the natural wonders of Sonoma County, from newts to monkey flowers, that includes six suggested explorations and excursions. A section on dirt versus soil in the chapter, "Where Nature Comes From," says, "The wine regions of Sonoma [County] owe their varietal plentitude to the many microsoils provided by weather, fate, and the number of times in the past the earth has split open and roared with bright-red fire." 
By Karen MacNeil 
Comprehensively updated and revised, this third edition by the wonderfully hardworking, detailed and thoughtful MacNeil is a must-have for anyone at any level of wine knowledge or interest.