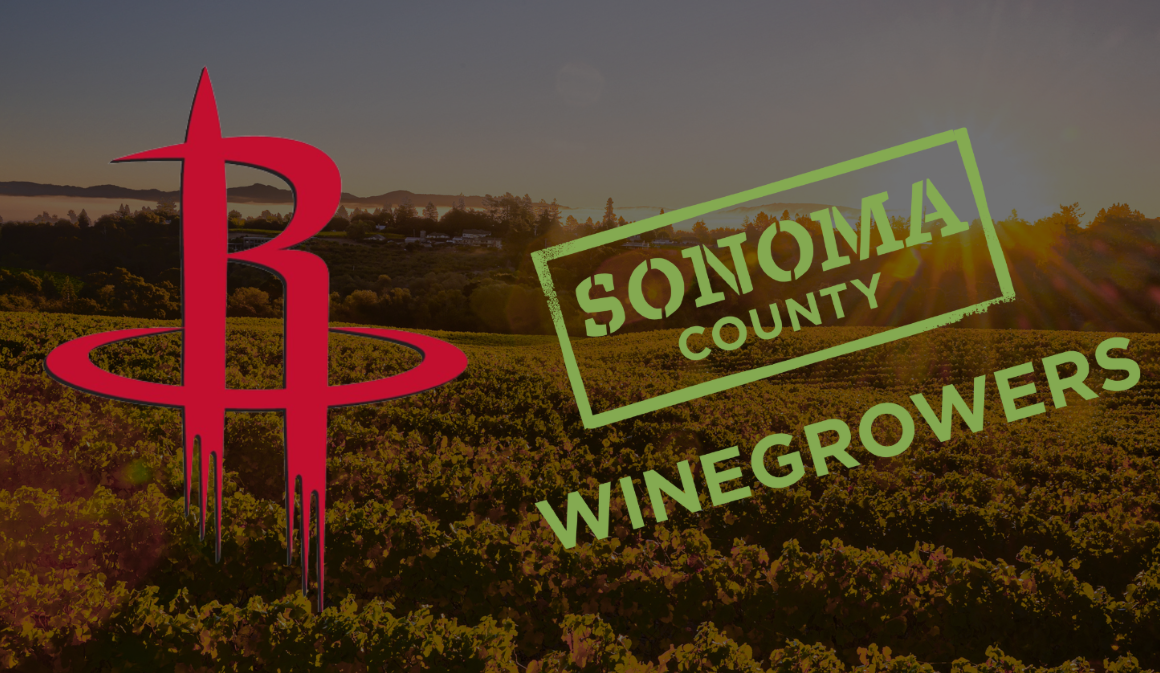 The Sonoma County Winegrowers just-announced partnership with the Houston Rockets basketball team should come as no surprise to sports fans. Basketball is a growing arena for wine and has been for some time, with the number of players starting their own wine brand continuing to grow.
With this partnership, Sonoma County and its wines will be featured in Toyota Center's exclusive lounges, restaurants and other locations during Rockets games and other events throughout the year. These will include Sonoma County wine tastings, winemaker features, regional and varietal highlights, unique access to boutique wineries for attendees and local retail highlights. All in the hopes of exposing new audiences to our wines.
It was a former Houston Rockets player in fact who became an early proponent of California wine. A native of China, Yao Ming was the number-one pick in the 2002 NBA draft and played center for eight seasons with the Rockets.
Yao Family Wines was born in 2011, the same year Yao retired from the NBA. Yao is devoted to making primarily Napa Valley Cabernet Sauvignon and other red blends. But as the story goes, he first fell in love with drinking wine much earlier, in 2004, when he was introduced to steak and wine at a Houston steakhouse by teammate Dikembe Mutombo. Five years later he fell in love with Northern California Wine Country, inspiring him to start a winery here of his own.
Helping him launch was Tom Hinde, former General Manager for Kendall-Jackson Wine Estates and former President, CEO and Director of Winemaking for Flowers Vineyard & Winery who now owns Prestige Wine Company in Sonoma County.
Dwayne Wade played in the NBA from 2004 to 2019 mainly with the Miami Heat. He launched Wade Cellars in 2014. In 2019, after retiring as a player, Wade added Three by Wade, a portfolio of accessible wines including a California Rosé and Chenin Blanc. In partnership with Sonoma County Bedrock Wine Co.'s Chris Cotrell and Morgan Twain-Peterson, Wade also makes Under the Wire sparkling wines.
Wade also now sits on the Executive Leadership Board for UC Davis's School of Viticulture and Enology. In 2021 he told Food & Wine, "one of the reasons I got into the wine industry was to change the common misconception of wine as pretentious. I didn't grow up knowing what wine is. Wine was perceived in this really uppity kind of way, and I wanted to be part of showing that it's not that."
Tony Parker, starting point guard during the height of the San Antonio Spurs' dynasty in the mid 2000s, was born and raised in France. He has launched several French wines in partnership with Michel Reybier, including Chateau La Mascaronne in Provence and Champagne Jeeper, in addition to buying a vineyard and chateau in the Rhone Valley.
Parker's interest in wine was informed by former Spurs coach Gregg Popovich, a renowned wine connoisseur who regularly shares wines around the dinner table with his players, famously quipping that his legacy was, "food and wine… (coaching) is just a job."
Six-time NBA all-star Amar'e Stoudemire's Stoudemire Wines are grown and produced in Israel (American-Israeli, he co-owns a Jerusalem basketball team), as well as from grapes grown in California.
Golden State Warriors superstar Steph Curry's wife Ayesha Curry, a chef and restaurateur, and sister Sydel Curry-Lee co-founded Domaine Curry in 2018. It was acquired by The Prisoner Wine Company in June of this year.
CJ McCollum of the New Orleans Pelicans, who played many years in Portland and got married in Oregon Wine Country, has his own label, McCollum Heritage 91, in partnership with Chehalem Mountains' Pinot Noir pioneer Adelsheim Vineyard. McCollum also owns a 300-acre vineyard in the region.
Also based in Oregon, Chosen Family Wines is the wine brand of former Miami Heat player Channing Frye in partnership with current player Kevin Love. Sourcing from across the West Coast, the wines are made in collaboration with wineries such as Lingua Franca, L'Angolo Estate and Salty Goats Wine Co. (from Sonoma Coast vineyards).
Seventh Estate, also written as VII(N), is former NBA star Carmelo Anthony's label. In keeping with his goal to bring new voices into wine he's started with a Chateauneuf-du-Pape named Oath of Fidelity in partnership with a third-generation French winemaker. Anthony also hosts a YouTube series about wine called What's in Your Glass?
Meanwhile, current player LeBron James of the Los Angeles Lakers regularly posts Instagram shots of what wines he's drinking and is very vocal about wine.
"As you get older you just grow into more things," he told NBA.com. "I didn't love wine until I was 30 years old, and now every other social media post is about wine. So you learn and you grow, and you know what's best for you as you get older. That's just all of us. I think that's what being a human being is."
Exposure to good wine is the first step. The Sonoma County Winegrowers partnership with the Houston Rockets will highlight Sonoma County wines to a new cadre of fans, looking for their chance to fall in love with wine. And maybe even inspire a few players to make more Sonoma County wines.