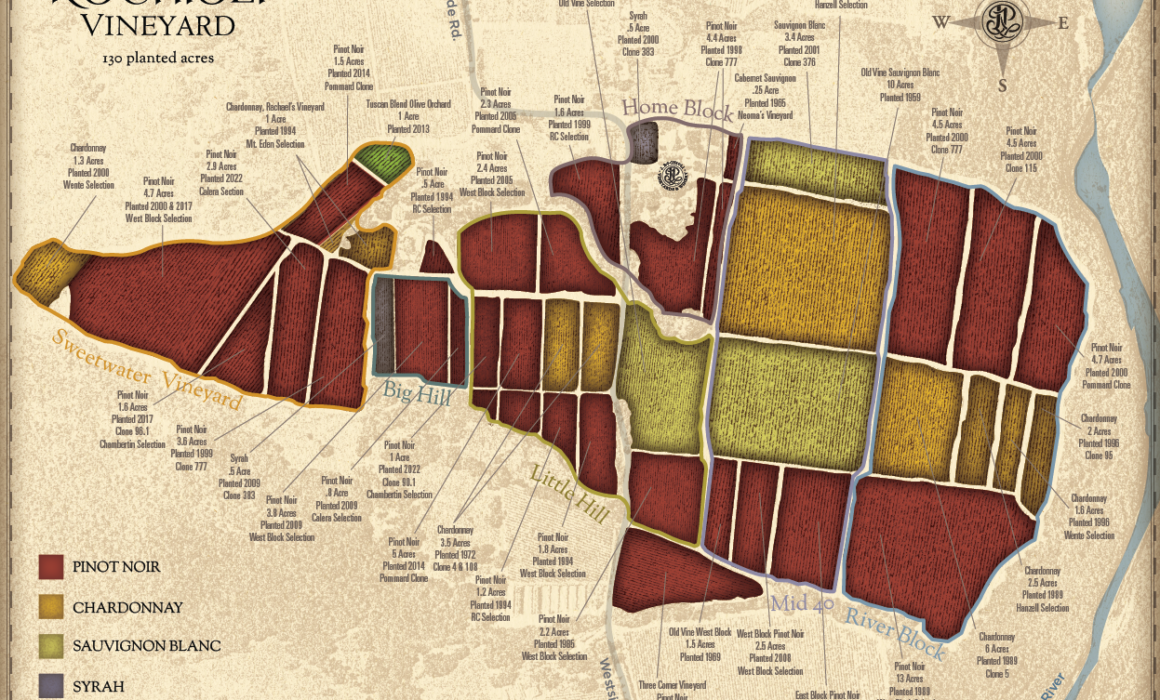 Among all the gorgeous vineyards lined along Westside Road in the Russian River Valley, Rochioli has always stood out. Not only is it stunning with some kind of magical pull, it is historic, a landmark of vital significance in California's agricultural legacy.
That legacy can be traced to the pioneering vision of Joe Rochioli, Jr., who passed away on August 18 at the age of 88.
In 1959 the ranch was planted to Cabernet Sauvignon and Sauvignon Blanc, adding to the small blocks of French Colombard and Napa Gamey. The bet on grapevines was a hedge against the decline of prunes, green beans and hops, Joe Jr. working alongside his dad. The Sauvignon Blanc remains some of the oldest in California.
It was Jr. that pushed to plant Pinot Noir, and after his father died in 1966, he did, pulling out everything but the Sauvignon Blanc to see how Pinot would do. The first of the Pinot went into the ground in 1968. Chardonnay soon followed.
In those early years, Rochioli was selling the Pinot grapes to Martini and Prati Winery (now the site of Martin Ray) for a mixed blacks and charging only $150/ton.
But when Davis Bynum came along, all that changed. Bynum not only bought all of Rochioli's Pinot grapes but labeled his 1973 bottling Rochioli Russian River Valley Pinot Noir.
"We said we can do better than that and we paid $350 a ton and got all of Rochioli's Pinot that year," Bynum told me in an interview for The Press Democrat in 2013. "We were paying that much for Cabernet, paying $300/ton for Zinfandel, and Pinot was one of the great grapes of the world, but there's wasn't a market."
Bynum bought Rochioli Pinot grapes from 1973 to 2007, crediting Rochioli for his meticulous farming. In the early 1980s Joe Jr.'s son Tom helped build the Rochioli Winery on the estate and became the winemaker for Rochioli wines. The first vintage was 1985; it was named Best Pinot Noir in America by Wine Spectator upon release in 1987.
Williams Selyem has bought Rochioli grapes since 1979. Gary Farrell Winery both during and after Farrell's time have been consistent buyers as has David Ramey. The majority of the 140 acres are planted to Pinot Noir, broken into distinct East and West Blocks and sub-areas called Little Hill, Big Hill, River Block and Sweetwater.
In addition to Pinot Noir there is Chardonnay, Sauvignon Blanc and Syrah planted, and an olive orchard. Tom's son Ryan, a brewer who is also making wine alongside his dad, is bringing hops back to the farm.
Tom continues to oversee the estate and make the Rochioli wines while also farming the Allen Ranch next door. Inspired by his travels in Burgundy, Tom ferments each block of grapes separately and is fairly hands-off in the cellar.
By virtue of site, meticulous farming and incredibly high-level winemaking, Tom's wines are hands-down amongst the best in the Russian River Valley – recent standouts include the 2019 Sweetwater Chardonnay, 2019 Rachael's Vineyard Chardonnay (named for Tom's daughter), 2019 Pinot Noir, a best-of-the-best cuvée of all several single-block designates, and 2019 Rochioli Riverblock. But honestly, they're all good.