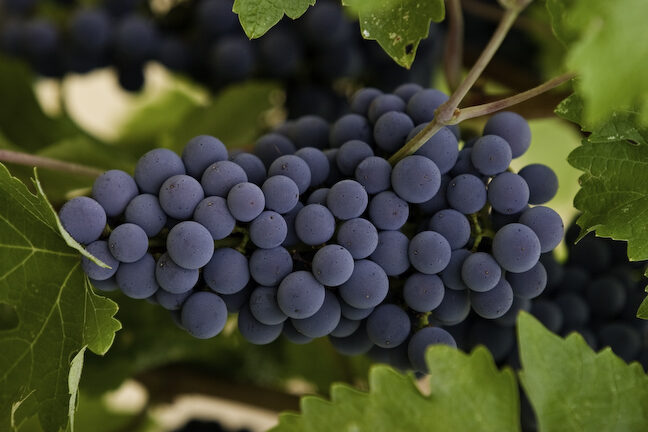 Every year, the Alexander Valley Winegrowers welcomes members of the trade to attend its Alexander Valley Cabernet Academy, multiple days of seminars, tastings and meals that shine a light on the appellation's range and significance as a growing region, particularly for Cabernet Sauvignon grapes. Taking place last week, this year marked its 10th year.
Among Sonoma County's biggest appellations, set in the county's warmer northeast corner, Alexander Valley is bordered by Dry Creek Valley, Chalk Hill and Knights Valley and by the northern reaches of the Napa Valley due east.
The appellation spans 20 miles long and 8 miles wide, with elevations up to 2,572 feet. The Russian River meanders through from Cloverdale to Healdsburg. This is crucial as the river brings in an ocean marine layer from the Pacific via the Petaluma Gap that helps cool the grapes at night and retain fog in the morning, slowing the ripening process during the peak growing season and allowing acidity and freshness to balance the fruit and tannin.
As a result, Alexander Valley Cabernet tends to be relatively soft on the palate, the tannins appealing to winemakers because of its beautiful fruit, silky tannins, blackberry cassis flavors and acidity.
The appellation totals 76,915 acres, 15,000 acres of which are planted to wine grapes, much of it Cabernet Sauvignon. Many of the 77 vineyards and 32 wineries remain small and family-owned, with multiple generations looking after the land.
To help understand it all, Cabernet Academy seminars are built around multiple topics, like history and geology, topography and elevation, microclimates and weather, with tours to vineyards to help differentiate and shine a light on the importance of site, from the ground through the grape and into the glass.
Among the things to learn are the five districts identified by the Winegrowers as having their own set of characteristics. From north to south they are Maacama, Healdsburg, Jimtown, Geyserville and Cloverdale. Throughout the districts, soils are diverse, reflecting the ancient seafloor that deposited volcanic soil and sedimentary rock, the soils over time affected by weathering, erosion, gravity and water movement.
Also of key importance in the Alexander Valley is elevation. Hillside and mountain vineyards on the valley's eastern side act differently than the valley floor, ranging from 400 to 2,500 feet high, along the Mayacamas. Rocky, less fertile and well-drained, these higher sites often produce lower yields of more intense fruit, with thicker skins from the pronounced sunlight.
Alexander Valley's history of grapegrowing is long. Many know of Cyrus Alexander, for whom the area is named, credited as the first to grow vines here, in the 1840s.
The first commercial winery came in 1889, built by Shadrach Osborn on the Lone Pine Vineyard. Red Winery followed, its first winemaker a man named Broder Frellson. History notes that Frellson's daughter would later marry Osborn's son – a family lineage that continues today via the Munselles.
Phylloxera and Prohibition hit the Alexander Valley during the first half of the 1900s as it did most places in Sonoma County. Hops and prunes replaced grapes for a time before growers realized they could graft over to protect from phylloxera and sell grapes to home winemakers during Prohibition to survive. Booms and busts followed as America took its time to become a wine drinking nation.
Rodney Strong had a lot to do with the resurgence of wine grapes in Sonoma County, arriving in 1962. Nearly a decade later he would buy a small hill in the Alexander Valley, sensing its potential for Cabernet Sauvignon. Strong's first vintage in 1974 was Sonoma County's first vineyard-designated Cabernet Sauvignon. To put his vision in perspective, this was two years before the Judgement of Paris tasting that helped put California Cabernet Sauvignon on the world stage.
Also pioneering was Peter Young, who ran a 206-acre ranch in Geyserville beginning in 1858, devoted primarily to cattle grazing and prunes. In 1963 his grandson Robert Young planted 14 acres of Cabernet Sauvignon on his family's Alexander Valley property, the first to plant the variety in the region in modern times. Robert Young Estate Winery was built in 1997.
Today, growth and refinement in Alexander Valley comes from longstanding family producers like the Wetzel family of Alexander Valley Vineyards, the Jordans of Jordan Winery and the Jackson Family, who have Stonestreet and Verité here, to relative newcomers like the Duncan family of Silver Oak, Alice Sutro of Sutro Wine and Jesse Katz of Aperture.