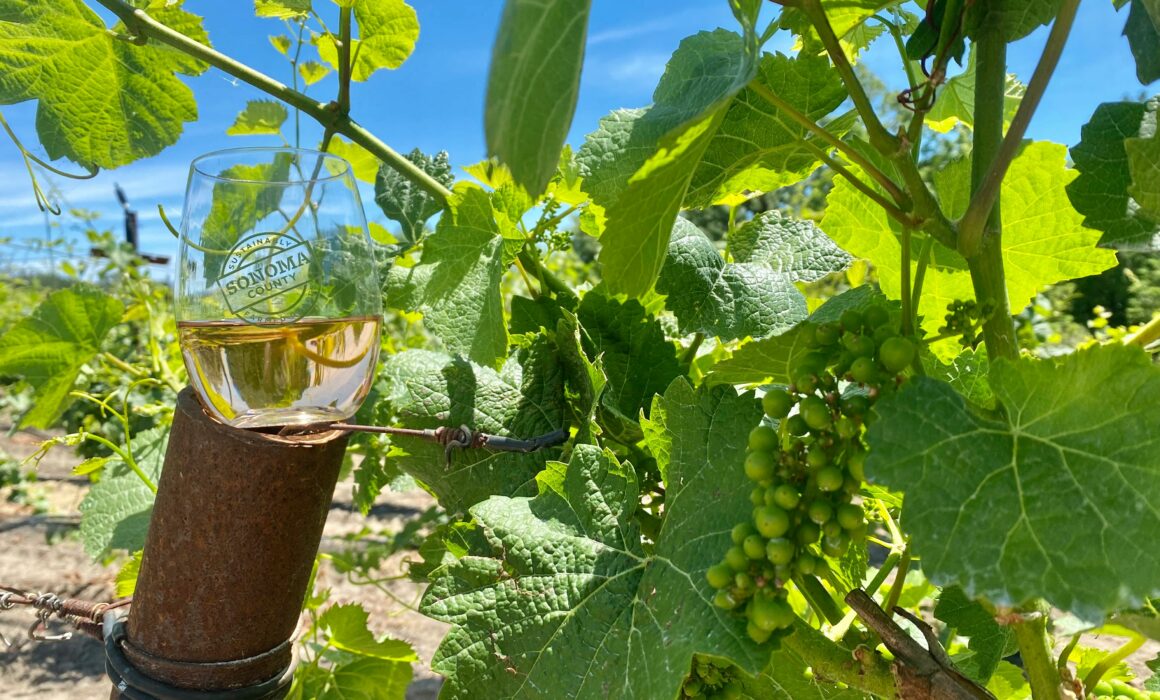 Though Rosé is delicious all year round, there's no doubt that our interest and consumption of it definitely increases at the faintest glimpse of summer, which this year, we've had to be pretty patient about in Sonoma County.
Rosé is made in many different ways, from many different red varieties, and is a great use of grapes that possess high acidity and can be picked less ripe than they would be for their red wine counterparts. It's also a wine that doesn't require much aging, and so becomes a winery's first calling card each vintage, the first wine of each year typically released for the world to try and to buy.
When winemaker Kathleen Inman first came to Sonoma County in 2004 and made an intentional Rosé from Pinot Noir grapes, no one wanted it. As she told The Washington Post in a recent story, everyone just assumed it was white Zinfandel and she couldn't get anyone to even taste it.
Inman didn't see an inkling of hope for the wine as a widespread and respected category until 2012 – eight years after she made her first. The marketing of Provencal Rosés in America helped change the mindset, as did producers like Inman, with people all of a sudden proud to exclaim, "Rosé All Day."
Today, many Sonoma County producers make one every year, with as much intention as they would any of their other wines, from great sites and with great care, highlighting the quality vineyard practices that go into every grape. Many even vineyard-designate their Rosés.
Here are 10 to try that provide a sense of place and outstanding quality.
Beltane Ranch 2022 Sonoma Valley Estate Rosé
A saignée of field-blended vines, this wine is made in small amounts and meant to reflect the site and the grapes' ability to exude summertime flavors, from watermelon to plum. Tart acidity keeps it fresh and lively. $30
Bricoleur Vineyards 2022 Fountaingrove District Rosé of Grenache
From the producer's own estate, Kick Ranch, this comes from a specific block of the hillside vineyard where the grapes are grown specifically for Rosé, where it's cool enough to preserve plenty of acidity and fresh fruit flavor. $36
Bruliam 2022 Sonoma County Rosé of Pinot Noir
Made from estate grapes and a "super-secret" winery partner, winemaker Kerith Overstreet has concocted a saignée Rose from single-vineyard-worthy Pinot fermented in stainless steel, then aged minimally in neutral oak and more stainless steel. It reminds her of Bazooka bubble gum.
Cartograph 2022 North Coast Rosé of Pinot Noir
Made in small amounts but worth seeking, this wine comes from several sites, including the Cartograph Estate in the Russian River Valley, and reminds winemaker Alan Baker of his favorite childhood treat, orange-flavored sherbet Push-Ups. $26
Crossbarn 2022 Sonoma Coast Rosé of Pinot Noir
This is a limited release saignée from Paul Hobbs that is given five months on the lees and aged entirely in stainless steel. $35
Inman Family 2022 Endless Crush® OGV Estate Russian River Valley Rosé of Pinot Noir
From Inman Family's own sustainable-certified Olivet Grange Vineyard (OGV) on Olivet Lane, this is an intentional Rose, inspired by the wines of Provence and first made by Kathleen Inman in 2004, an anniversary present for her husband, Simon. It has been a model for many others to follow. $40
Lynmar 2022 Russian River Valley Rosé of Pinot Noir
Made from sustainably-farmed estate and neighboring vineyards, many of them single-vineyard bottlings in their own right, this is a saignée of Pinot Noir picked specifically to make this wine.
The juice gets four months in stainless-steel tank to come together without obscuring the freshness nor fruit. $35
MacRostie 2022 Sonoma Coast Rosé of Pinot Noir
The grapes for this wine come mostly from a specific block of the producer's Thale's Estate Vineyard, where the fruit is especially suited to become crisp, bright and aromatic, with flavors of fresh berry fruit for days. $30
Rodney Strong 2022 Sonoma Coast Rosé of Pinot Noir
The producer makes a range of popular wines from Sonoma County grapes, but this Rosé is a popular favorite come summertime, where it spotlights the greatness of Pinot Noir from coastal sites, fermented entirely in stainless steel to capture its essence. $30
Trombetta 2022 Sonoma Coast Rosé of Pinot Noir
Using both a saignée of the wine and direct press of the grapes, this small-production offers dry, crisp flavors of cherry and strawberry with a lemon-like twist of acidity that lingers. $29