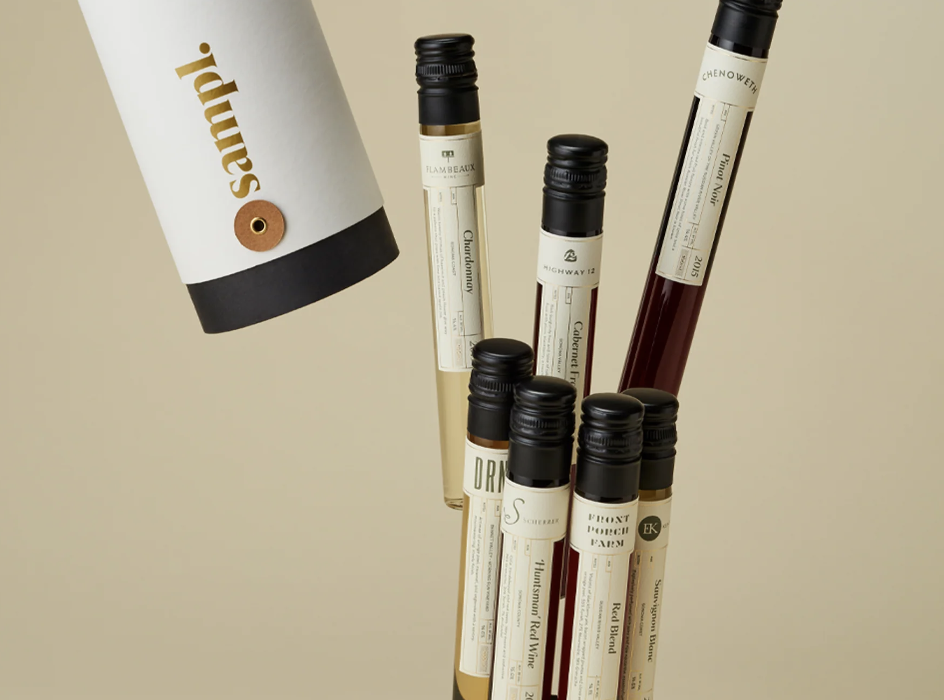 By Virginie Boone
Imagine if you could try a handful of Sonoma County wines without leaving your home. Or send a selection to friends who would be grateful to try such wines. Well, there is a way, with a new product launched earlier this year called Sampl.
Sampl. was co-founded in 2022 by Johan Eide and Kerry Thedorf, who are also the founders of Region in Sebastopol, a similarly-minded showcase for Sonoma County wines, where visitors can try a multitude of small-producer wines and occasionally meet the winegrowers and winemakers in person.
Region features around 50 wines at a time, with a weekly featured winery that does a full takeover of the space. Recent takeovers have been by Medlock Ames; this week is with Martinelli, while the weeks following will have Kobler Estate, Belden Barns and Serres Ranch.
Both Region and Sampl. are trying to help people make new wine discoveries.
Eide is an inventor, patent agent and hobby winemaker. To launch Sampl. he partnered with Sebastopol-raised Miles Pepper, who served as Region's director of digital, ecommerce and creative services before launching Sampl.
Pepper was also involved in the creation of FinalStraw, a collapsible sustainable drinking straw that raised $1.89 million on Kickstarter in 2018 and was featured on the Season 10 premiere of "Shark Tank."
Pepper then invented Sanikind, an eco-friendly refillable hand sanitizer made from recycled ocean plastic that he launched at the height of Covid. In recognition of his inventions and dedication to sustainable innovation, he has been named one of INC's 30 Under 30 and is an international speaker on sustainability.
The newest invention, Sampl., is a re-imagined subscription wine tasting club featuring seven 100 ml glasses of wine protected in a individual glass capsules which are packed into a capsule case which can be shipped safely to people's homes. The wines change quarterly and feature a new region of California with each shipment.
The wines and vineyards of Sonoma County are featured for fall 2023 and come with maps, winemaker interviews, vineyard videos and digital tasting notes accessed through a very cool coaster embedded with a QR code that guides drinkers through the region and the wines. Every part of the packaging can be reused or recycled.
The current Sonoma County lineup of wines are from impressive small-production producers such as Thirty-Seven, Anaba, Balletto and Gary Farrell and range from Albarino to a proprietary red blend. The one-time purchase price is $75 ($65 for subscribers).
Previous Sonoma County wines that have been featured include Flambeaux, DRNK, Chenoweth and Eric Kent. In other words, no bulk wine, no crap. The company values real people who grow the grapes and make the wine and choose the wines to be sent.
The concept is sustainable, innovative and a fun showcase for Sonoma County wines. Check out both Sampl. and Region when you can.