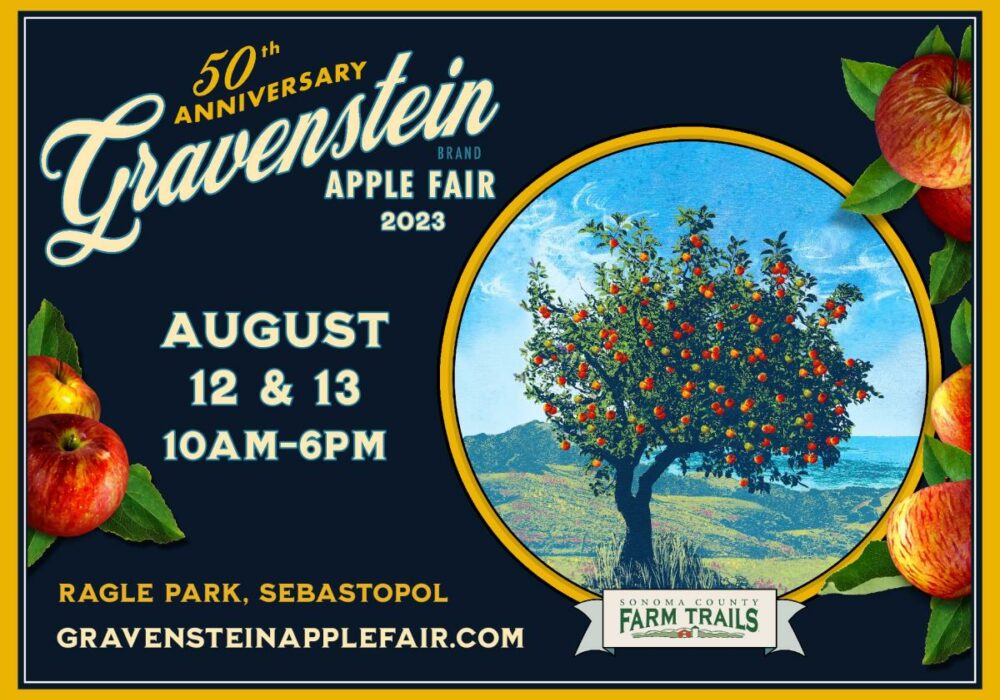 By Virginie Boone
Sebastopol will host the 50th Annual Gravenstein Apple Fair August 12 and 13 at Ragle Ranch Park, a fundraiser for Farm Trails' initiatives to serve and preserve local agriculture, also known as Farms Forever, in Sonoma County.
As part of its 50th Annual fundraiser, Farm Trails is working with Sonoma County Zero Waste and will be 95% zero waste.
The fair includes a VIP ticket ($150) that includes access to the Lounge Tent by Shelter Co. Under its shade will be the Artisan Tasting Alley, a showcase of local premium products where guests will meet and mingle with the producers behind these food and beverage offerings.
Some of those producers include Alley6, Bohemian Creamery, Dehlinger Winery, Hog Island Oyster, Goldridge Organic Farms, Spirit Works Distillery, Tilted Shed Ciderworks and Two Shepherds. Dutton Goldfield is among the hosts of the complimentary VIP Bar, with Golden State Cider and Seismic Brewing Company.
General admission is $23 in advance or $30 (cash only) day of. In addition to wines from local producers such as Iron Horse, MacRostie, Merry Edwards, Sonoma-Cutrer, Balletto and Kistler, among others, the popular event features live music on two stages, local food, arts and crafts, farm animals and activities for kids.
The fair started in 1973 as a way to mark the peak of Gravenstein apple season, put on by Sonoma County Farm Trails as a fundraiser and celebration of this important Sonoma County crop. Every dollar spent contributes to local farmers, artists, chefs and community groups.
Ultimately, it's the apples that tie it all together. Famed horticulturalist Luther Burbank was among the first to praise the Gravenstein as an exceptional apple in terms of both flavor and versatility. The fair makes a point of emphasizing that versatility in the form of apple fritters, pies, juice, cider and more.
Back in the 1930s, the Gold Ridge district, as the area around Sebastopol was known due to its rich, fluffy soils, produced at least 90% of the Gravenstein apples in California.
A green-yellowish apple with red piping, the Gravenstein, or Grav, is an early-ripening variety of apple known for its tart flavor. Many believe it originated in western Europe, possibly northern Germany or Denmark. There is a Castle Gravenstein in Denmark, making the case for that being its original home.
Here in California, Russians were the first to grow Gravensteins in the early 1800s on the hills above Fort Ross. Horticulturalist and Massachusetts-native Luther Burbank had enough success with potato seeds to pay $150 to get to Santa Rosa by the early 1870s, joining three of his brothers who were already in the area.
By 1885 he established an experimental fruit and tree farm called Gold Ridge Farm in Sebastopol, which he maintained for 40 years.
Burbank is credited with saying, "It is the best quality of all known apples… if the Gravenstein could be had through the year, no other apple could be had through the year, no other apple need be grown." He is also credited for calling the Gravenstein, "the moneywinner in Sonoma County."
In 1869, William J. Hunt introduced both the Gravenstein and Lawton blackberry to Sebastopol. Hunt was also the developer of the first dehydrator and founder of Hunt Brothers Cannery.
Grav credit is also given to Nathaniel A. Griffith, who established a 78-acre ranch on Laguna Road called Griffith Wood in 1883. He is considered the "Grandfather of the Gravenstein," who along with grapes and other kinds of apples, had 35 acres of Gravs, making him the largest grower of his time.
By the 1890s, railways helped connect Sonoma County's apples to markets on the east coast.
Famous "apple men" of the time included R.E. Oehlmann of Manzana Products; Oscar and Alfred Hallberg (of Hallberg Ranch); Will Hotle and Lew Hart of Gold Ridge Orchard; Carl Silveira and Jack O'Connell of Barlow Cannery; Louis and Walter Frei, owners of a large orchard; A.H. Morgan of Vine Hill Ranch; the Barlow family who started the first commercial applesauce business in the United States; and James O'Connell and Al Garcia, who had one of the biggest dried apple processors.
Sebastopol, due to its right combination of soil and weather, is one of few places in the world where the Grav has thrived, so much so that Gravs are now considered the oldest continuing agricultural endeavor in the county.
Come and celebrate this living legacy of Sonoma County agriculture in August at the 50th annual Gravenstein Apple Fair.