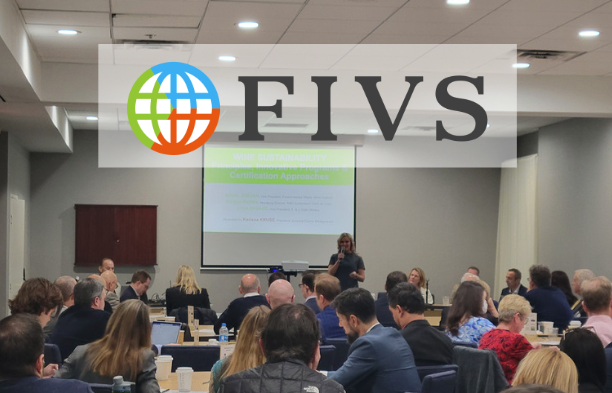 By Virginie Boone
Later this week Sonoma County Winegrowers President Karissa Kruse will travel to London to take part in meetings with FIVS, an international federation that works for the overall sustainability of the global beverage industry, including wine.
FIVS is short for Federation Internationale des Industries et du Commerce en Gros des Vins, Spiritueaux, Eaux-de-vie et Liqueurs. Based in Paris, its members are companies, associations and other entities involved in the alcohol beverage industry who work collaboratively on legislative and policy issues.
FIVS' mission is multifold, from gathering information to engaging in such policy and technical issues as advertising restrictions, restrictive trade measures and allergen labeling requirements, and serving as a networking platform for industry members, government officials and academic experts to collaborate on industry initiatives.
Founded in 1951 by 12 European members during a time of economic development for the alcohol beverage sector, FIVS reorganized in 2017 so that it could work toward what it calls the "triple bottom line of sustainability," accounting for not just environmental but economic and social sustainability within the wine, spirits and beer sectors.
The focus on this triple bottom line was due to the adoption two years earlier by all 193 United Nations Member States to adopt 17 Sustainable Development Goals (SDGs), with a pledge to end poverty, protect the planet and secure peace and prosperity worldwide by 2030. This monumental undertaking will no doubt require close collaboration between the private and public sectors to advance environmental, social and economic sustainability.
These SDGs include such wide-ranging areas as quality education, gender equality, affordable and clean energy, climate action and responsible consumption and production.
After beginning in Europe, FIVS first North American member joined in 1960. The organization now has 50 members from 24 countries and regions on six continents, including Oceania, Africa, Latin America and Asia.
Full members within the United States include the American Distilled Spirits Alliance, Bonterra Organic Estates, Bronco Wine Co., Constellation Brands, Delicato Family Vineyards, E&J Gallo, Trinchero Family Estates, WineAmerica, Wine Institute and of course, Sonoma County Winegrowers, while Cooperages 1912, Enological Supply Organization and ETS Laboratories are affiliate members.
The London meetings will occur October 25 and 26 and focus on the environmental sustainability challenges that face the alcohol beverage sector.
Discussions will include "farm to fork" initiatives, efforts to mitigate carbon footprints, how the investment community views sustainability, and innovations in packaging technologies, drawing on the expertise of international organizations, producers, suppliers, wholesalers and retailers.
There will also be discussion around health, nutrition and ingredient labeling, something that Europe has embraced but is still under debate in the United States. Attendees will also get into issues around the impact of fire; the pros and cons of certification; environmental, social and corporate governance (ESG); and dealing with the speed of change around the alcohol beverage sector.
Wine Institute Vice President of Environmental Affairs Allison Jordan will be a panelist addressing some of the key issues for producers, representing the California perspective, while Kruse will lead a wrap-up discussion focusing on future directions for the industry, alongside Chris Savage of E&J Gallo, Gallo's Vice President, Environmental Health and Safety and Sustainability and co-chair of the FIVS Working Group on Environmental Sustainability.
This working group develops resources to help wine companies implement sustainable development programs such as its Global Wine Producers Environmental Sustainability Principles.
Sonoma County Winegrowers joined FIVS in 2015. With its region-wide sustainability commitment, FIVS provided an important platform to discuss sustainability principles and best practices at a global level. Kruse has commented that she sees real value in working with her peers from wine regions around the world and being able to share the work happening here in Sonoma County. Last November, the FIVS meeting was hosted by Sonoma County Winegrowers here in Santa Rosa, where Kruse shared the latest update on the Farm of the Future Initiative.