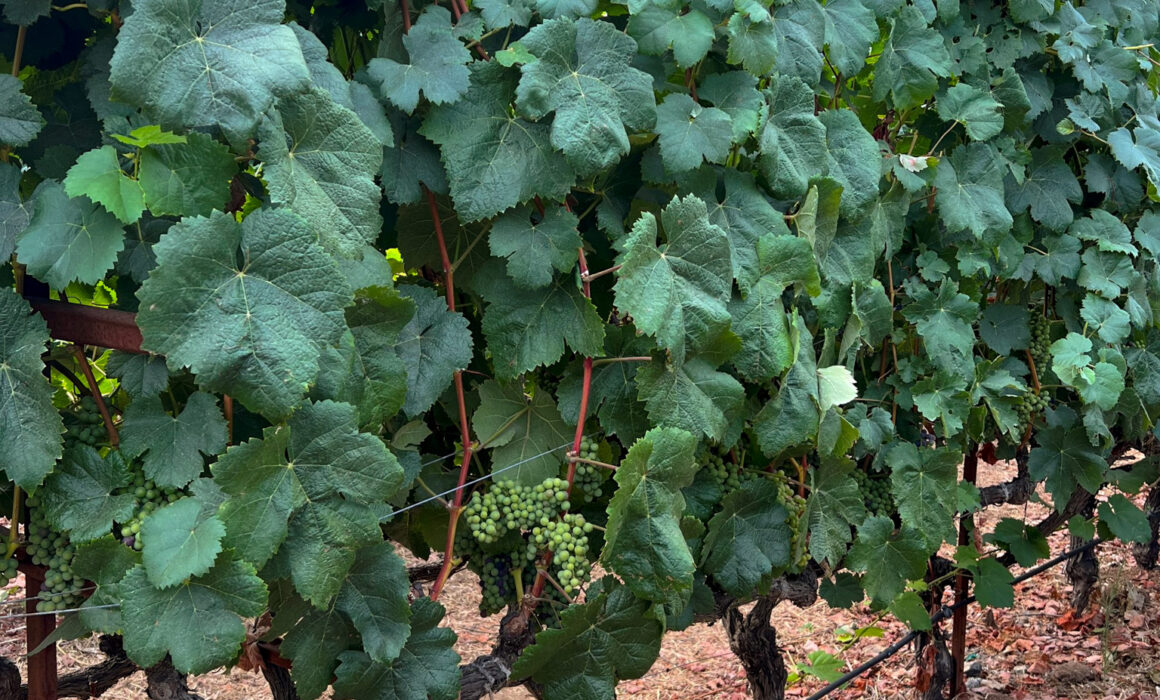 Spend time above 1,000-feet-elevation on Sonoma County's Moon Mountain and you'll see much of what you would expect – Cabernet Sauvignon, Zinfandel, even Syrah. Tannat is unexpected. 
And yet at B. Wise Vineyards there are 12 rows of it made into a varietal wine that sells out quickly every year. 
An unusual grape variety in California, Tannat is common in the Madiran appellation in the southwest part of France, where it produces dark, powerful and tannic wines with vigorous structure. There it is often blended with Cabernet Sauvignon and Cabernet Franc and might even make an occasional Rosé wine. Do these wines need time to age? Yes, they do. 
It also has a happy home in Uruguay, where a dedication to making world-class versions of the wine is on the rise.  
In California, there's not much of it – no more than 600 acres across the entire state, with the vast majority of that planted before 2014. In Sonoma County, it doesn't even crack the top 13 of red grape varieties. Here, there's more Sangiovese, more Mourvèdre, more Petit Verdot. 
It had a small heyday in California in the late 1800s. Charles Wetmore is said to have imported it here first in 1879 and records show it was used for blending by J.H. Drummond, founder of Dunfilian Vineyards in Glen Ellen, and H.W. Crabb, one of the earliest to plant in Napa Valley's Oakville area on the site of today's To Kalon Vineyard. Back then, Tannat was considered particularly well-suited as a blender with Zinfandel.  
Experiments by the University of California at Davis with Tannat in the 1930s and 1940s were glowing in their assessments of the grape as "richly endowed with a distinctive aroma, full pleasing flavor, good balance, intense color and full body," but by the 1960s there was reluctance to growing it widely. 
The grape appears to favor high elevations, either that or growers who like to grow grapes at elevation like Tannat. The Silverwood Ranch on Pine Mountain-Cloverdale Peak also has Tannat, farmed by Imagery Estate on its Upper Ridge Vineyard. There it sits at 2,600-feet elevation, the highest vineyard site in all of Sonoma County. 
Its version is voluptuous, intensely aromatic and packed with flavor, tannin and acidity. 
For many years the small producer Y. Rousseau, run by a native of Gascony, made Tannat from Saralee's Vineyard in Russian River Valley. It was meaty in strawberry with refreshing acidity and ample structure. Wine.com is still selling a 2014 vintage of the wine. 
"A lot of Tannats from Madiran… have a bit more rusticity to them," he told Terroir Review in a 2015 interview.  
"The California Tannats are more generous, with bright red and black fruit. My Russian River Tannat… tends to be juicier and maybe even denser than the French Tannat, mostly because we have more sun in California. That said, as far as the texture and structure of the wine, they have the same frame. You can take the Tannat out of Gascony, but you can't take the tannins out of Tannat." 
He added that his job as a winemaker with Tannat is to tame it, but that Saralee's Vineyard Tannat was a good way to introduce consumers to it, possessed of bright fruit, juicier than higher-elevation versions with super structure. 
Le Coeur Tannat was a short-term passion project of Verité winemaker Pierre Seillan, who wanted to express his southwestern French roots through the variety, which he sourced from high-elevation vineyards in Alexander Valley.  
The wine can be found via the Vigneron Collection Wine Club, where wines made by Seillan from around the world are sold. There it is explained that "With Le Coeur, Pierre strives to showcase the elegance, finesse and complexity that Tannat can express when meticulously farmed and vinified." 
But the story is more complicated than the tasting notes suggest. 
"Winemaker Pierre Seillan planted Tannat in Alexander Valley, unbeknownst to owner Jackson Family Wines proprietor and chairwoman, Barbara Banke," explained David Thompson in a story about it in The Napa Wine Project.  
"He had her sample the 2009 vintage of this wine in a blind tasting. She really enjoyed its character and asked him what the variety was. He told her Tannat. She replied, 'we don't have any Tannat planted.' The secret had to be let out of the bag at that point. And he told her he had been making wine from this variety. She told him, 'We have to bottle this.' 
Subsequently, it was bottled under the label Le Coeur; the 2009-2011 vintages were released as a three-year vertical in 2022 and 2023, vintages 2012-2014 were also released as a three-year vertical. 
Joseph Swan also produced a Tannat for a time, from Matthew's Station Vineyard in the Russian River Valley. Most of the time, Tannat serves as a blender. Westwood makes a proprietary blend made mostly of Cabernet Sauvignon, Syrah and Counoise that includes small amounts of Grenache and Tannat from Sonoma County with age-worthy tannins and rich berry flavors. 
Today, true Tannat from Sonoma County is harder and harder to find. In addition to B. Wise and Imagery there's Foley Estate Tannat from Alexander Valley, which the producer describes as "one of our most distinctive wines aromatically… with lush aromatics of red raspberry, blackberry and chocolate." 
Tannats to Try
Wise Estate 2018 Moon Mountain District Tannat
Foley 2019 Sonoma Estate Alexander Valley Tannat 
Imagery Estate 2018 Upper Ridge Vineyard Pine Mountain-Cloverdale Peak Tannat 
Le Coeur 2011 Alexander Valley Tannat