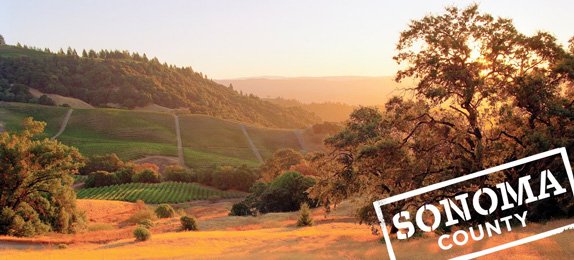 Was 2012 the year night harvesting of wine grapes truly arrived? In Sonoma County, it seems like it might be.
The second-largest and richest wine grape harvest in history here at the time, and 25% bigger than the crop in 2011, 2012's total tonnage was 232,000 tons, worth an estimated $423 million.
Growers like David Rafanelli, John Pedroncelli and the late Joe Rochioli Jr. were quoted in local newspapers saying the harvest was "as close to a perfect year as we might ever see," with clean fruit, desirable sugar and acid levels, and the promise of beautiful wines.
The 2012 harvest had been warm but not too hot, with no temperature extremes – unlike what we're experiencing right now. Ten years ago, Sonoma growers in mid-late September were in the midst of harvesting Sauvignon Blanc and Pinot Noir, with Chardonnay on the horizon. Other grape varieties were still waiting for sugar levels to inch up.
The 2012 harvest was universally celebrated as excellent in terms of both quantity and quality. So if you go back and read the press accounts of the time, what sticks out most to me is the mention of night harvesting just starting to gain in popularity.
It's rather insane to think that only 10 years ago this was only a growing trend and not the norm. But it just wasn't. Reading between the lines I'm sensing that it's precisely because there was so much fruit and it was of such high quality that night harvesting was as much a necessity as a luxury, and that it wasn't just about machine harvesting at night anymore.
A decade before, in a 1989 Press Democrat story about harvest, Napa Valley-based Domaine Chandon was credited with having pioneered nighttime grape harvesting in the North Coast, with 60% of the harvesting done mechanically with a $130,000 harvesting machine that Chandon's vineyard manager at the time called, "real Star Wars stuff."
Described as better for the grapes, with the end result better wine, night harvesting was also said to be "an ominous sight on a moonless night," with lurching harvesters looking like hovering spaceships.
What's unclear is whether in the late 1980s Chandon was inspired by a new winery in Yolo County called R.H. Phillips, which called itself a "pioneer in night harvesting."
At R.H. Phillips, one of the biggest winemaking operations in its area until it closed in 2009, the push for night harvesting is traced to founding winemaker Clark Smith, an MIT and UC Davis grad and former assistant to Roger Boulton at the Department of Viticulture and Enology at UC Davis. Smith felt that the best way to deliver chilled grapes was to pick them at night.
In a Santa Rosa Press Democrat column by Dan Berger, Smith is also credited with designing harvesting bins that could hook to a tractor lit by fluorescent lights 2 feet off the ground to avoid shadows.
Not that having chilled grapes was entirely a new notion. Winemaking textbooks for decades had advocated for grapes to be delivered to the crusher cool.
But for many wineries this meant creating a chilling area for when the grapes arrived; that could be expensive to build and not everyone even had the space; refrigerated trucks were also a major innovation; but also expensive and not always easy to find. Grapes that are cooled naturally from nighttime temps also mean less energy use in the winery.
But if you could harvest at night, when temperatures can drop as much as 40 degrees F from daytime highs, you're considerably ahead of the game, especially if the crop is big and the wineries are backed up.
It buys time. Time for aromas and flavors to concentrate, sugar and acid levels to stabilize and oxidation to be avoided. Cooler temperatures are better for people, too.
Benziger Winery once posted a video of its night pick during a Supermoon, when a full moon makes its closest approach to earth. They barely needed lights. It is estimated that today around 90% of the Sonoma County vineyards are night harvested.
Picking at night was at least something to aspire to and a marketing plus in a 1980 Sebastiani Vineyards ad. There, above Sam J. Sebastiani's signature was the boast that "we can never predict just when a vineyard will be ready – so we must be ready at all times – even if it means picking at night."
Thank goodness it's now the norm.