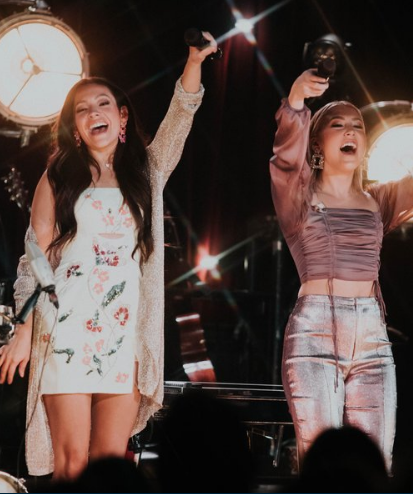 Maddie & Tae Take the Stage
May 3, 2023
"The Good Stuff"
If you're a fan of country music and want to support local agriculture, an upcoming concert at Rodney Strong Vineyards should be on your radar.
Country duo Maddie & Tae will take the stage Saturday, May 20 at Rodney Strong Vineyards for a concert benefitting the Fundación de la Voz de los Viñedos (formerly the Sonoma County Grape Growers Foundation) and its Leadership Academy and workforce development initiatives.
Part of the Healdsburg Wine and Food weekend, the concert is a special à la carte add-on held on the winery's Concert Green, where its annual summer concert series is held.
Maddie Font and Tae Kerr met as kids in high school. Maddie is originally from Sugarland, Texas while Tae is from Ada, Oklahoma. They both went to the same vocal coach (who Maddie later told Teen Vogue "turned out to be a snake), but he got them each to the same music showcase in Dallas where Maddie and Tae met each other and realized they'd make a great duo.
They started playing together and traveling to Nashville every weekend (a 10-plus hour drive for each of them) until finishing high school, then moved to Nashville full-time where they wrote songs every single day for a year.
They write their own songs, both sing and play guitar, and are best known for a firecracker of a song, "Girl in a Country Song," which they debuted on The Tonight Show with Jimmy Fallon in 2015, the year of their first album, "Start Here."
A tongue-in-cheek poke at bro-culture cliches in country music, "Girl in a Country Song," was heralded as a "catchy tune that finds the girls putting female stereotypes in country music to shame" by Teen Vogue, who also called it, "sassy, witty and fun, much like the girls themselves."
A second album was released in 2020, while the video for their 2022 love song "Drinking to Remember" finds Tae enjoying a big glass of red wine while Maddie is drinking whisky. They are also well-known for the songs, "Woman You Got," "Fly" and "Shut Up and Fish."
The summer concert series on Rodney Strong's Concert Green has a long history – this year is its 31st annual – and have included significant artists over the years, including Tower of Power, John Hiatt, Madeleine Peyroux, B-52s, Alanis Morrisette and last year, the very popular Blues Traveler.
For this special concert event featuring Maddie & Tae, doors will open at 5 p.m. with plenty of time to enjoy the food and wine on offer before the show starts at 6:30 p.m. Tickets are $125.