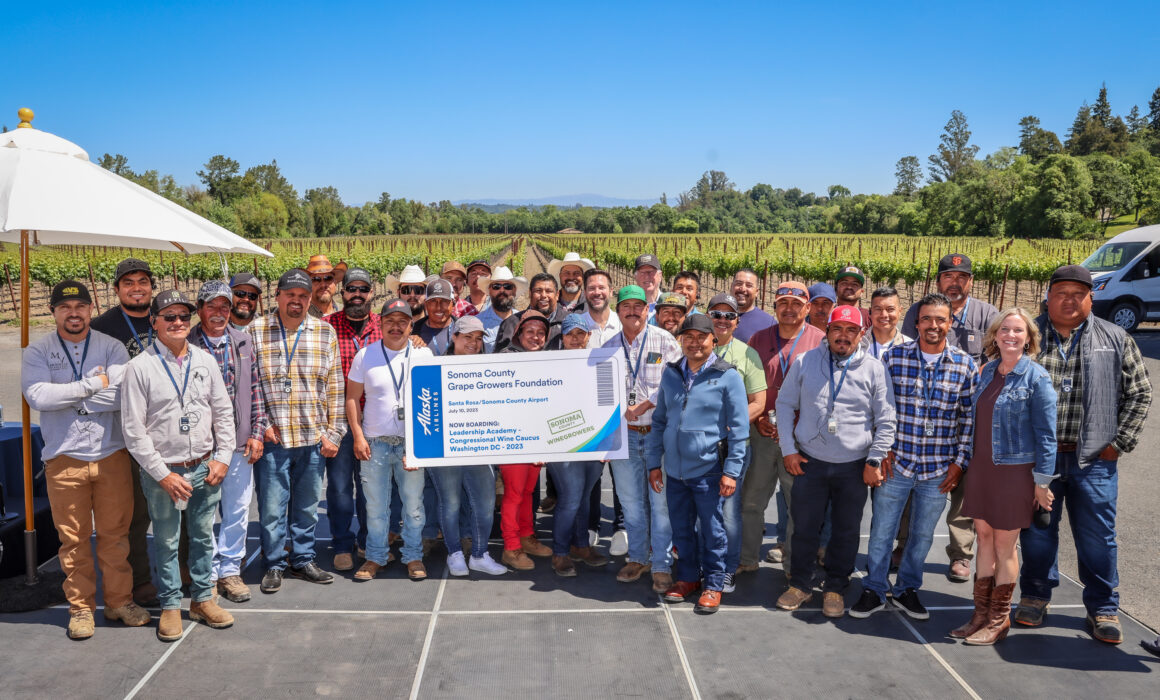 Last Friday, members of the first and second classes of the Sonoma County Fundación de la Voz de los Viñedos (formerly the Sonoma County Grape Growers Foundation) Leadership Academy gathered at Dutton Ranch for a secret announcement.There, presumably for the Matt Horn-cooked barbecue that followed, they had been asked to arrive a bit earlier, but why exactly, was unclear.
On-hand was a familiar face to many of them, as Congressman Mike Thompson did the honors, announcing that the group was invited to come visit him in Washington, DC to represent Sonoma County agriculture, tour the White House and meet with members of the Wine Caucus this July.
This was both a thank you and recognition for the incredible work they do for the community, which Thompson has represented since 1998. Thompson also regularly attends the Fundación's Vineyard Employee Recognition celebration every year.
The Leadership Academy is in its second year and is a year-long program that meets eight times for half-day classes between February and July. Each cohort consists of 15 to 25 class members who are compensated by their employers to attend.
Participants, all vineyard employees in Sonoma County, are nominated to take part in the Leadership Academy each year to learn skills that will help them take on leadership roles in their jobs and community, including financial literacy, communications, sustainability and more. These topics are taught by local subject-matter experts who work with the Fundación to elevate the agricultural community's voice.
Class speakers from the industry have included California Secretary of Agriculture Karen Ross, who spoke to the inaugural class last year about how crucial agriculture is to the state's economy.
When that first group graduated, Ross invited them to visit her at the California Department of Food and Agriculture in Sacramento; Thompson figured he could do one better.
His announcement was met with big smiles and excited hurrahs, as the news settled in. While still processing, Eric Edge of Alaska Airlines took the stage to additionally share that not only is the group invited, Alaska Airlines will be donating the flights from San Francisco to DC for all.
That was met with both stunned silence and additional excitement. For many this will be their first time on an airplane and first time outside of California. Everyone was excited to go home and share the news with their families.
This will be a remarkable opportunity for participants to share their knowledge of farming and the leadership skills they have learned with policy makers who may not have an in-depth understanding of what it takes to farm for and make fine wine. It's an incredibly important endeavor.
The wine and winegrape sectors in California contribute $73 billion every year to the California economy and $170.5 billion annually to the U.S. economy, according to reports done in 2022 by the Wine Institute and California Association of Winegrape Growers. California wineries and vineyards also generate 422,000 full-time jobs in California.
Those figures represent 27% year-to-year growth statewide (from $57.6 to $73 billion) and 49% in national impact, impressive given the timeframe included the period of the pandemic. And as we know specifically in Sonoma County, much of this growth is generated by generational family-owned businesses, who help drive this economic engine with the help of a vibrant labor force.
Congratulations to both classes of the Leadership Academy for this tremendous honor!