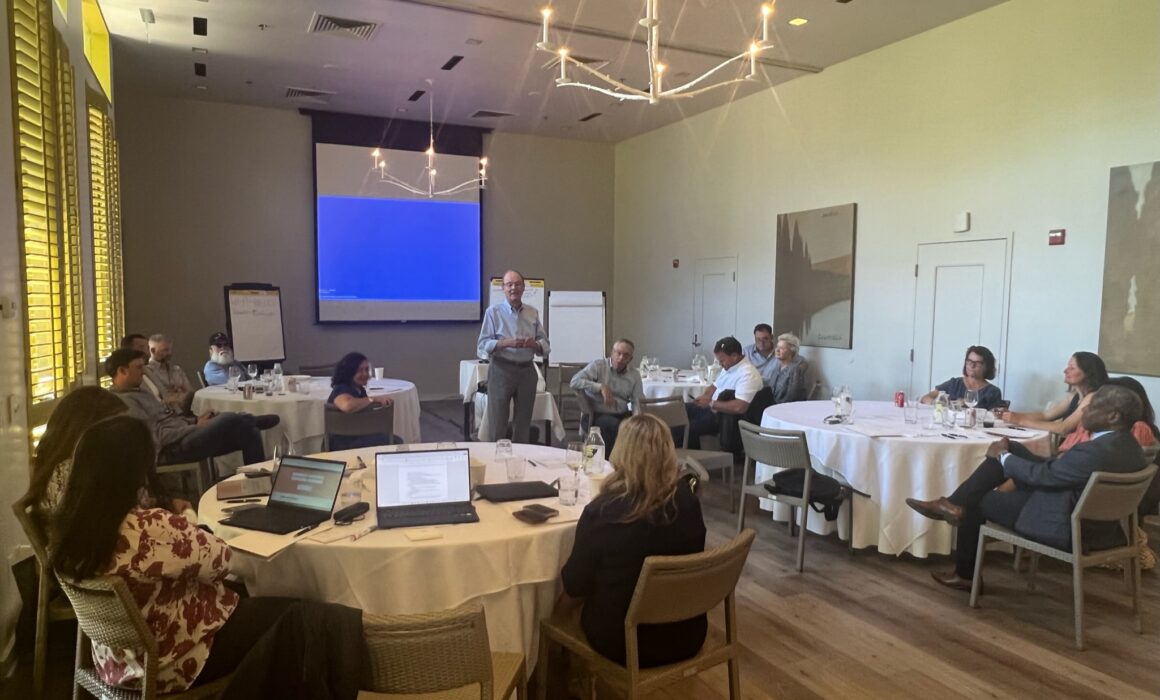 In March of 2018, the Sonoma County Center for Ag Sustainability held its first meeting, bringing together a panel of outside resources and authorities to think about the important issues that confront Sonoma County farmers.
The Ag Center, as it's known, continues to this day and has met regularly in Sonoma County since that inaugural meeting, bringing together wine growers, environmentalists, immigration specialists, economists, small business experts, marketers, journalists (myself included), wine business leaders and lawyers to look for early warning signals of trouble ahead from a variety of business and scientific domains.
Ultimately, the Ag Center is helping members of the Sonoma County Winegrowers think about ways they can tackle the big-picture challenges that threaten Sonoma County wine grapes and protect farming here for years to come.
This has given our region a leg up on remaining vigilant in the face of uncertainty – which we've certainly had – be it in the form of fires, floods or Covid-19.
Wharton Professor George S. Day has helped guide the Ag Center since the beginning, working closely with former student and Sonoma County Winegrowers President Karissa Kruse to shape it into a dynamic and diversely populated think tank. In addition to teaching, Day is founder of the Mack Institute for Innovation Management.
They believe organizations that practice vigilance have leadership teams and engaged boards of directors that take the long view and actively prepare for a turbulent future.
Practicing vigilance includes applying a collective capability, featuring curiosity, candor, openness to diverse points-of-view and a willingness to challenge comfortable assumptions, with a mindset that doesn't default to doing things the way they've always been done, avoiding the pitfalls of wishful thinking, willful blindness and short-term myopia.
Vigilance means being better prepared. Unpredictable weather has always been central to farming, but by the early 2010s, winegrowers in Sonoma County were beginning to think actively about climate insecurity. This led to their commitment in 2014 to make Sonoma County the world's first 100% sustainable wine region by 2019. By September 2019 they were 99% of the way there.
This monumental change in mindset makes Sonoma County farmers more responsive and resilient, even vigilant, to the never-ending threats we've had as a community, from 2017, 2019 and 2020 fires to 2019 floods and the torrent of unrest and uncertainty during Covid-19.
But it has also put Sonoma County on the world stage in regard to climate action, getting Sonoma County farmers in front of global wine seminars and audiences at Fine Minds 4 Fine Wines, Vin Expo and others, where global trend discussions contribute to further learnings, an advantage over less-vigilant regions facing many of the same issues.
This dedication to bringing in fresh eyes and objectivity to tackle what farmers face here in Sonoma County keeps our region adaptive to change, able to look outside of our own bubble to see how the world is changing instead of reacting to those changes after it's too late.
Vigilance is a collective capability.
Sources include: G.S. Day and K. Kruse, "How Vigilant Leaders Prepare for a Turbulent Future"