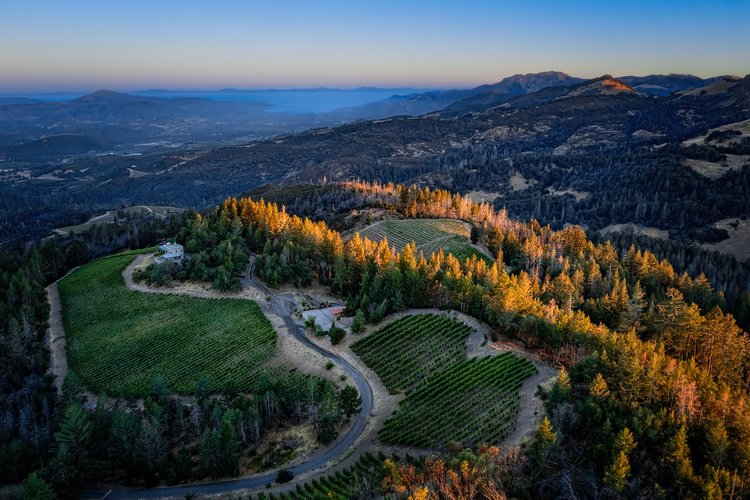 By Virginie Boone
People have known that great Cabernet Sauvignon could be grown in Sonoma County since the days of Agoston Haraszthy, who, it is believed, acquired Cab cuttings from France in the mid-1800s to plant near the town of Sonoma.
In the modern era, Cabernet Sauvignon spread more widely, finding great places to grow in Alexander Valley, Knights Valley, Dry Creek Valley, Chalk Hill, Sonoma Mountain and Sonoma Valley, predominantly, with many grapegrowers and winemakers doing their part to showcase its promise across the region.
Notable champions of the variety have included Robert Young Estate, Jordan Vineyard & Winery, Silver Oak, the Jackson family with Stonestreet and Vérité, Rodney Strong, Simi, Chateau St. Jean, Kamen and Laurel Glen, as well as winemakers like Maryann Graf, Zelma Long, Mike Lee, Richard Arrowood, Pierre Seillan, Margo Van Staaveren, Rob Davis, David Ramey and Paul Hobbs.
But a newer appellation is showing some of the greatest potential for Cabernet Sauvignon because of its high elevation and proximity to the San Francisco Bay: Moon Mountain.
On the western side of the Mayacamas Mountain range facing west, Moon Mountain stretches high above the Sonoma Valley from Sonoma to Kenwood.
The Moon Mountain District was made an official American Viticultural Area in 2013, separating it from the larger Sonoma Valley AVA. It starts at 400 feet and reaches as high as 2,200-feet elevation and encompasses 17,663 acres, though only 2,000 are planted.
Cabernet Sauvignon vineyards on Moon Mountain include Amapola Creek, Kamen, Lasseter's Trinity Ridge, Winery Sixteen 600's Simon's Vineyard, Stone Edge Farm, Repris, Mountain Terraces, B. Wise and Bismark, while Fredericks has been growing Zinfandel up here since 1937 and Kistler's original Chardonnay planting thrives at 1,800 feet.
What brings them together is elevation of course, but also volcanic soils, that give the reds dark, inky color. Above the fog, Moon Mountain gets the long, warm days and cool, dry nights and cooling coastal winds that allow phenolic ripeness to happen at moderate alcohol levels.
This coolness at elevation allows for an appealing combination of supple, rounded tannins and bright acidity, what some might call elegant intensity.
Even Hanzell, well known for Pinot Noir and Chardonnay, has Cabernet Sauvignon growing on Moon Mountain. Many don't realize that Hanzell made Cabernet from 1979 to 1992 before grafting the vines over to Pinot Noir. But in 2012 it replanted two acres of it back. The wine is elegant and understated.
Then there's Monte Rosso, with 250 acres of grape varieties planted across a vast expanse of elevated red soils. The original plantings of Zinfandel and Semillon date back to 1886, and the Cabernet Sauvignon to 1940, the latter planted by Louis M. Martini.
Winemaker Blair Guthrie believes Montecillo Vineyard may hold the greatest potential for Cabernet Sauvignon of all. He and his wife Caroline Stewart Guthrie bought the vineyard in 2022 for their brand, Stewart Cellars, from Kaarin Lee, who with her husband, the late Mike Lee, purchased it in 2001 from gentlemen farmers for Kenwood Vineyards. The Guthries live in Sonoma Valley.
Montecillo has Cabernet on St. George rootstock that dates back to 1964. More was planted over time by Chuy Ordaz, who continues to farm the site, which has 51 acres of vines.
The iron-rich red soil-filled vineyard rises to 1,800-feet and has been a source of grapes for a roster of great wines, including DuMol, Arnot-Roberts and Di Costanzo; Bedrock and Turley get most of its Zinfandel. Stewart Cellars will soon have an estate Cabernet from Montecillo.
Montecillo's neighbor is Nun's Canyon Vineyard, owned by Hamel Family, who bought the site from St. Francis in 2013. Also brimming in red clay loam soils, its elevation ranges from 1,300 to 1,700 feet. The 125 acres of grapes include Cabernet Sauvignon, as well as varieties like Grenache.
Keep an eye on this AVA. With its long history of exceptional grapegrowing and new blood focusing on bringing it to even greater heights, it is poised to raise Sonoma County's world-class reputation even wider.