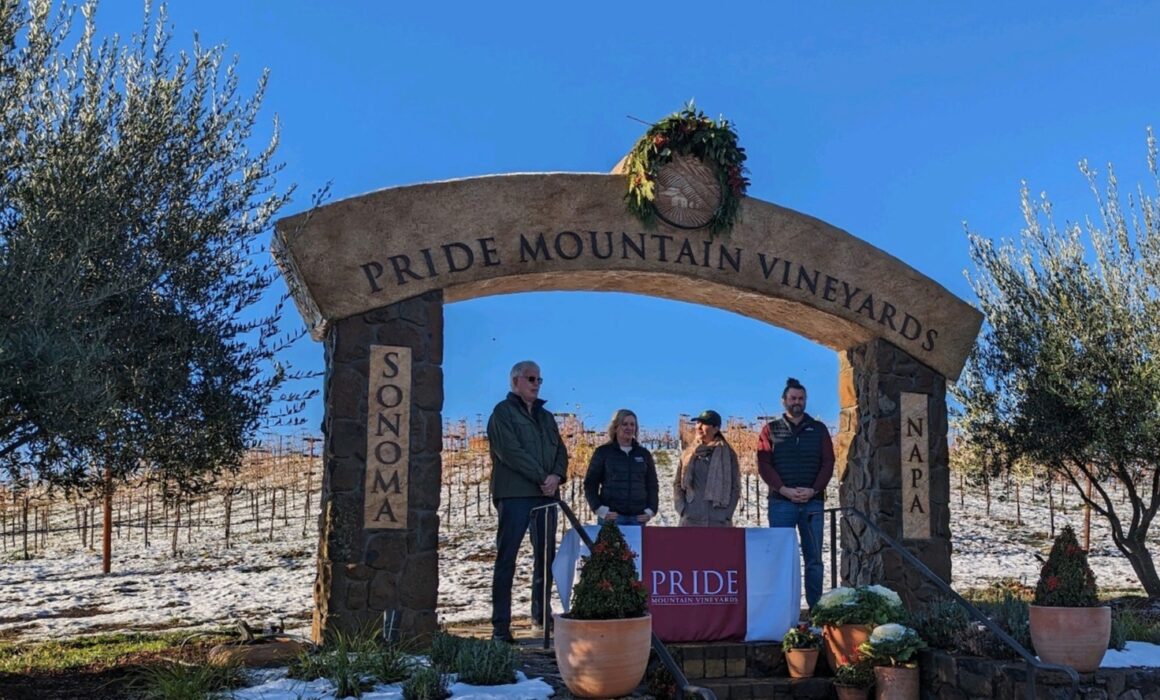 The boundaries that define and separate Sonoma County from the Napa Valley, its neighbor to the east, like all manmade boundaries, are arbitrary, and this week at a celebration of a new archway at Pride Mountain Vineyards, there were more similarities to celebrate than differences.  
At Pride Mountain Vineyards, on the top of Spring Mountain, the boundary between the counties runs through its actual vineyard and winery. Pride created an arch to mark the spot where this occurs, the only visual demarcation of any border. The vines certainly don't grow any differently from one side to the other nor do the soils change from either end of the arch.  
So while differences might be difficult to see, what it takes to survive as a community of grape growers is the same – favorable growing conditions that can be sustained over time. Sustainability writ large craves collaboration. 
Collaboration between these two large neighbors has always existed. Almost 30% of Sonoma County wine grapes cross the invisible border over to Napa Valley every year. Some are used for blending in small enough amounts to not make a label change; most are proudly displayed as Sonoma County wines in Napa Valley tasting rooms and websites. 
Increasingly, producers have established their own roots in both regions. The Duncan family of Silver Oak Cellars was among the first to operate two separate wineries under the same name in Napa Valley and Sonoma County, buying vineyard land in Alexander Valley in 1970 and in Oakville in 1972. 
In 1999 St. Helena-based Joseph Phelps Vineyards bought 89 acres in Freestone to grow Chardonnay and Pinot Noir. The first vintage of Joseph Phelps Freestone wine was made in 2004.  
In 2003, the Boisset family bought DeLoach Vineyards in the Russian River Valley. They followed that with the acquisition and eventual renovation of Raymond Vineyards in the Napa Valley in 2009 before returning to Sonoma County with the purchase and complete restoration of the historic Buena Vista Winery in Sonoma in 2011. 
Hall Wines in St. Helena has two partner properties: WALT in the town of Sonoma and BACA in Dry Creek Valley. Kirk Venge of Venge Vineyards in Calistoga, where he specializes in Napa Valley Cabernet Sauvignon and Zinfandel, loves Sonoma County Pinot Noir and Chardonnay so much he established Croix Estate in the Russian River Valley (his mother was also from Sonoma County). 
Oakville Cabernet Sauvignon and Chardonnay producer Far Niente established En Route Russian River Valley Pinot Noir and Chardonnay in 2007. 
Stewart Cellars runs a tasting room in Yountville where it features its NOMAD Collection of Beckstoffer Vineyard Designates, exquisite, age-worthy Cabernets from the famous grower. The winemaker is Blair Guthrie.  
In Sonoma County, Guthrie runs Guthrie Family Wines with his wife, Caroline Stewart. That brand is devoted to crisp, affordable wines that are fun to drink. In June of this year the family bought the majestic Montecillo Vineyard on Moon Mountain, which has some of the oldest Cabernet planted in California. 
Robert Biale Vineyards in Napa, best known for its Black Chicken Zinfandel, makes single-vineyard designated Zinfandel and Petite Sirah from both the Napa Valley and Sonoma County. Biale sources from Bedrock Vineyard in Sonoma Valley, Monte Rosso Vineyard on Moon Mountain and Pagani Ranch in Sonoma Valley, among others. 
B Cellars in Oakville gets Pinot Noir from the Calesa Vineyard in the Petaluma Gap, Zinfandel from Dry Creek Valley and Chardonnay from the Richard Dinner Vineyard on Sonoma Mountain.  
Winemaker Paul Hobbs has always traversed both regions, making Chardonnay and Pinot Noir from the Russian River Valley and Sonoma Coast in addition to Napa Valley Cabernet Sauvignon. David Ramey crosses borders, too, making Chardonnay, Pinot Noir and Syrah from Sonoma County but also Cabernet Sauvignon from Napa Valley. 
The list goes on. As the arch at Pride signifies, here in the grapegrowing and winemaking regions of Northern California, we have much more that brings us together than holds us apart.