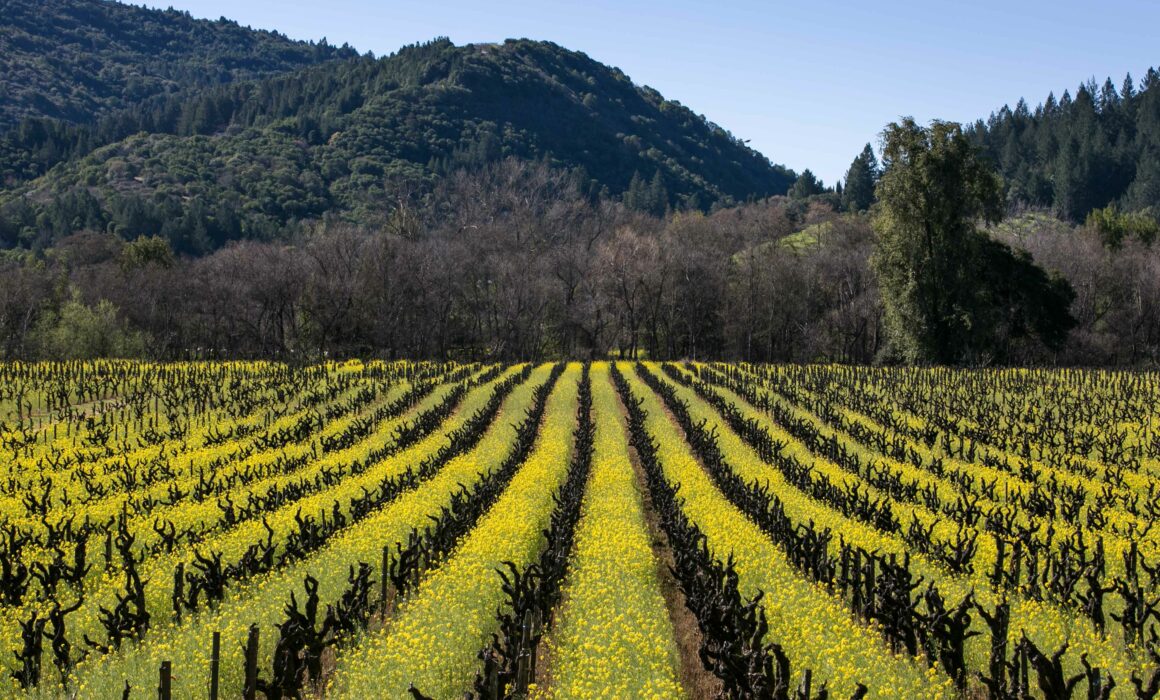 Dry Creek Valley's Past and Present
April 26, 2023
"The Good Stuff"
The Winegrowers of Dry Creek Valley host their 32nd Passport Weekend this Saturday and Sunday, a fine time to deep dive into the Sonoma County appellation best known for Zinfandel and Sauvignon Blanc.
Dry Creek Valley covers 10,000 acres, running west of Healdsburg and north of the Russian River Valley. In 1983, Dry Creek Valley was made an American Viticultural Area, the same year as Russian River Valley, Chalk Hill and Green Valley. At that time, there were 5,000 acres planted to grapes in Dry Creek and 21 bonded wineries.
Sixteen miles long and two miles across, vineyards here thrive on the valley floor as well as on benchlands and hillsides. Soils are gravelly and sandy loam, fertile and well-draining. On the hills they are rich, rocky and red. The climate is warm, with nighttime cooling.
History of the Sonoma Viticultural District says the first sizable planting of grapes was that of Kentuckian Samuel O. Heaton who settled in the area in 1855, a mile south of the junction of East Dry Creek and Canyon roads. Heaton planted Mission, Grey Riesling and Grenache.
On the west side of Dry Creek, Georges Bloch, a chef and native of Alsace, bought 160 acres above West Dry Creek Road, two miles northwest of where it intersects with Westside Road.
He planted 14 acres of Zinfandel and Mission grapes and within two years partnered with Frenchman Alexandre Colson to build the Dry Creek Winery, also known as Bloch & Colson. It would become the first commercial winery in Dry Creek Valley, its first wines produced in 1872, most of them sold in San Francisco.
In 1864, Andrew Galloway of Tennessee planted 40 acres of Zinfandel, Sauvignon Vert and Burger on a 120-acre ranch called Table Grove south of Dry Creek and Lytton Springs roads. His sons Andrew and Allen built a small winery on the site in the early 1890s.
By the late 1880s, Dry Creek Valley had nine wineries and 883 acres of vineyards – half of them planted to Zinfandel – Mission, Burger, Golden Chasselas and Riesling were among the other varieties planted at this time – in addition to wheat, hops, sheep and corn.
The area's first winery of any size was built in 1885, when Charles Dunz built the 70,000-gallon Laurel Hill Winery near Lytton Springs Road a half-mile from the Table Grove Ranch. Dunz also grew 75 acres of wine grapes, mostly Zinfandel; in 1890 he sold the winery and vineyards to a fellow Swiss, Andrew Frei.
Frei's sons Walter and Louis turned Frei Ranch into Frei Brothers, expanding in 1904, and surviving Prohibition as so few did; they were one of seven out of 17 wineries to still be standing by Repeal.
The Freis ran their winery for some 70 years, selling grapes for decades to E&J Gallo to make Gallo Hearty Burgundy, among other wines. The Gallo family bought Frei Ranch in the late 1970s to make varietal wines, telling The Press Democrat at the time that, "the Dry Creek benchland is incomparable for growing red wines."
When phylloxera hit in the early 1900s, many of the vineyards were planted on resistant St. George rootstock, which is how old-vine vineyards in the appellation have been able to persist to today. By 1919, 1.5 million gallons of wine were being produced in Dry Creek Valley.
John Pedroncelli Sr. bought a vineyard and winery outside of Geyserville in 1927, selling grapes to home winemakers to survive during Prohibition. His sons John Jr. and Jim took over in 1963, followed by the third generation of Pedroncellis in the 1990s. The fourth generation is involved now as well and is devoted to sustainable farming practices.
It took until the 1960s for grapes to be planted in Dry Creek Valley in greater numbers, replacing the prunes and pears that had become the dominant crops in between. Cabernet Sauvignon was a popular variety to plant around this time, so were Chardonnay and Chenin Blanc.
The 1970s were a time of even more dramatic growth, with more Cabernet, Chardonnay and Sauvignon Blanc being planted as well as eight wineries opening their doors.
These included A. Rafanelli Winery, Dry Creek Vineyard, Mill Creek Vineyards, Preston Vineyards, Lambert Bridge and Lytton Springs Winery.
An extensive land holding originally established by Captain William H. Litton in 1860, Litton's vineyards were planted in the late 1880s into the early 1900s. But what was first called Lytton Springs was also a plush resort hotel for a time, around the time northern Sonoma County was first linked by railroad to the larger Bay Area. It then became a military academy and in 1904 was bought by the Salvation Army to use as an orphanage.
In 1972, Ridge Vineyards, one of California's most important post-Prohibition wineries, expanded from its base in the Santa Cruz Mountains into Dry Creek Valley, sourcing grapes to make a Zinfandel from Lytton Springs. It is planted to 100-year-old Zinfandel interplanted with such other varieties as Petite Sirah, Carignane, Mourvèdre and Grenache.
Lytton Springs became part of Ridge's estate holdings in 1991.
Vineyard manager Duff Bevill arrived in the Dry Creek Valley in 1973 to work a summer job with a vineyard management company. He went on to found Bevill Vineyard Management in 1977 working for Dave Stare at Dry Creek Vineyard.
A founding member of the Sonoma County Winegrape Commission, board member and chair of Sonoma County Winegrowers and Grape Growers Foundation, Bevill has been instrumental in the county's sustainability initiatives and achievements.
Also instrumental in those efforts has been Glenn Proctor, a fourth-generation grapegrower from one of the original Dry Creek Valley Italian families. His great-grandfather Angelo planted grape vines in the region in 1904. Louis Puccioni Winery (named for Proctor's grandfather) was active from 1919 to 1935. Proctor started making wine again as Puccioni Vineyards in 2003.
According to Proctor, his family was allowed to operate from 1919 to the end of Prohibition as a source for sacramental and medicinal wines, selling grapes to local winemakers (many of them Italian) in San Francisco during that time as bonded winery #1804. The farm was plowed by mule until 1968, the last farmers in Dry Creek Valley to use a mule commercially and replaced by tractor only after the last mule died. Proctor learned to farm by mule at 4 years of age.
Zinfandel has been grown continuously on his family property since 1904, much of them head trained and farmed sustainably, with the goal of producing wines for the next 100 years or more.