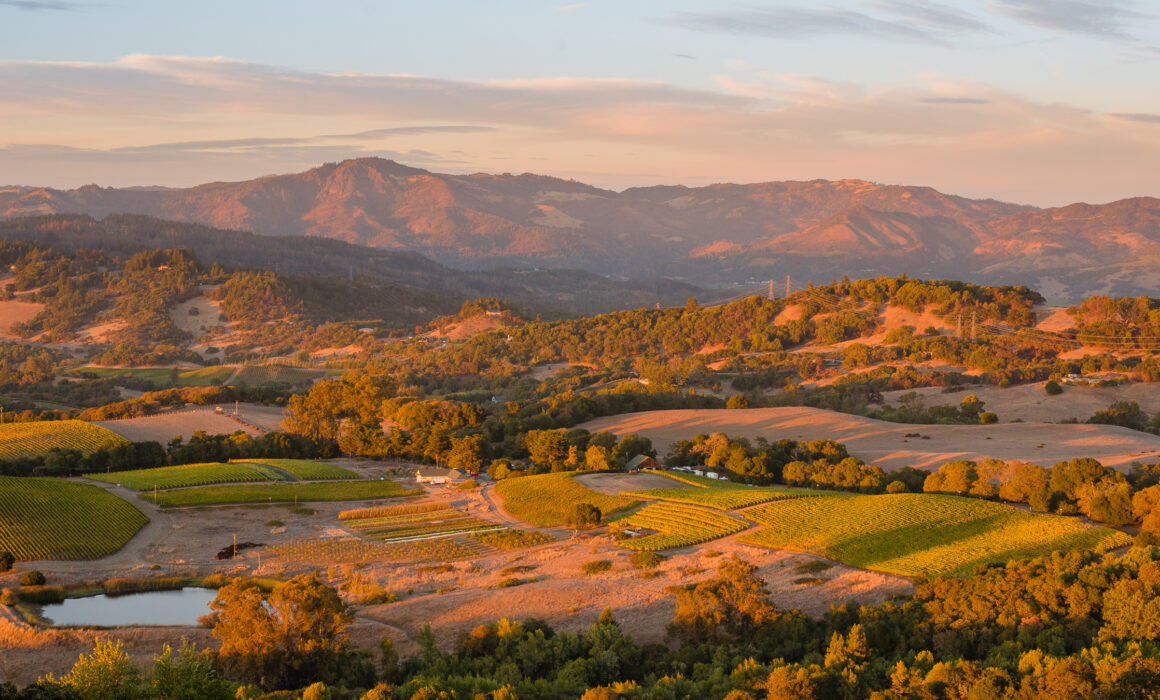 Wine drinkers who love Syrah keep waiting for it to have its moment of fame and fortune, but that moment remains elusive. A red grape native to the Rhone region of France, while California took many of its grape-growing cues from other parts of France – notably Burgundy and Bordeaux – for some hard-to-define reason, Rhone wine grapes remain a minority here. 
This is as true in Sonoma County as elsewhere, where Zinfandel has long had deep roots and varieties like Chardonnay, Pinot Noir and Cabernet Sauvignon are much more predominantly found. 
That doesn't mean there aren't some growers willing to fight the good fight. Sonoma is after all, a very diverse place when it comes to grapes. 
Nate Belden at Belden Barns is one of them. He and wife Lauren own Belden Barns on Sonoma Mountain Road, a vineyard originally established in the early 1970s by David Steiner. Once a Cabernet Sauvignon site too cool climatically to be consistent, it gradually transitioned over to Pinot Noir at the suggestion of winemaker Rod Berglund of Joseph Swan. 
When the Beldens came along in 2005, there was a small movement going on in the Bennett Valley area to plant cool-climate Rhone varieties like Syrah, led by Joe Judge at Judge Vineyard and Peter Young at Dry Stack. Conditions there were right for complex Syrah and there was hope that it might be the next big grape. 
But of course Pinot Noir exploded after 2004's Sideways and well, in most cases, if a site was right for cool-climate Syrah it was probably right for Pinot Noir. 
The Beldens had to decide. 
"There was a lot of interest in our Pinot Noir, and it is why I was interested in the site in the first place," Nate Belden says. "But we are farmers first and we also wanted diversity and variety." 
The Beldens had to replant anyway and while they were able to keep 1.5 acres of the Pinot planted in 1998, they planted the remaining 18.5 acres to more Pinot Noir but also Sauvignon Blanc, Gruner Veltliner, Chardonnay and three Rhone varieties: Syrah, Grenache and Viognier.  
Nate considers his a late-ripening site that even at elevation is relatively cool.  
"Syrah is a great grape to have right now," he says. "It can withstand heat spikes and make a really good wine. From a farming perspective it's a more forgiving grape, a more flexible grape." 
While Belden produces its own wines from the Syrah, Grenache and Viognier, it also sells Syrah grapes to three Argot, Bevan Cellars and Enkidu. 
Other spots to find Rhone grapes include Carneros, where the Cline Family has vineyards devoted entirely to Syrah, Viognier, Marsanne and Roussanne. 
In 2001, Durell Syrah was registered as its own clone by Foundation Plant Services. It had been a source of budwood since the 1980s to growers throughout the area. The story goes that shortly after the site was bought by Ed Durell in 1977, vineyard manager Steve Hill field budded 6 acres of vines with budwood he obtained from Linda Vista Nursery in Napa thought to be Shiraz 1 from UC Davis. 
The grapes were sold to both Kendall-Jackson and Edmunds St. John Winery for many years. The Durell Vineyard now owned by the Price family continues to grow a small amount of Syrah and a Durell Vineyard Syrah is made by Ram's Gate.  
Not far from Belden Barns, Four Brothers Vineyard grows Grenache that goes to Benovia and Greystack Cellars. On the other side of the mountain, Coursey Graves sits at 1,500-feet-elevation on a slope above Bennett Valley and grows Syrah in volcanic soils. 
Rossi Ranch closer to Glen Ellen was originally planted in 1910 and brought back to life by Phil Coturri of Enterprise Vineyards in 2013. It grows Grenache and Mourvèdre found in bottlings by Sixteen 600, Carlisle, Gallica and others.  
Also in Glen Ellen, Lasseter Family Winery has long been a proponent of Rhone-inspired wines, growing Grenache, Counoise, Mourvèdre and Syrah. It also grows Syrah on Moon Mountain, while Hamel Family Wines grows Grenache on its Moon Mountain Nuns Canyon estate and Syrah and Grenache at Armor Plate Vineyard on the Sonoma Valley floor. 
Dehlinger grafted a small part of its vineyard in the Russian River Valley to Syrah in 1990 and maintains 3 acres of it still. It makes a Goldridge Syrah and Altamont Syrah, named for the two soil types found on site. An East Face Syrah is also periodically made. 
At Acorn Winery in the Russian River Valley, Betsy and Bill Nachbaur tend to a sustainably-grown, field-blended vineyard that includes interplanted Syrah and Viognier that dates back to 1991. Across the highway Limerick Lane has 4 acres of head-trained Syrah, 2 acres of Grenache and 1.5 acres each of Mourvèdre and Petite Sirah.  
Catie's Corner Vineyard was planted in 1995 by Saralee Kunde to a smattering of white varieties, including Viognier and Grenache Blanc. Other sites that date back to the 1990s include Timbervine Ranch (Russian River Valley), what DuMol dubs Wild Mountainside for a Syrah and Viognier, and Griffin's Lair (Petaluma Gap). 
Donelan Family Wines specializes in Rhone wines, particularly Syrah; its estate Obisidian Vineyard is in Knights Valley. It also sources from Richards Vineyard in Sonoma Valley, once a lavender farm; from Kobler Family, which farms Syrah and Viognier in Green Valley; and from Judge Vineyard in Bennett Valley, one of its coldest sites.  
Farther north, Quivira has estate-grown Grenache, Mourvèdre, Syrah and Counoise growing on its Wine Creek Ranch in Dry Creek Valley. Farther still, Ridge Vineyards makes a Buchignani Ranch Carignane from old-vine hillside grapes first planted in 1927 in the Alexander Valley, in addition to a Carignane-Zinfandel blend from Russian River's Mancini Ranch. 
Lastly, no story of Syrah is complete without the mention of the magic David Ramey coaxes out of the Syrah and Viognier grown at Rodgers Creek (Petaluma Gap) and Cole Creek (Sonoma Coast) vineyards. 
Sonoma County's Rhone Grapes  
(California Dept of Food and Agriculture Grape Acreage Report 2021 Crop) 
Whites: 
36 acres Grenache Blanc 
22 acres Marsanne 
4 acres Picpoul Blanc 
39 acres Roussanne 
206 acres Viognier 
Reds: 
159 acres Carignan(e) 
8 acres Cinsaut 
4 acres Counoise 
267 acres Grenache 
82 acres Mourvèdre 
677 acres Petite Sirah 
1,360 acres Syrah