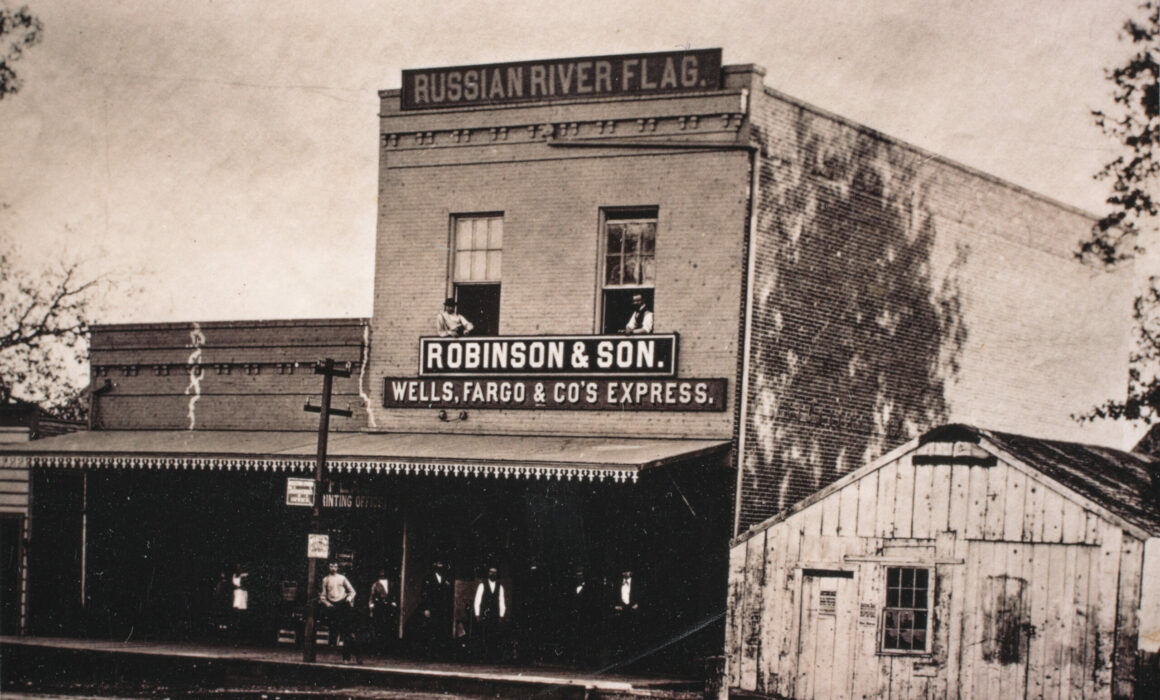 Medlock Ames Winery will soon release a limited-production estate wine called The Flag, in honor of a weekly Healdsburg newspaper that existed between 1868 and 1887 on the southeast side of the Healdsburg Plaza. The paper's motto was "Charity for all… Malice toward none."
The paper was owned and published by John Gilson Howell. Howell, as it turns out, is also the great-great-grandfather of Ames Morison, the co-founder of Medlock Ames. The bottle for the inaugural Flag wine, a 2019 Cabernet Sauvignon, is adorned with a reprint of Howell's first edition editorial.
Howell's Healdsburg could have never imagined the growth of the wine industry as it stands today, with 19 appellations and 1,800 grape growers, many of them centered around the town.
That includes Medlock Ames, which was co-founded in 1998 by Chris Medlock James and Morison. It was Morison who planted most of the vineyard site, known as Bell Mountain Ranch, set against Chalk Hill Road within the foothills of the Mayacamas where the Alexander Valley and Russian River Valley meet.
This is home to only a handful of other vineyards and wineries, including Vérité, which makes some of Sonoma County's most exceptional red wines. Winemaker Pierre Seillan sees every hillside, every elevation and every aspect offering a different micro-cru for the wines he makes from Cabernet Sauvignon, Merlot and Cabernet Franc.
Across Chalk Hill Road from Bell Mountain and slightly south are Trinité Estate and Calluna, two estate-driven sites that also focus on Bordeaux-driven blends. Trinité is owned by fourth-generation Bordeaux winemakers Claire and Gonzague Lurton.
This pocket of Sonoma offers cooler climates at higher elevations. Another small producer in this pocket region is Sutro Wine Co., which makes Cabernet Sauvignon, Merlot and Sauvignon Blanc from its estate, Warnecke Ranch, where volcanic soils dominate along the banks of the Russian River.
This area lacked definition until the early 1980s, when the Chalk Hill and Alexander Valley AVAs was designated in 1983 and 1984 respectively. On the western slopes of the Mayacamas, Chalk Hill soils often do look like chalk, a white ash of volcanic origin that gives the area its name.
The Alexander Valley is bigger and more spread out, named for Cyrus Alexander who first planted wine grapes here in 1843, decades before Howell's newspaper venture. Stretching all the way to the Mendocino border, the vast appellation may soon be further defined by Pocket Peak, a proposed AVA in the eastern highlands of the region meant to further distinguish some of its highest elevation vineyards in the foothills of Pocket Peak, Geyser Peak and Black Mountain. Filed in February of this year it awaits approval.