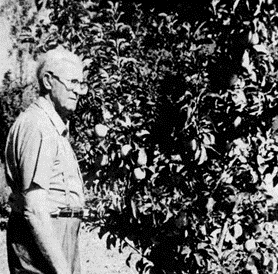 Along Highway 116 in the heart of Green Valley of Russian River Valley, Hallberg Ranch is an estate-farmed 110-acre vineyard on a rolling ridgetop owned by Emeritus Vineyards and made famous by both it and a range of winemakers at other wineries who love the Pinot Noir grapes it grows.
As a vineyard, Hallberg was established in 1999 by Brice Cutrer Jones and partner/vineyard manager Kirk Lokka, who had coveted this special piece of land for years, sensing it would be ideal for Pinot Noir. They started planting in 2000. The property had grown wine grapes before, before Prohibition, but been converted to apples and peaches by the Hallberg family.
In fact, Hallberg & Sons were regular winners at the Sonoma County Horticultural Fair. Oscar Hallberg was considered a prominent Graton orchardist, winning first prize regularly for his Gravenstein apples, peaches, dried fruit and nuts.
Oscar's parents were born in Sweden in 1850. His father, John Frederick, came to the United States in 1876, making his way west to buy 40 acres of land near Sebastopol by 1886. John built one of the first apple driers in the area in 1897 though several years later, it was destroyed by fire. John and his wife Neta had four children and Oscar was their youngest. He went to Santa Rosa High School but dropped out after six months to farm.
Oscar and an older brother, Alfred, started drying apples in 1916, building a kiln drier in 1918, one of the first of its kind. In due time, Oscar had amassed 500 acres of apple orchards. While running a successful business for dried apples, in 1939 he figured out a way to make and can applesauce, which also proved successful, enough that he bought the Green Valley Cannery.
Oscar had four children himself, three sons and a daughter. Sons Donald and Robert went into farming, too. Oscar retired in 1963, well-known for his contributions to the local apple industry, including the planting of two new varieties in Sebastopol: the Starkrimson and the Golden Delicious, both spur type trees that are smaller (so more could be planted per acre and ladders were not necessary to harvest) and contain more apples than leaves.
Donald was class valedictorian at Analy High, then went to Oregon State and served in World War II. His wife Marcia Jewell's family were also apple ranchers in Sebastopol, who started with 15 acres and grew their holdings to 110 acres off Graton Road.
Donald's cousin was Louise Hallberg, known as the butterfly lady, for whom the butterfly gardens in Graton are named.
Donald ran Hallberg Ranch from his father's passing until 1999, when he sold the 110 acres for $5 million to Jones. Four years later he and Marcia died within two months from each other, both in their 80s. They had been big supporters of the Rotary Club's Rotary Education Foundation all their lives, as well as the Farm Bureau, Sonoma County Farm Trails and Graton Fire Department, which Donald had helped found.
When he began to get to know the Hallbergs and their ranch, Jones had already mastered Chardonnay with the founding of Sonoma-Cutrer Vineyards in 1973 on Slusser Road, originally as a vineyard company with Lokka overseeing farming; a winery wasn't built until 1981.
The buying of Hallberg was made possible because in 1999 Jones was able to sell a controlling interest in Sonoma-Cutrer to Brown-Forman Wine Group. With 1,000 acres of vines and an annual production of 140,000 cases at the time, the winery's net worth was estimated by Wine Spectator to be $125 million.
Using what he knew about cooler-climate Chardonnay, Hallberg was particularly intriguing to Jones for Pinot Noir – cool enough climatically, with diurnal temperature swings of 40 degrees F, and, most importantly, possessed of Goldridge Sandy Loam with Sebastopol Clay Loam soils underneath that were exceptionally well-draining for a variety that doesn't like wet feet.
Hallberg is close-spaced and planted to 13 clones of Pinot, including two field selections from Burgundy, and beginning in 2008, dry farmed. The soil composition has allowed the vineyard to thrive without irrigation, with vines pushing 20 feet deep into the clay.
A leader in sustainable practices, including dry farming and water conservation, carbon sequestration and soil health, composting and biodiversity, Hallberg has earned Climate Adaptation Certification by the California Land Stewardship Institute through a pilot partnership with Sonoma County Winegrowers.
Scherrer Winery and Gary Farrell were among the first to make wine from Hallberg grapes, also in 2004. Both producers continue to make a Hallberg Ranch Pinot Noir every year. Other Hallberg vineyard-designates are made by DRNK, Etude, Joseph Jewell and Martin Ray Winery.
Winemaker Fred Scherrer describes the Hallberg Ranch he makes, saying, "this type of Pinot Noir really pushes all my happy buttons: perfumes, complexity and mouth-watering acidity," and "one of my favorite bottlings… (with) just about everything a person could ask for in Pinot Noir."