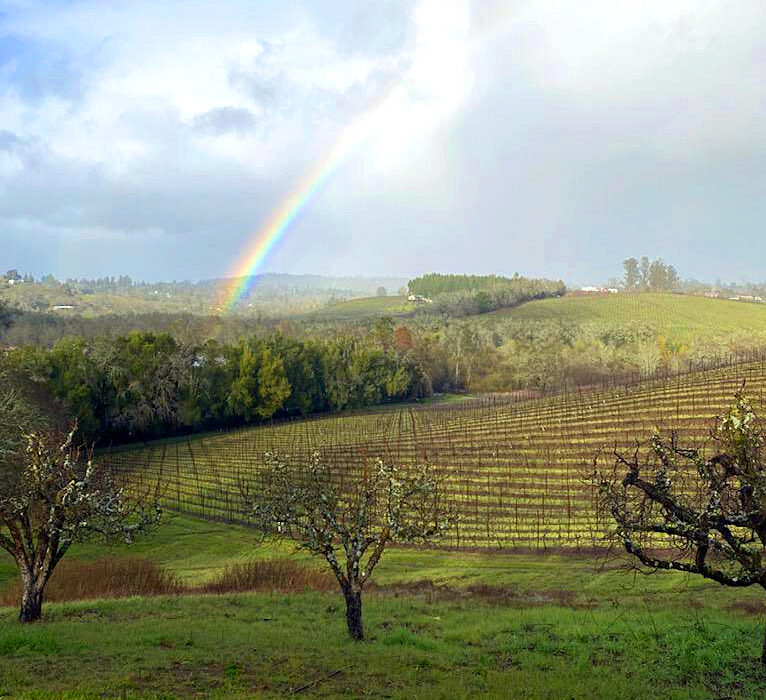 The Good Stuff
March 22, 2023
Virginie Boone
The Importance of Green Valley of Russian River Valley
For four decades the appellation known as Green Valley of the Russian River Valley has represented some of the best wine grapes and wines of Sonoma County.
Marked by 19,000 acres of undulating hills and a consistency of Goldridge soils, it has drawn important producers to its unique set of characteristics since before being given official designation as an American Viticultural Area (AVA) in 1983.
A rare fine-grained sandy loam, known for its excellent drainage, Goldridge soil is light and fluffy in addition to being deep rooting without excessive vigor. The wines can be weightless and serious at the same time.
Importantly, the clay content within Goldridge allows for the soil to retain moisture, which in times of drought keeps the vines healthy, active and growing late in the season.
Among Sonoma County's smallest AVAs, bounded by the towns of Sebastopol, Occidental and Forestville, the hills of Green Valley trap fog, making it a coastal climatic region with narrow temperature swings and relatively cool daytimes during the period between veraison and harvest. Green Valley is also heavily forested with Redwoods and fir, its higher elevation sites subject to consistent wind.
This coastal influence makes it especially ideal for Chardonnay and Pinot Noir, including for grapes to make sparkling wine. Winemakers often describe the wines they make from Green Valley as crisp in aromatics and red fruit, with luxurious mouthfeel and beautiful texture, with tension and a firm structure to the wines.
Here, winemakers tend to get perfectly ripe tannins, but the acids are high, so there's intensity and density with a sense of freshness from the acidity.
While grape growing in the area can be traced back to the 1830s, orchard fruit became the dominant crop for many decades, most notably apples. The Dutton family was the first to replant grapes during the 1970s. Iron Horse, Hartford Court, Marimar Estate and Dutton-Goldfield are among the pioneering producers here, but it is an area concentrated more in vineyards than wineries.
When Audrey and Barry Sterling of Iron Horse came along in 1976, they were advised it would be too cold to plant grapes and too prone to frost. They persisted anyway.
The Sterlings had spent many years prior living in France and traveling to various wine regions, which sparked the idea of living on a vineyard, growing grapes and making wine.
After years of hunting for the perfect site in France, the Sterlings returned home to California. They first saw 300-acre Iron Horse in 1976 with the vineyard only partially developed and no winery on site. But after a taste of wines made from Iron Horse grapes, they knew their search had ended.
The winery opened in 1979, on Barry Sterling's 50th birthday; the first vintage of sparkling wines arrived the next year.
In 1983, the Sterlings applied for official AVA status for Green Valley, distinguishing it from the larger Russian River Valley AVA, which was simultaneously finalized that same year. The Sterlings never wavered in their belief that a more tightly delineated area would be important in defining its wines.
It's important to remember that appellations were not the norm in California at the time. In 1981, only 10 viticultural areas were officially recognized in the entire United States. By 1983, in addition to Green Valley, Russian River Valley, Dry Creek, Chalk Hill, Knights Valley and Los Carneros became AVAs.
Still, in 1983 the Green Valley appellation was controversial. The original filing by the Sterlings named Green Valley as extending from Forestville and Trenton to Sebastopol and from Laguna de Santa Rosa to Occidental.
Growers and winemakers in the Vine Hill area east of Gravenstein Highway objected to the description of the area including them in the application, not wanting their wines to be referred to as lighter bodied and characteristic of cool growing conditions, according to a January 1983 story in the Sonoma West Times.
How times have changed. Today, producers actively seek out Green Valley grapes. Earlier this year, DuMol acquired the Dr. Galante Vineyard in Green Valley, a half-mile from DuMol's existing estate vineyard in Graton. Planted in 1998 in partnership with the Dutton family, it brings the winery's estate holdings to 80 acres, mostly within the Green Valley AVA.