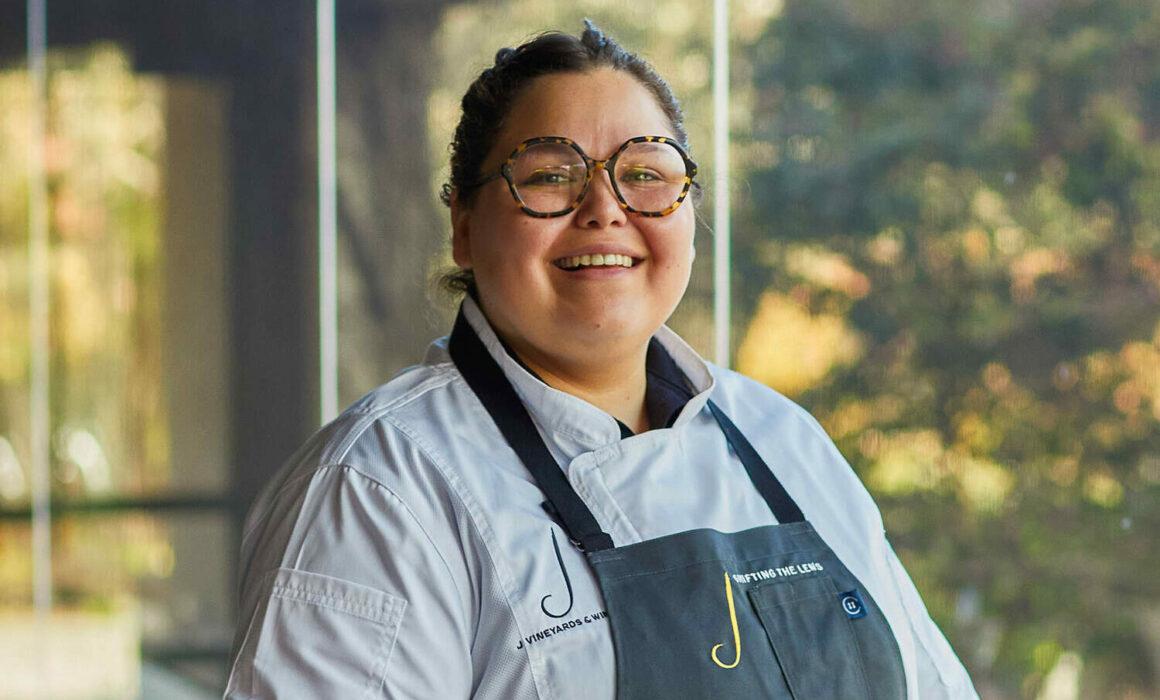 Mexican Chef Ana Castro thinks Sonoma County can grow anything. The chef, who is based in New Orleans, traveled here for a two-week cooking residency at J Vineyards & Winery for its Shifting the Lens dinner and dialogue series.
Along the way, she met with SingleThread Farms, who told her there was nothing they couldn't grow for her menus, so much grows well in Sonoma County's climate and soils.
"Louisiana farmers have to deal with wild hogs, pests and flooding," she told Shifting the Lens guests at a dinner on Sunday before serving a Tostada of Kampachi, Avocado Ash and Currant Tomato, paired with J 2016 Russian River Valley Blanc de Blancs.
It was one of five courses made by Chef Castro, which included chochoyotes made with Dungeness crab, epazote and summer peppers, a tiacoyo of ayocote negro, daikon and caviar, Black Cod al pastor and a dessert of SingleThread Farms strawberries and tonka bean, all of the dishes paired thoughtfully with J wines.
A celebration of culinary artistry and cultural richness, in Shifting the Lens, chefs debut menu takeovers at J's Bubble Room with the goal of inspiring food and wine exploration, changing the way pairings are traditionally understood and showcasing cuisines and perspectives that are rarely represented in wine country tasting experiences.
Each Shifting the Lens residency includes weekend tasting experiences in the Bubble Room as well as two dinners where guests enjoy a five-course pairing menu and intimate discussion with the guest chef and J winemaker Nicole Hitchcock about their perspectives on food, wine and culture.
The experience recently won the Sonoma County Tourism Innovation Award, an acknowledgment of J's work to push forward an inclusive atmosphere and promote a greater level of diversity in all aspects of the wine industry.
"Through this series the winery is providing an opportunity to expand the palate and perspective on traditional food and wine pairing while teaching the importance of culture," the award stated, and "bring authentic cultural conversations to wine and food… and attention to marginalized voices in the industry."
Chef Castro was named one of "Food & Wine" magazine's Best New Chefs 2022. Born in Texas and raised in Mexico City, she learned to cook from her grandmother – the "ancestral knowledge" in which her food is rooted – then studied at Le Cordon Bleu, later working in India, Europe and New York before landing in New Orleans, where she co-founded the restaurant, Lengua Madre.
"Lengua Madre is Castro's ode to both the strength and the whimsy of Mexican cooking," wrote Khushbu Shah in "Food and Wine." "Just a few years before opening it, Castro was ready to give up a career in restaurants. She had been passionate about food from a young age, but the toxic kitchen culture… had stripped her of her love of cooking completely."
So much so that Castro packed her things and drove to New Orleans where her sister Lydia was living, with no plans in mind. In 2021 she opened Lengua Madre, "a jumping-off point to introduce diners to the magic and depth of Mexican cuisine."
That jumping-off point is ready for its next act. Castro will be closing Lengua Madre by end of this year to open Acamaya in spring 2024, a more casual, Mexican mariscos restaurant also in New Orleans, in partnership with Lydia, which will feature shareable seafood dishes from the Gulf of Mexico.
Castro is an advocate for equitable practices in kitchens who says she tries to be vulnerable and transparent with her staff.
"There's no price tag on peace of mind," she said.
In addition to Castro, this year's residencies included Chef Tu David Phu, an Oakland-born, first-generation Vietnamese-American whose menu debuted in May.
With Chef Castro closing out the season last week, it's been announced that future Shifting the Lens events will feature acclaimed Chef Preeti Mistry, who previewed this year's Shifting the Lens series at the James Beard House in New York in March. Mistry will soon be taking a Shifting the Lens tasting menu experience on the road.
Keep an eye on what's next here.
Check out Episode 2 of "The Good Stuff" Show here, and listen as Virginie Boone and Karissa Kruse, joined by the J Vineyards team, discuss the Shifting the Lens program and the 2023 Sparkling Harvest.