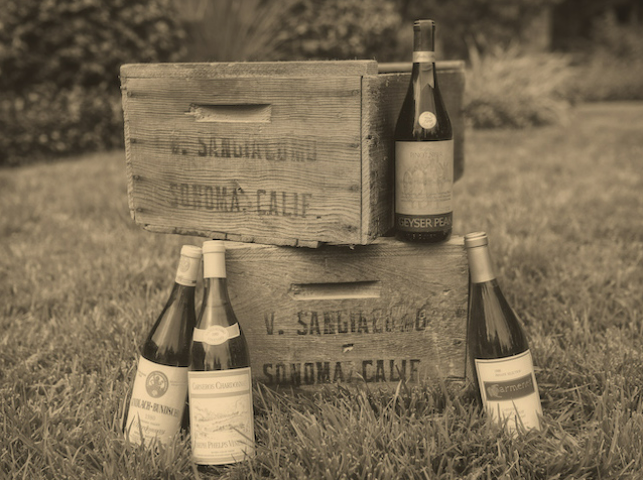 The Good Stuff
March 8, 2023 
Virginie Boone 
Sangiacomo Chardonnay: A Sonoma County Success Story 
With the recent passing of Angelo Sangiacomo at the age of 92, it's important to remember the deep mark he made on Sonoma County viticulture. Especially when it comes to Chardonnay. 
The Sangiacomos are one of the most important and well-established farming families in Sonoma County. Angelo's father Vittorio Sangiacomo came to California from Italy in 1913, making his way to Sonoma Valley by the mid-1920s.  
After laboring for several years in Alameda County and San Francisco, in 1927 Vittorio and his wife Maria bought a 56-acre homestead called the Home Ranch south of Sonoma town. Like much of the area at the time, it was planted to apples, pears, peaches, prunes and cherries.  
Pears became Vittorio's focus and by the 1950s the family was one of the largest pear growing operations in California. In 1969, as pears started to decline in value, Angelo's generation, which included brothers Bob and Victor and sister Lorraine, led the way in planting the first Sangiacomo vineyard, Green Acres.  
While Hanzell had planted a small amount of Chardonnay in 1953, Chardonnay in 1969 was still rare in the North Coast. Larry Hyde wouldn't plant Chardonnay in Carneros for another 10 years. Los Carneros didn't become an appellation until 1983. 
Green Acres had been home to a dairy and is bordered by Sonoma Creek to the east with Fowler Creek running down the middle. The original vines exist still as The Heritage Block, five acres of Old Wente clone-Chardonnay on St. George rootstock.  
The majority of Green Acres' 162 acres is planted to Chardonnay, with just a small amount of Pinot Noir. The greatest number of vineyard-designated Chardonnays from the Sangiacomos are made from this vineyard. 
Since early on, the family has been recognized for producing some of the best Chardonnay grapes in California, vineyard-designated by 35 wineries. The first to vineyard-designate with the Sangiacomo name was Gundlach Bundschu back in 1979.  
Today its grapes are sold to more than 85 wineries based in both Sonoma County and the Napa Valley. Wineries that buy Sangiacomo Chardonnay include Auteur, Barnett, Chappellet, Ram's Gate, Saintsbury, Saxon Brown, Sojourn and Walt Wines. 
The Sangiacomo Home Ranch has become another marquee site. The Sangiacomos planted it to wine grapes in 1980 and bought and expanded the property as adjoining land became available. From that original 50 or so acres it has grown to 110 planted acres, the majority again Chardonnay, with smaller blocks of Pinot Noir. 
More Chardonnay exists at the family's El Novillero and Tallgrass vineyards. Fedrick Vineyard is in the Petaluma Gap across from the Sangiacomo's Lakeville Vineyard, its first Petaluma Gap site, part of an original Vallejo land grant and later dairy operation. The family planted Fedrick in 2000 in partnership with C.R. Fedrick; it has 60 acres of Chardonnay, Pinot Noir and Syrah. 
The Sangiacomo's 1,600 acres of vineyards are all in Sonoma County, spread between the Carneros, Sonoma Coast, Sonoma Valley and Petaluma Gap appellations, and in 2015 they became 100% certified sustainable. Steve Sangiacomo is a long-term board member of the Sonoma County Winegrowers and member of the Sonoma County Center for Ag Sustainability. 
In 1999 the family developed the Roberts Road Vineyard outside of Penngrove, where the growing season is long, slow and even. The 130 acres include both Chardonnay and Pinot Noir grapes, which are highly sought after. 
Going from growers to grower-producers, Angelo's kids, Mike, Steve and Mia, launched the first Sangiacomo Family Wine with the 2016 vintage, sourcing from their own vineyards. The wines include a Roberts Road Vineyard Chardonnay, Four Siblings Green Acres Heritage Block Chardonnay and Five Clone Pinot Noir, which also comes from Roberts Road. 
In 2020 the family was honored with the Sonoma County Farm Bureau's Luther Burbank Conservation Award.  
Accepting the award, Angelo said, "Sonoma County has been good to our family, and we feel very fortunate to have farmed through three generations. Grape growing is a great balance of maintaining cutting edge farming practices and being exemplary stewards of the land." 
Raise a glass to this Sonoma County legend of the land, who saw the early potential for Chardonnay and Pinot Noir in Carneros, Angelo Sangiacomo.