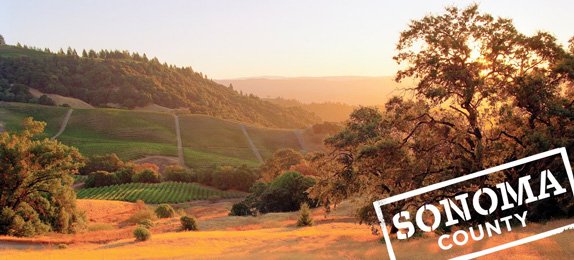 In 2015, growers and wineries in the Russian River Valley undertook a curious experiment, the first, really, of its kind. They were not interested in creating new appellations, nor hardened border lines.   
They wanted to confirm what they felt they already knew: that Pinot Noir presented itself differently when grown in different sub-regions within the bigger area. That the Russian River Valley is uniquely diverse. Defining these neighborhoods was an exercise in historic memory as well as tasting. 
This was called the Neighborhoods Initiative and it led to six specific delineations within the Russian River Valley known more simply as The Neighborhoods. Working with Dr. Roger Boulton, a professor of viticulture and enology at UC Davis, the growers and winemakers interested in the neighborhoods concept helped devise a series of characteristics for their wines that could be measured in a lab.  
Pinot Noirs from 18 wineries from the several vintages were analyzed. When the analysis was concluded in 2019, it confirmed that each neighborhood offered a fingerprint of its own – that there were indeed specific, consistently identifiable sensory characteristics that derive from grapes grown in those neighborhoods. 
The Russian River Valley became an American Viticultural Area in 1983, with expansions in 2005 and 2011. In total, it contains 13,896 acres of grapevines within a total acreage of 96,000 acres, or 150 square miles. It spans from Healdsburg to Sebastopol, so not only are there significant differences in soils, elevations and aspects, there are profound differences in climate and how the Russian River and Pacific Ocean impact growing sites. 
The Neighborhoods 
Middle Reach 
Located along Healdsburg's western edge south of the Dry Creek Valley, the Middle Reach is considered one of the warmer neighborhoods and is also among the most historic. The heart of it is Westside Road, home to Bacigalupi, Bucher, Rochioli, Allen Vineyard, Williams-Selyem, Arista, DuMol's Flax Estate, Ramey's Westside Farms, MacMurray Ranch and Gary Farrell, among many others. With Pinot planted on benchlands and hillsides as well as the valley floor, it's also where many of the oldest plantings in the appellation exist. The wines are typically defined by texture and length as well as ripeness, intensity and lush character. The tannins can be structured yet supple. Microclimates and soil variability abound, but the Russian River itself helps moderate the climate. 
Laguna Ridge 
Defined by the ridgeline separating Green Valley from the Laguna de Santa Rosa, this neighborhood lies south of the Middle Reach near Forestville. A narrow strip marked by deep, well-draining sandy Goldridge and Altamont soils, it overlooks the Laguna de Santa Rosa. Among its residents are Merry Edwards, Dehlinger, Lynmar and Joseph Swan. Swan was the first to plant Pinot Noir in the Laguna Ridge post-Prohibition on the advice of André Tchelistcheff, who referred to it as "Middle Cool." The Pinots are characterized by sensuous mouthfeel and moderate acidity, with red and dark fruit flavors and a nice helping of baking spice, with ample tannin. 
Santa Rosa Plain 
A large stretch of flatlands on the east side of the Laguna de Santa Rosa, this neighborhood encompasses Olivet Road, and the larger Piner-Olivet area, with a deep concentration of vineyards and wineries, including Benovia, Inman, Pellegrini and DeLoach. This is also ground zero for old-vine plantings of Zinfandel at sites like Papera, Saitone and Montafi. 
Eastern Hills 
The northernmost neighborhood and last to be introduced to the neighborhood concept, the Eastern Hills designation acknowledges the western ridge of the Mayacamas Mountains east of Windsor, a warmish area only minimally touched by Russian River fog. The soils are considered quite diverse, volcanic and sedimentary. Most vineyards are planted toward the west, getting late afternoon heat and sun. The Pinots from here can be quite ripe and lush, butting up against warmer-loving varieties like Zinfandel and Syrah. 
Green Valley 
Brimming in fluffy Goldridge soils, the Green Valley is the only neighborhood that is also its own American Viticultural Area, established at the same time as the Russian River Valley in 1983. Centered around the towns of Graton and Occidental and following the path of Atascadero Creek, redwood and fir trees surround many of the vineyards, some of which are planted at moderate elevation, where cooling winds from the Pacific Ocean have an influence on the grapes. The Dutton family, Iron Horse, Hartford Court, Marimar Estate and DuMol have considerable plantings here; some of the oldest Chardonnay in the region is at Dutton. Because of the cooling winds and elevation, many of the Pinots have a crispy red fruit character, more rhubarb and pomegranate than dark cherry, with beautiful aromatics and texture. 
Sebastopol Hills 
Set predominantly west and southwest of Sebastopol, the Sebastopol Hills is about as cool as it gets within the Russian River Valley. Balletto's Burnside Road, Sexton Hill and Cider Ridge vineyards are here as is Pratt Sexton Road Vineyard. Goldridge soils dominate. The cool climate provides crisp red fruit characteristics alongside elements of dried herb and black tea. Much of it was planted to apples until vines began to be planted in the 1990s. Cold, windswept and unsheltered, it worries less about frost than other neighborhoods, providing plenty of time for fruit to hang.