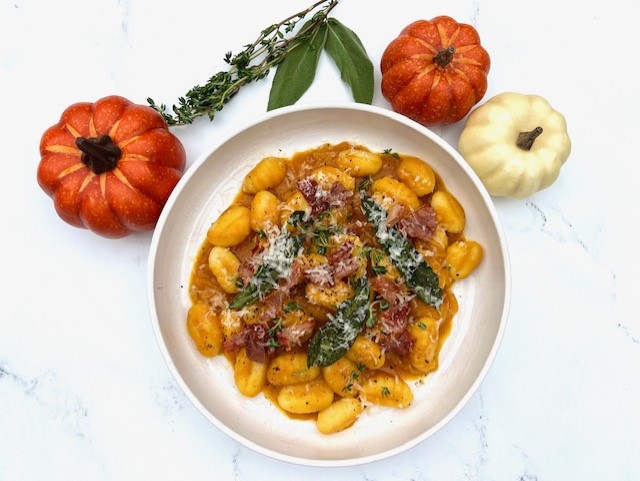 By Rachel Thralls
Happy National Pasta Day! The fall cooking season is in full swing so what better way to celebrate this pasta day than with a pumpkin gnocchi dish. This recipe is delicious and festive and can also be combined with more proteins and veggies to make a variety of fall harvest bowls. Since this dish is both sweet and savory, you can really go many different ways when it comes to wine pairings. Winter squashes such as pumpkin and butternut squash in particular comes in a lot of guises but is fundamentally sweet, especially when you roast it. The crispy prosciutto and sage add that salty, crunchy savory flare that makes this recipe awaken all of your taste buds.
A few of my favorite wine pairings for this dish, including a Marin County vineyard wine (Devil's Gulch!) are below:
Sangiacomo Wines Sonoma Coast Chardonnay
Dutton-Goldfield Devil's Gulch Vineyard Gewürztraminer
Dry Creek Vineyard's Chenin Blanc
Pumpkin Gnocchi with Crispy Prosciutto & Sage
Serves 4
Recipe by Rachel Thralls
Ingredients:
1 lb potato gnocchi
4 ounces prosciutto, torn into pieces
2 teaspoons extra virgin olive oil
¼ cup fresh sage leaves
¼ cup shallot, peeled, finely sliced
1 cup pureed pumpkin
1 cup chicken stock
1/3 cup Parmigiano Reggiano, grated
1 tablespoon fresh thyme, sprinkled over the top
Sea Salt & Black Pepper (to taste)
Extra Parmigiano Reggiano to top
Directions:
Cook the gnocchi according to the package directions and set aside.
Heat a pan to medium and add prosciutto pieces, cooking until crispy. Set aside.
Heat the oil in the pan. Add the sage and fry for about one minute or until crisps up. Take the sage out of the pan and set it aside.
In the same pan, add the shallot and cook for two to three minutes until soft. Add the pumpkin purée and broth. Mix well and season with salt and pepper. Cook for a few minutes to combine and slightly thicken.
Add the gnocchi to the pan along with the parmesan. Mix and cook over low heat for another five minutes to thicken.
Transfer to a serving plate. Top with more parmesan cheese, crispy prosciutto and sage. Enjoy!
Recipe Notes:
Leftovers: Refrigerate in an airtight container for up to three days
Serving Size: One serving is equal to approximately 1 ½ cups
More Protein: Add Italian sausage pieces or crumbles, grilled chicken
Make a harvest bowl: Add to a bowl with your favorite grilled protein and roasted fall vegetables such as butternut squash, acorn squash, brussels sprouts