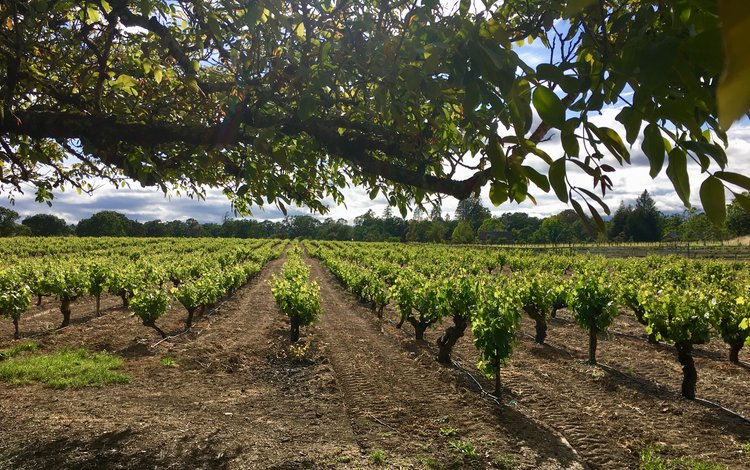 Zinfandel might be Sonoma County's most historic grape, but it is nowhere near the most popular in terms of acreage. Chardonnay is number one at nearly 16,000 acres with Pinot Noir not far behind. Then there's Cabernet Sauvignon. Zinfandel is down the list, accounting for just 5,000 acres. 
Still, its historic significance cannot be overstated. That there are still plantings of what we call old-vine Zinfandel, vines planted typically pre-Prohibition all the way back to the late 1800s, is astounding, given all that has gone on in Sonoma County over that time, particularly in the Russian River Valley and the rise of Pinot Noir. 
Part of its cultural heritage, Sonoma County is home to dozens of well-known sites, from Bedrock and Pagani Ranch in Sonoma Valley to Monte Rosso on Moon Mountain, planted in the 1880s. That these vineyards have survived Phylloxera, Prohibition, World Wars, the rise of Cab, Chard and Pinot, is impressive. 
California's long, dry growing season suits the grape well – Zin doesn't like humidity and is susceptible to mildew and mold – which is why it was probably planted here in the first place and why it has endured. These older vines tend to produce small berries and small clusters with an intensity of flavor; yields can be low. 
The weird trend that was White Zinfandel of the 1970s and 1980s and a few key winemakers who cared about these vines are credited with helping to save them. Former Ravenswood winemaker Joel Peterson is one of them, as are Joseph Swan, Paul Draper of Ridge Vineyards, Robert Biale of Biale Vineyards and Mike Officer of Carlisle.  
Since 2011, the non-profit Historic Vineyard Society (HVS) has worked to both catalogue, preserve and shed light on these sites. Biale, Officer and Peterson are all part of the HVS team, as is Peterson's son, Morgan Twain-Peterson of Bedrock Wine Company and David Gates of Ridge. To be part of the registry, the vineyard must be currently producing, with an original planting of at least 50 years ago, with 1/3 of existing vines still traceable to the original planting date. 
A motherlode of old plantings populate the Russian River Valley's Santa Rosa Plain, the flatlands on the east side of the Laguna de Santa Rosa, encompassing Olivet Road and the larger Piner-Olivet area. Here old vine Zinfandel and mixed blacks thrive at sites such as Carlisle, Papera, Saitone, Mancini and Montafi. Winemakers say they get higher acid levels from many of these sites, with wild berry flavors and pronounced spice. 
Beloved by Peterson when he was at Ravenswood (first vintage 1991), another is Belloni, where the majority of the Zinfandel was planted in the early part of the 1900s. Also on Wood Road is a head-trained, dry-farmed vineyard planted in the 1910s owned and farmed by Hartford Family Wines as well as their estate vineyard once farmed by the Chelli family called Highwire. Hartford also buys Zinfandel from Fanucchi-Wood Road Vineyard. Rue Vineyard is also here, planted in the 1910s. It is now the site of Croix Estate Winery. 
Carlisle, where Mike Officer lives, was once called Pelletti, planted in 1927 by Alcide Pelletti. The grapes have gone in Carlisle wines, but also in wines by DeLoach and Novy. 
Saitone, a 33-acre vineyard still on St. George rootstock that was bought by Williams-Selyem in 2016, is among the oldest sites on Olivet Road, first planted in 1895. Maffei is on Olivet Road between Piner and River roads, planted in the 1920s. Maffei grapes have gone to BACA, DeLoach and Gary Farrell.  
Near it is Mancini, also planted in the 1920s (during Prohibition), a 16-acre head-trained, dry-farmed site with a mix of 20-some varieties, including whites like Palomino, in addition to Zinfandel. Ridge, Carlisle and Joseph Swan have sourced the fruit. 
On Piner is Montafi, planted in 1926, which did go into a few White Zins in the 1980s before being discovered by Carlisle, Williams-Selyem and others; a traditional field blend, it is now owned by Seghesio Family Vineyards. Papera, planted a year after Repeal in 1934, has been seen on labels by Carlisle, Bedrock, DeLoach and Williams-Selyem; it is now an estate vineyard for WS.  
The Russi Vineyard, originally planted in the 1900s, is now farmed by Comstock Wines; owner Chris Russi replanted 220 vines to the St. Peter's Church clone in 2018.  
On Martinelli Road closer to Forestville is Jackass Hill, a 3-acre Zin vineyard planted at a 60 to 65-degree angle of non-terraced slope. It is farmed by the Martinelli family, who have farmed in Sonoma County since the 1880s. Near it is another site farmed by the Martinellis formerly called Banfield, whose Zin has gone to Limerick Lane (Banfield Chardonnay once went to Arista). 
In the northeastern reaches of the Russian River Valley, on a relatively warm knoll south of Healdsburg, is Limerick Lane. The oldest producing part of its vineyard dates back to 1910. Carlisle, Biale, Bedrock Wine Co. are among the wineries that have made a Limerick Lane.  
Across the highway is Ponzo, a consistent vineyard-designate for Ridge fewer than five miles south of its Lytton Springs winery. First planted in 1912, the vineyard is now owned by Jesse Katz of Aperture Cellars, who makes an Aperture Estate Vineyard 1912 Red Blend with the grapes.  
Dig deeper into the work of the Historic Vineyard Society and its registry of vineyard sites to learn more and support these sites by buying wine from producers that continue to keep these old vines in the ground.