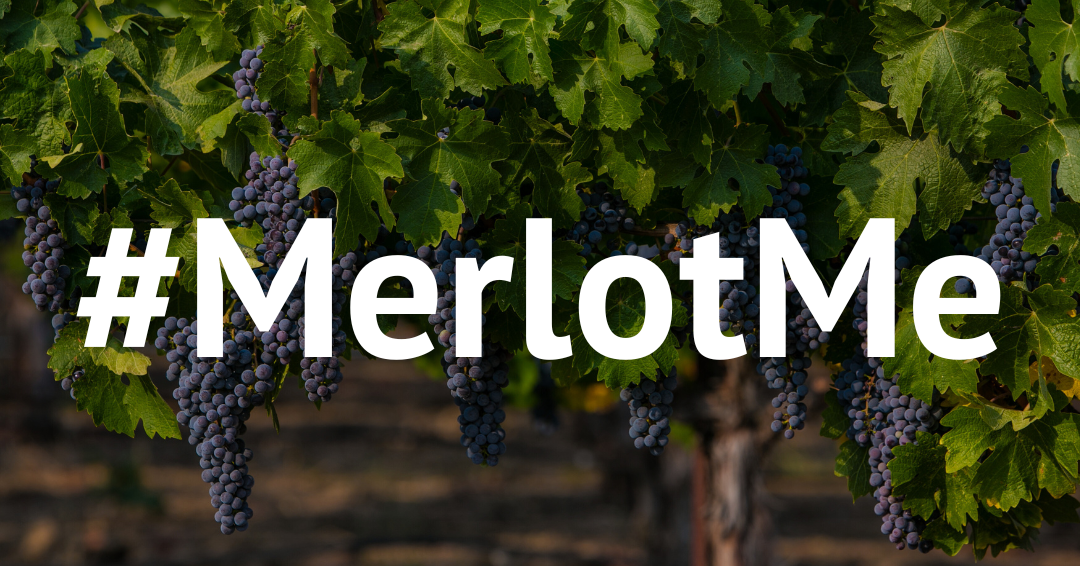 By Virginie Boone
October is a time to celebrate harvest of course, but it's also officially #MerlotMe month, a time to highlight one of the world's all-time great red grapes because October is International Merlot Month, a time for wine drinkers to unite and honor Merlot.
Toward that aim, the #MerlotMe hashtag was created as a grassroots collaboration between Merlot-producing wineries to spread the word about the magic of Merlot and invite wine drinkers to post their own feelings and experiences with it. The hashtag is also used to promote special events, tastings and other Merlot-focused happenings at wineries, restaurants and wine shops around the world.
There was a time, during the 1980s and 1990s, that Merlot acreage in California grew at a faster pace than that of any other world-class variety, though the first evidence of Merlot vines arriving here from Europe date back to the 1850s.
After Prohibition Merlot was planted here and there in the Napa Valley and Alexander Valley, with the first varietal Merlot produced by Louis Martini, a blend of the 1968 and 1970 vintages, according to historian Charles L. Sullivan.
"By 1977 there were 28 California wineries making varietal Merlots; by 1980 there were 40," wrote Sullivan in "A Companion to California Wine."
"Besides wine drinkers' growing taste for the varietal was the practical fact that Merlot ripened earlier than Cabernet Sauvignon and was less likely to be damaged by fall rains… Another facet of Merlot's increasing popularity was its tendency to make softer and less tannic wines than does Cabernet Sauvignon, and to require less long-term cellaring."
Plantings soared after 1987 and by the mid-1990s there were more than 200 Merlot brands in the state, while Merlot acreage increased 336% between 1990 and 1996.
But those plantings weren't always in the right place and by 2004's release of the movie, "Sideways," Merlot was beginning to fall out of favor, with Cabernet Sauvignon continuing its upwards trajectory and Pinot Noir finding a sizable audience of wine drinkers eager to try something new. Merlot downsized – maybe rightsized, after all.
While Merlot isn't the dominant red grape in Sonoma County – that would be Pinot Noir followed closely by Cabernet Sauvignon – it holds its own at around 4,000 acres planted, right behind Zinfandel, making it the fourth most-widely planted red in the region.
It plays an important role in blending, most commonly with Cabernet Sauvignon.
Still, there are plenty Sonoma County Merlots to enjoy. On Episode 4 of "The Good Stuff" Show on KSRO, St. Francis Winery and Vineyards Winemaker Chris Louton and Director of Vineyards Jake Terrell talked about their massive replanting of Merlot at their certified-sustainable estate Behler Vineyard, where founder Joe Martin first planted Merlot in 1971.
Just down the road, Lasseter Family produces Paysage, a Merlot-based wine from a rocky Sonoma Valley bench, blending two clones of Merlot (181 and 595) with small amounts of Cabernet Sauvignon and Cabernet Franc.
Gundlach-Bundschu is another historic producer that has long been committed to making Merlot, planting it on three different areas of its Rhinefarm in Sonoma Valley, some of which date back to 1976. Dry Creek Vineyard released its first Merlot in 1974; its 1991 Reserve Merlot won a "Grand Prix d'Honneur" at the Challenge International Du Vin in Bordeaux in 1995. Merlot also factors into its Mariner Bordeaux Blend and Alluvial Gap Meritage wines.
Matanzas Creek is another Merlot pioneer, situated in Bennett Valley since 1977, where both Merry Edwards and David Ramey have served as winemaker. Ninety acres of the Pétrus Merlot clone were planted on the Jackson Park Vineyard in 1984. It also makes an Alexander Valley Merlot. Fun fact: Matanzas Creek founder Sandra MacIver was the first woman to serve as president of the Sonoma County Winegrowers.
Pride Mountain Vineyards was another early proponent of Merlot, producing its first vintage in 1991 from vines planted at 2,000-feet elevation. It continues to produce two Merlots, including a Vintner Select made entirely from blocks planted to clone 3.
Lambert Bridge has Merlot growing on several of its estate sites, including Chambers Vineyard in Fountaingrove, from which it makes a varietal Merlot. Its Sonoma County Petit Merle is a Merlot-dominant blend. Duckhorn's sister Decoy brand honors the winery's longstanding reputation for world-class Merlot with a Limited Alexander Valley bottling.
Verite's La Muse is its Merlot-based blend from top sites across Sonoma County, including Alexander Valley, Chalk Hill, Knights Valley and Bennett Valley, where the vineyards lie between 580 to 850-feet elevation in well-draining, Merlot-loving sandy loam soils. Medlock Ames grows its Yarrow Merlot on the hilly upper slopes of Bell Mountain Estate, in heavy clay soils.
So, no matter how you choose to participate in this month's #MerlotMe, know that Sonoma County has you covered with great wines from across the region.