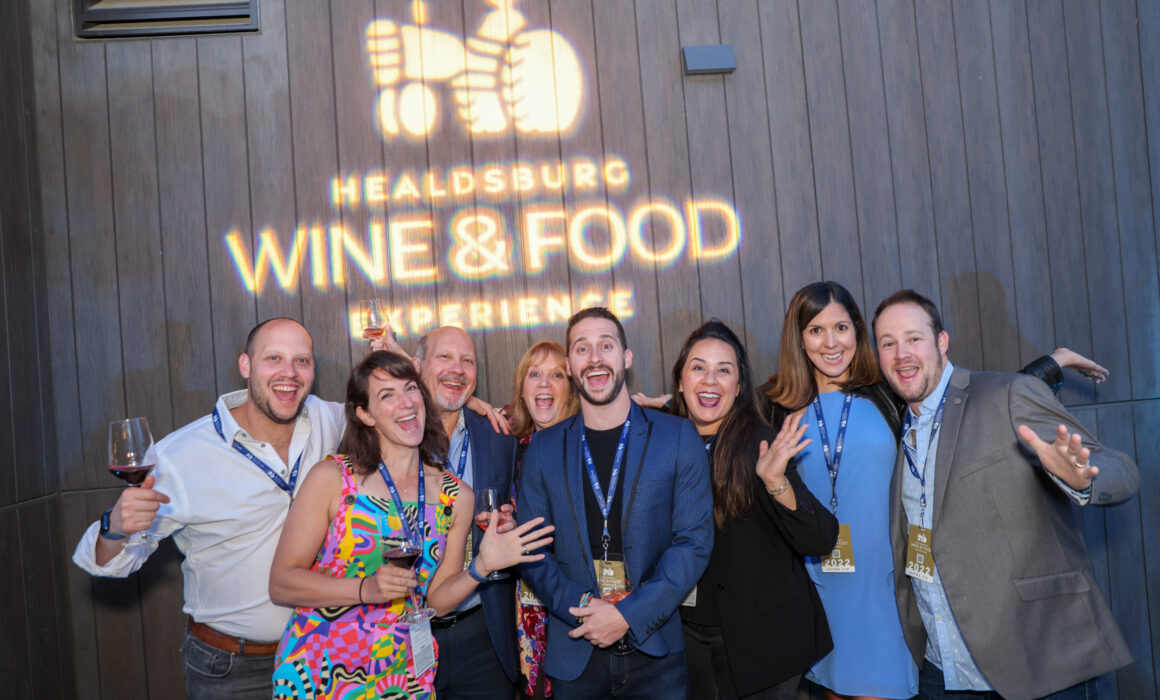 The Good Stuff 
March 15, 2023 
Virginie Boone 
Healdsburg Wine & Food Experience Returns in May 
Mark your calendars and buy your tickets. After making its debut last year, the Healdsburg Wine & Food Experience is back.  
Taking place May 18-21, the global event is a showcase for Sonoma County's agricultural community, celebrating its farmers and vineyard employees and the region's sustainable diversity. Ticket sales benefit a scholarship fund for the Future Farmers of America's Healdsburg Chapter as well as the Sonoma County Grape Growers Foundation, newly renamed, Fundación de la Voz de los Viñedos which translates to Voice of the Vineyards, a name chosen by local vineyard employees. 
Tastings, vineyard tours, sustainability and wine seminars, chef demonstrations, VIP exclusives, a concert at Rodney Strong, magnum party, grand tasting and more are set to take place in and around Healdsburg, including at The Matheson, The Madrona and The Montage. This global wine and food event set in the backdrop of Sonoma County is the only event on the West Coast that welcomes chefs from around the country and wines from around the world.  
Here are some of the highlights: 
Dutton Ranch Vineyard Tour and Horn Barbecue: Jump in a truck with a Sonoma County grape grower or vintner for an immersive spin around the vineyard and see what it takes to farm wine grapes in Sonoma County, preceded by a West Coast barbecue with "Food & Wine" Best New Chef Matt Horn (Friday) 
Champagne and Caviar Seminar: Hosted by Emmy-award winning wine expert, "Check Please" host and Sonoma County resident Leslie Sbrocco, this will be an indulgent chance to enjoy American-sourced caviar with world-class Champagnes (Friday) 
Chef Demonstrations at The Matheson: Take part in a cooking demonstration and wine pairing with four international renowned chefs, held throughout the day, beginning with Stephanie Izard, the first female chef to win Bravo's "Top Chef," and finishing with California chef and forager Joe Sasto (Saturday) 
Vintners Plaza Grand Tasting: Held all afternoon, this highlights wines from around the world, with a particular focus on Sonoma County, paired with chef-prepared bites sourced in many cases locally; Healdsburg residents enjoy a substantial discount (Saturday) 
Pinot Talks Seminar: Part of an international seminar series, this is centered around a blind tasting of Pinot Noirs from both California and Burgundy led by a panel of wine experts (Saturday) 
Farm to Glass Cocktail Seminar: Little Red Door from Paris is one of the World's 50 Best Bars and came to Sonoma County in February to do a Pop-up, a version of what they do in France, sourcing across the country for homemade produce and products to create their drinks; they return to host another in May (Saturday) 
Stunning & Sustainable: "Food & Wine" Executive Wine Editor Ray Isle is joined by Karissa Kruse from the Sonoma County Winegrowers for this deep dive and tasting of wines made sustainably (Saturday) 
Outdoor Concert at Rodney Strong Vineyards: This concert benefits the Fundación de la Voz de los Viñedos and its efforts to elevate Sonoma County vineyard employees through a first-of-its-kind Leadership Academy and on-going workforce development (Saturday) 
Community Brunch for Healdsburg FFA: Enjoy wine and a delicious meal while supporting the Future Farmers Scholarship for students from the local Healdsburg High School FFA (Sunday) 
Zinfandel Live: New this year, Leslie Sbrocco will lead a music and wine pairing focused on a grape Sonoma County knows well, accompanied by musician Asher Belsky, held twice during the day at Villa Chanticleer (Sunday) 
Tickets for many of these events can be purchased A La Carte or VIP packages are possible. Visit https://www.healdsburgwineandfood.com/general-tickets to learn more. 
Volunteers are also needed. Sign up here.