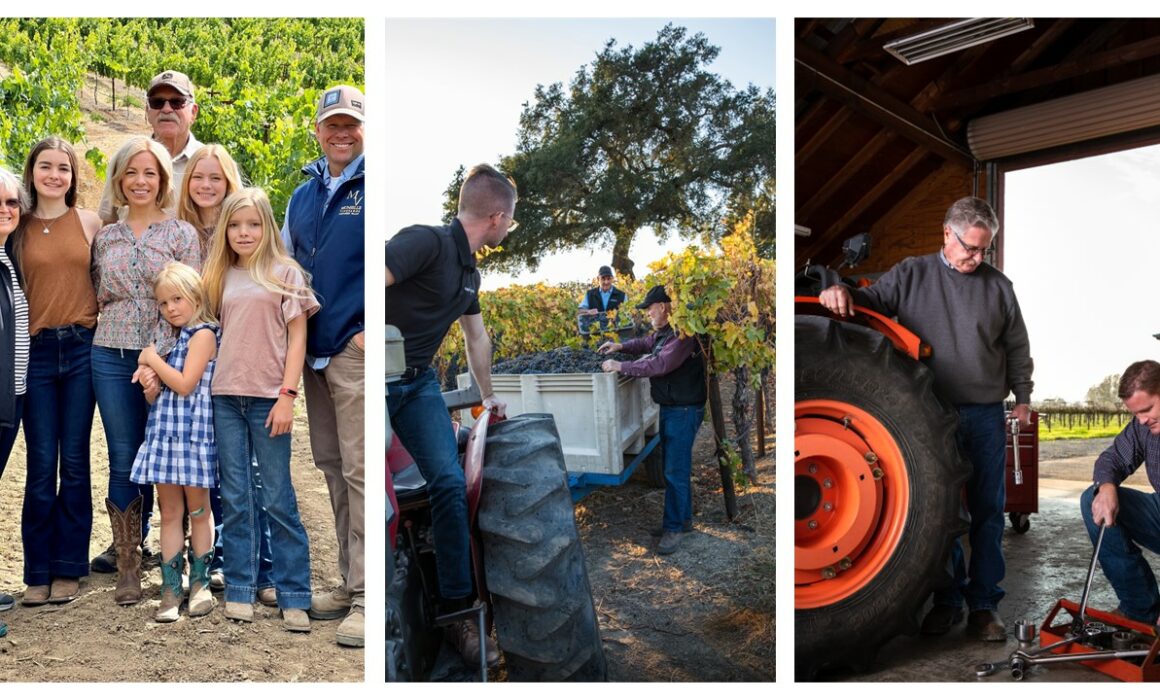 By Virginie Boone
Sonoma County remains a vital and thriving place for agriculture for many reasons. Location, of course. Ability to grow a diversity of crops in a multitude of microclimates, yes. The high value placed in the marketplace on many of those crops, especially wine grapes, indeed, allowing farmers to innovate. A buy-in from the community that agriculture is an important part of Sonoma County's identity and legacy, also important.
What also matters in Sonoma County is that farming continues to be a multigenerational endeavor, one that gets passed down and continued from one generation to the next, allowing land to stay in agriculture. Wine grapes might be the most viable crop today, but most of these family farms have grown whatever made sense during their generation that would allow them to continue farming.
Today, 95% of Sonoma County's vineyards are family-owned and operated.
While this might include the larger enterprises that are Jackson Family and Gallo, still both family-owned and operated, it includes a wide spectrum of businesses big and small.
Consider the Gundlach-Bundschu families, who have been farming near the town of Sonoma since the mid-1800s. Jacob Gundlach first planted wine grapes on his Rhinefarm in 1859 when there were only about a dozen other vineyards in the area and sold wine and brandy.
Charles Bundschu joined the business in 1868 and later married Gundlach's daughter. When phylloxera hit, they were the first in Sonoma to graft European vines to resistant rootstock.
During Prohibition, one of Charles' sons, Walter, kept the vineyard going, converting half of it to pears. After Repeal, Walter's brother, Carl, became the winemaker for Inglenook Winery in the Napa Valley, and bought grapes from Walter, helping re-establish the vineyard into grapes once again.
In subsequent generations, the grapes were sold to wineries such as Almaden and Louis M. Martini, until in 1969 Jim Bundschu replaced the pears with more grapes and re-started the family winery, making its first vintage in 1973.
Jim's son Jeff started running the winery in 2000 with a focus on estate-grown wines. His sister Katie joined the winery in 2012, representing the sixth generation (and first female winemaker in the family); she launched Abbot's Passage Winery + Mercantile in 2015.
Nearby are the Sangiacomos, who have been in Sonoma County since the mid-1920s. Making a name for themselves with pears, the second-generation transitioned into wine grapes in the late 1960s and 1970s. In 2016, the third generation, who continue to farm wine grapes, launched the Sangiacomo wine brand, sourcing from their own vineyards.
The Sebastianis are another family that has remained tied to agriculture through multiple generations. The first generation, Samuele, came to Sonoma County in 1895, starting Sebastiani Vineyards in 1904. His son August and wife Sylvia continued operations after Samuele's death in 1944. August brought it into prominence, bottling wines with the family name and becoming an influential voice in Sonoma County viticulture. After August's death in 1980, the business continued via the third generation, Sam, Don and Mary Ann.
Sam went on to start his own winery, Viansa, with Don taking over Sebastiani Vineyards until starting Don Sebastiani & Sons in 2001 with his own son, fourth-generation Donny. His other son August runs 3 Badge Beverage, a portfolio of wine, beer and spirits based in an historic Sonoma firehouse. Mary Ann ran Sebastiani from 2001 until 2008, when it was sold to Bill Foley. Sam today owns Sonoma Valley-based La Chertosa, a producer of old-world wines inspired by his Italian heritage.
Serres Ranch was established in 1924, beginning with dairy and row crops. Current generation Taylor Serres' dad John planted wine grapes in the 1980s with the help of Jim Bundschu. Taylor has overseen the sustainable-certification of vineyards and launched the first Serres Ranch wines in 2021.
In Dry Creek Valley, Dave Stare planted the first wine grapes after Prohibition, starting with Sauvignon Blanc. Daughter Kim Stare Wallace joined the family business in 1987 and continues to run Dry Creek Vineyard as president. The Rafanelli family has grown grapes in Dry Creek Valley since the early 1900s. Second-generation Americo Rafanelli launched the wine brand in the 1970s, followed by his son David, followed by David's daughter Shelly.
The Passalacquas and Pedroncellis are also longtime grape growers and winemakers in Dry Creek and Alexander Valley. Robert Young Winery was founded in 1997 by Fred Young and his siblings, the children of third-generation Robert. Robert was the first to plant Cabernet Sauvignon in Alexander Valley in 1963, followed by much sought-after Chardonnay. The ranch, once planted to prunes, had been in the family since 1858.
Mauritson Family Wines has been growing grapes in Dry Creek Valley since 1868, adding to their agricultural holdings in Rockpile in 1884. The current generation, led by Cam and Clay Mauritson, added a wine brand in 1998 to the vineyard operations, which now include 310 vineyards across Dry Creek, Rockpile and Alexander Valley.
The Munselle family has been farming in Alexander Valley since 1876. Fifth-generation grapegrower Bret Munselle and his wife Kristen launched Munselle Vineyards wines in 2006.
Mark Sanchietti is a fourth-generation farmer in Santa Rosa. He grew up farming alongside his father, Mel, who helped run Korbel's vineyard operations for 35 years.
The Russian River Valley is another appellation benefitting from multigenerational farming. Charles and Helen Bacigalupi bought the Goddard Ranch off Westside Road in 1956. It was planted to wine grapes (Zinfandel, Muscat and Mission) and fruit trees.
Grapes were sold to other longstanding wine families such as the Foppianos, Seghesios and Gallos. After planting Pinot Noir and Chardonnay in the 1960s, Bacigalupi grapes went to Rodney Strong and of course to Chateau Montelena for the winning white in the 1976 Judgment of Paris. Second-generation farmers John and Pam Bacigalupi (who grew up at Korbel, the daughter of Paul Heck), run the business, alongside twin daughters, Katey and Nicole.
The first generation of Rochiolis came to Northern California in 1911. Second-generation Joe Rochioli, Sr. planted wine grapes at the present-day site of Rochioli Vineyards & Winery in the mid-1950s and bought the property soon after, with money he had made farming.
Joe Rochioli Sr. and Jr. planted Cabernet Sauvignon and Sauvignon Blanc on the site in 1959, followed by Pinot Noir in 1968 and Chardonnay soon after. Joe Jr. began selling Rochioli grapes to wineries like Davis Bynum and Williams Selyem in the 1970s and 1980s. Third-generation Tom Rochioli took over the business and became winemaker in 1983, releasing his first estate Pinot in 1987. The fourth generation, Tom's kids Rachael and Ryan, are now helping run the business.
The Duttons are another longstanding multigenerational family, farmers in Sonoma County since the 1880s. Dutton Ranch was founded in the 1960s by fourth-generation Warren and Gail Dutton to grow apples and wine grapes. Warren helped plant vineyards across the region, farmed today by sons Steve and Joe; their kids represent the sixth generation and are involved in Dutton Ranch (Steve's kids) and Dutton Estate (Joe's).
John Balletto founded Balletto Ranch in 1977, helping his mother run a vegetable business that grew into one of the biggest in Northern California. In 1995 John and wife Terri began converting vegetable land into vineyards over the next several years before launching their own wine brand in 2001. They continue to grow over 700 acres of grapes for themselves and other wineries.
The Martinelli family has been farming wine grapes in Sonoma County since the 1880s. Giuseppe and Luisa were first generation and planted the first vines at Jackass Hill. Their son, Leno Martinelli passed down his vineyards to Lee Sr., who with wife Carolyn started their own winery. They continue to work with their children, Julianna, Lee Jr. and George. Carolyn Charles Martinelli comes from a line of Sonoma County farmers who date back to the 1860s. The Charles' sheep ranch on the Sonoma Coast in Fort Ross-Seaview was planted to Chardonnay in 1982.
This was around the same time David Hirsch came to Fort Ross-Seaview to grow Pinot Noir (and Riesling initially) and established Hirsch Vineyards. His daughter Jasmine is now general manager and winemaker.
Other second-generations coming into their family businesses include the Hartfords, Rameys and Kistlers (at Occidental).