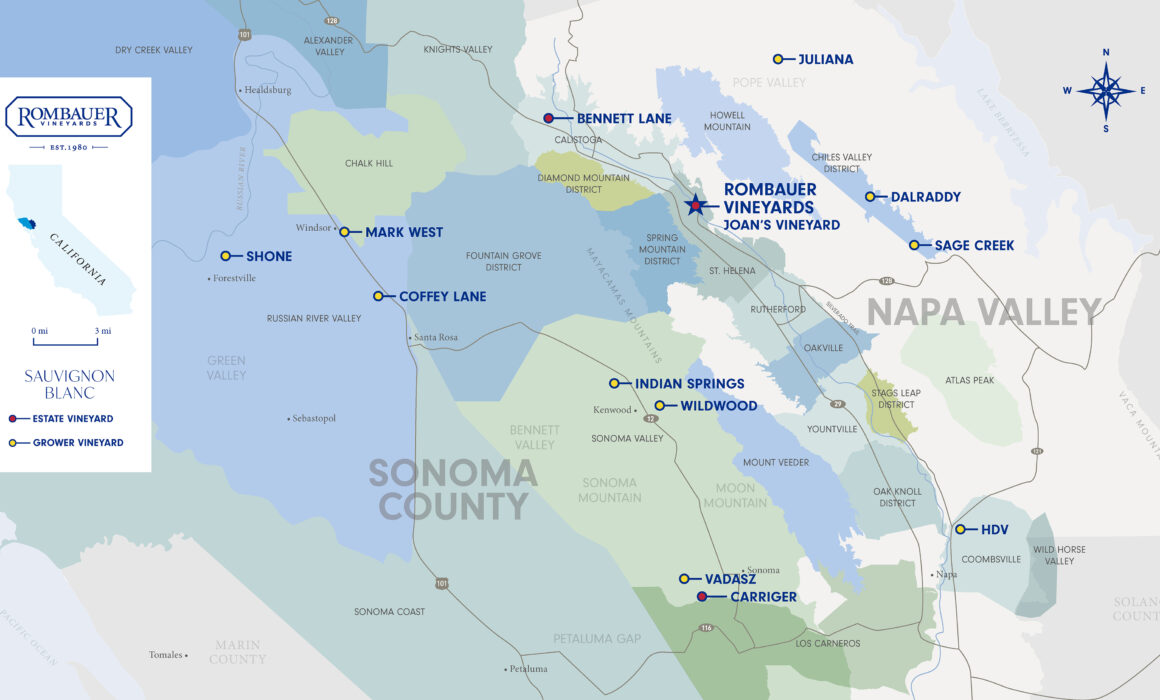 By Virginie Boone
With E. & J. Gallo's Luxury Wine Group's blockbuster acquisition of Rombauer Vineyards last week, the world's biggest wine producer is not only bolstering its white wine imprint, it is adding to its Sonoma County holdings, too.
As we wrote about here in May, Rombauer recently bought two vineyards in Sonoma Valley known as Carriger One and Carriger Two, where it has planted Sauvignon Blanc to boost its successful Sauvignon Blanc program, which has been growing like gangbusters since its initial launch in 2014.
"We looked to Sonoma County because it's cooler and does better with Sauvignon Blanc than Napa," Ritchie Allen, Rombauer's vice president of viticulture and winemaking told us.
Rombauer's SB production is currently around 48,000 cases with 76% of the grapes coming from Sonoma County as of the 2022 vintage. But Allen said the goal was to eventually source SB entirely from Sonoma County.
For Gallo, this would have only increased the appeal of adding Rombauer to its portfolio, for Gallo's roots in Sonoma County run deep.
Founded in 1933 in Modesto by brothers Ernest and Julio Gallo, Gallo bought 50% of the Frei Brothers Ranch in Dry Creek Valley in 1971, what it considers its first investment in fine wine vineyards in California's coastal region. Walter and Louis Frei took over the ranch from their father Andrew, who first established it in 1890, where they ran Frei Brothers Winery for 70 years.
Gallo started sourcing grapes from Frei after Prohibition. The Freis also ran an apple orchard at Guerneville and Frei Roads near Sebastopol which had included an apple packing facility at one point run by Andrew Frei, who formed the initial relationship with Gallo after purchasing holdings from his brother Thomas.
Gallo of Sonoma was introduced in 1994, among its first offering in the super-premium wine category. The company changed the name of Gallo of Sonoma to Gallo Family Vineyards in 2006.
In 1996 Gallo bought the MacMurray Ranch in Russian River Valley. A 1,536-acre once-cattle ranch that once belonged to actor Fred MacMurray, the Gallos planted it to Pinot Noir and Pinot Gris, working with Fred's daughter Kate to tell the MacMurray story. Today, MacMurray Ranch wines source from additional Gallo Sonoma County vineyard sites, Laguna Ranch, Del Rio and Two Rock.
In 2002 it bought Louis M. Martini Winery in the Napa Valley, which included one of Sonoma County's crown jewels, the 575-acre Monte Rosso Vineyard on Moon Mountain above Sonoma Valley.
In 2001 Gina Gallo bought the Dry Creek General Store, first established in 1881 near the entrance to Frei Ranch. It continues to be a beacon of local goods.
In 2015 the company deepened its Sonoma County interests with the purchase of J Vineyards and Winery in Russian River Valley, which included a handful of cool-climate sites like Bow Tie, Annapolis and Eastside Knoll, following that big deal with the acquisition of the historic Asti Winery in the Alexander Valley.
One of Sonoma County's oldest and largest wineries, first established in 1881, Asti included 535 acres (275 acres planted) and a winery facility capable of crushing 35,000 tons of grapes, in addition to the Souverain brand.
In 2021 Gallo bought 30 brands from Constellation, including Sonoma County stalwarts Clos du Bois, Mark West and Ravenswood.
Gallo's presence in Sonoma County runs far, deep and wide, in both land and brand. From those early days sourcing from Frei to further sustaining Rombauer Sauvignon Blanc sites, Gallo is helping to get the Sonoma County name in front of millions of wine drinkers worldwide. Salut to that.