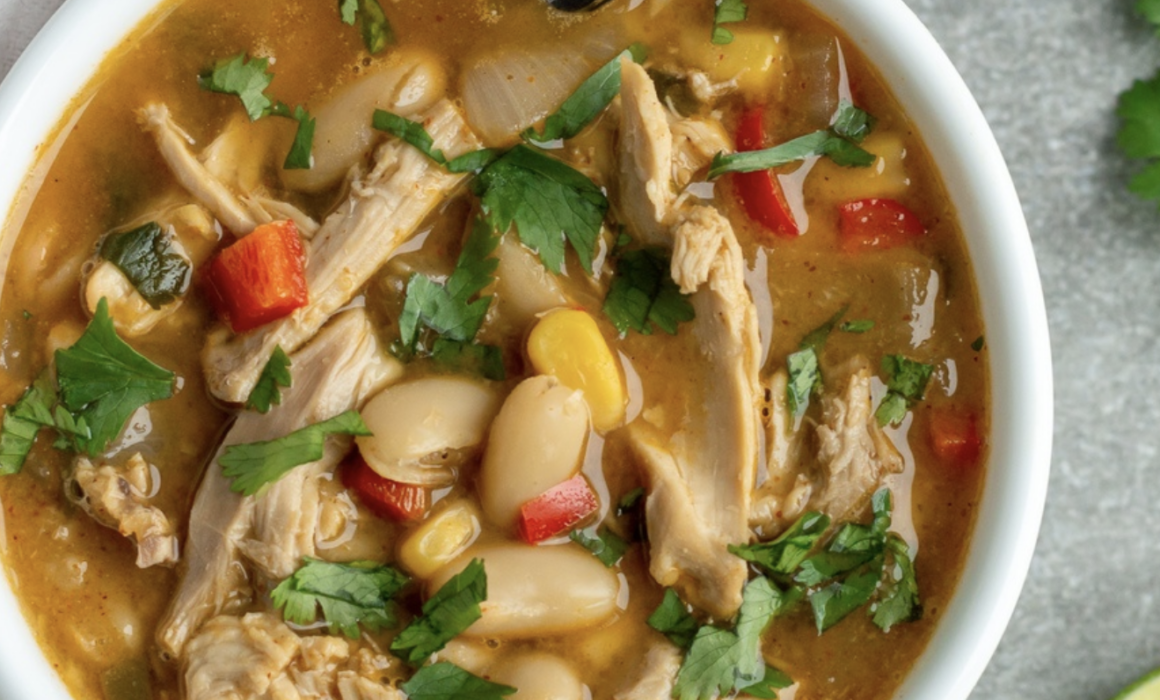 By Rachel Thralls
Happy first few days of the fall season! Although we are enjoying warm, sunny days here in Sonoma County still, there is a bit of fall and cooler weather in the air. It's harvest time, the leaves are beginning to fall, and I am ready to bring back some cozy meals that are warming and delicious. I love still incorporating some summer garden vegetables into my meals, even at the beginning of this season. I currently still have jalapenos, bell peppers, zucchini and yellow squash in my garden, which are perfect additions to this healthy white bean chicken chili. Full of flavor, protein, fiber and spices, this chili is the perfect dish to make for an easy dinner and is always good leftover for lunches!
Sometimes pairing wine with chili can be tricky. Here are a few tips to follow:
If you prefer red wine, lower tannin red wines work the best to any chili foods, especially if they are fruit forward wines.
Try experimenting with your own pairings—what you like to drink! Don't be scared on trying different pairings that you think would be perfect.
If you want to pick a play-safe wine, look for wines that has a lower alcohol—it works together with many chili dishes.
A few of my favorite Sonoma County wines to pair with this chili:
Cartograph Winery Gould Family Vineyard Riesling
Bricoleur Vineyards Rosé of Grenache
Lasseter Family Winery Zut Alors Sauvignon Blanc/Semillon Blend
White Bean Chicken Chili
Serves 4
Recipe by Rachel Thralls
Ingredients:
1 tablespoon extra-virgin olive oil
1 medium sweet onion, chopped
1 jalapeno pepper, seeded and chopped
1 red bell pepper, chopped
1 small zucchini, chopped
1 small yellow squash, chopped
2 garlic cloves, minced
1 ½ teaspoons ground cumin
1 tablespoon chili powder
½ teaspoon sea salt
3 cups chicken stock, divided
3 cups white navy beans, divided
1 lb boneless, skinless chicken thighs
½ cup frozen corn
½ cup fresh cilantro, chopped
1 lime, sliced into wedges
Directions:
Heat oil in a large pot with a lid over medium-high heat. Add onion, jalapeno, bell pepper, zucchini and yellow squash and cook for about 5 minutes or until onion is soft. Add garlic, cumin, chili powder and salt and cook for another minute until fragrant.
While vegetables are cooking, add a third of the stock and half of the beans to a food processor or blender and blend to puree the beans.
Add the remaining stock and pureed beans to the pot and stir to combine. Place the chicken in the pot, cover with lid and reduce heat to medium-low. Cook at a gentle boil for 20 minutes or until the chicken is cooked through.
Remove the cooked chicken thighs from the pot and carefully shred the chicken with two forks. Return the chicken and any juices back to the pot with the remaining beans, frozen corn kernels and cilantro. Stir to combine and season with additional salt if needed. Allow soup to cook for an additional 5 to 10 minutes.
Divide the chili into bowls and serve with a lime wedge. Enjoy!
Recipe Notes:
Leftovers: Refrigerate in an airtight container for up to three days. Freeze for up to three months.
Additional Toppings: Corn chips, sour cream, avocado and/or shredded cheese.
No Chicken Thighs: Use chicken breast instead.
Serving Size: One serving is equal to approximately one cup of chili.