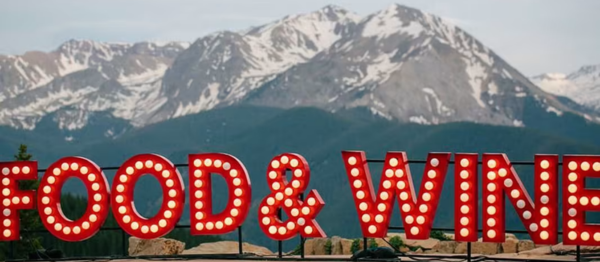 Sonoma County Winegrowers Hosts 'Sonoma at the Summit' Top of the Mountain Party
SONOMA COUNTY, California, June 16, 2023 – Every year, food and wine aficionados eagerly anticipate their invite to the hottest ticket at the Aspen Food & Wine Classic, the Top of the Mountain Party. This year, Sonoma County Winegrowers (SCW) will be the host and are excited to welcome guests to "Sonoma at the Summit." This highly regarded celebration will take place on Friday, June 16. This will be the first time that SCW is the exclusive sponsor of the Party and it also marks the 40th anniversaries of both the Classic and of SCW.
"This event is an incredible opportunity for us to showcase Sonoma County's diverse set of world-class wines in a way that only we can at the most renowned food and wine event of its kind globally," said Karissa Kruse, president and CEO of the Sonoma County Winegrowers. "We are thrilled to be present in such a big way at the Aspen Food & Wine Classic for our mutual 40th anniversaries. Like this year's theme for the Classic, Sonoma County Winegrowers and Sonoma County have long been 'Innovators and Icons' in the industry, so our partnership this year is the perfect fit. We're sincerely looking forward to having some of the biggest names in the business sample wines from our region while learning more about our commitment to sustainability."
Attendees of the 'Sonoma at the Summit' Top of the Mountain Party will be transported by gondola to the top of the Sundeck, where they will be immersed in the look and feel of Sonoma County. They will also have the opportunity to meet some of the region's top winemakers and winegrowers along with local chefs who will be adding something extra special to the evening. Representing Sonoma County's world-class wine region will be wines from J Vineyards & Winery, Rombauer Vineyards, Paul Hobb's Crossbarn Winery, Dutton-Goldfield Winery, St. Francis Winery & Vineyards, Ramey Wine Cellars, Rodney Strong Vineyards, and Sangiacomo Family Wines.  The featured wines will highlight the wide range of grape varietals that are grown in Sonoma County's 19 distinct American Viticulture Areas (AVAs).
To bring even more of a taste of Sonoma County to the Classic, the party will feature Sonoma County chefs Dustin Valette, chef and owner of Valette Healdsburg and The Matheson in Healdsburg, and Mark Stark, owner and operator of Stark Reality Restaurants.  To complement the wines, the two Sonoma County chefs are each cooking a signature dish designed to enhance the wine tasting experience.  Chef Dustin Valette will offer Smoked Sturgeon with Whipped Potato and Egg Yolk Custard topped with Tasr Nicoullai Caviar served on a barrel stave.  For his culinary creation, Chef Mark Stark will present his Lamb "Pastrami" on Everything Steam Buns with Fennel Kimchee, Kimchee Mayo and Pickled Mustard Seeds.  This won Best Lamb Dish in the 2019 California statewide Lamb Jam competition.
Celebrating 40 Years of Icons & Innovators, this year's Aspen Food & Wine Classic takes place from June 16 – 18, 2023 in Aspen, Colorado. It is a sold-out event attracting thousands of visitors from all over the world for three days of cooking demonstrations, wine & spirit tastings, and panel discussions led by world-class chefs and beverage experts.  For more information about the Classic, visit www.aspenfoodandwineclassic.com.
About Sonoma County Winegrowers: Sonoma County Winegrowers (SCW), was established in 2006, evolving from the Sonoma County Grape Growers Association, which was first launched in 1983 by local grape growers inspired to work together to elevate the region. SCW is a marketing and educational organization dedicated to the promotion and preservation of Sonoma County as one of the world's premier grape growing regions. With more than 1,800 growers, SCW's goal is to increase awareness and recognition of the quality, sustainability and diversity of Sonoma County's grapes and wines through dynamic marketing and educational programs targeted to wine consumers and influencers around the world. In 2014, Sonoma County's winegrowing community embarked on a major initiative to have all Sonoma County vineyards certified sustainable. Today, 99% of the vineyard acreage in Sonoma County has completed certification by a third-party auditor making Sonoma County the most sustainable winegrowing region in the world.  In addition, in 2020, SCW became the exclusive pilot partner for the California Land Stewardship's Climate Adaptation Certification. In 2022, SCW began envisioning a Farm of the Future which it officially introduced in 2023.  SCW's sustainability efforts have been recognized with California's highest environmental honor, the 2016 Governor's Environmental and Economic Leadership Award (GEELA).  Learn more at www.sonomawinegrape.org.
Media Contact:
Cathy A. Preece | Katherine Bening
Lou Hammond Group