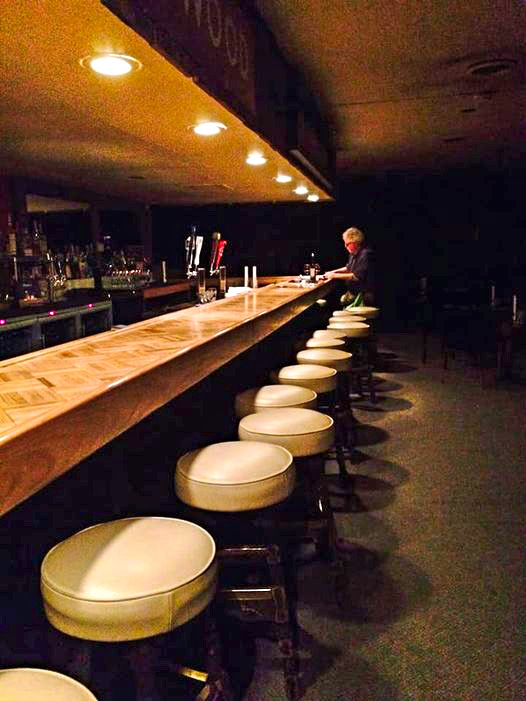 For nearly 42 years along Old Redwood Highway, in the heart of Larkfield, there was only one place to be, a true locals' hangout for business lunches and cocktail lounge gatherings with juicy prime rib, piping hot French onion soup and ice-cold Lemon drops from the bar: Cricklewood.
Tragically it burnt to the ground in the 2017 Tubbs Fire. Owners Lynette McGee and Michael O'Brien didn't even have the chance to grab the reservations book on the way out to let their patrons know. Their art-filled apartment upstairs perished as well. The location remains unbuilt.
But for four dynamic decades, Cricklewood rocked the local restaurant scene.
O'Brien fell in love with steakhouses in the late 1960s while living in Alameda as a Navy man. A decorated Vietnam War combat pilot, he was awarded the Distinguished Flying Cross and other honors for all his missions.
From Alameda he'd cross the Bay to dine at the Victoria Station in San Francisco, which became his inspiration for getting into the restaurant business.
A stint at the Miami outpost of the chain followed, where he happened upon the Cricklewood name, a suburb of London that adorned some of the British boxcar memorabilia the restaurant used. He soon transferred back to California to work at a Victoria Station in Sunnyvale.
Wanting to go into business for himself, he found a vacant restaurant in Larkfield owned by Rico and Mary Venturi that they had previously operated as Marico's, a favorite Italian spot of the 1940s and 1950s. Marico's often hosted a "Parade of Talent," on Friday nights, a chance to hear Sonoma County entertainers compete for cash prizes.
In between the location had served as a smorgasbord, a trendy signature of the post-World War II boom years of the 1950s and 1960s, when plentiful buffets became all the rage. In 1976, O'Brien took over the space, opening Cricklewood steakhouse.
He aimed to create a "rustic, country feeling," as he told The Press Democrat in a story from July, 1979. To that end, he procured 103-year-old wood from a torn-down house in San Anselmo. The dining room's walnut tables were made by a local gunstock carver. The booths were partitioned by old prune tree props.
O'Brien noted in the PD that his most steady customers were business people who considered Cricklewood "an office with food," and who came for lunch on corporate credit cards and back in the evening with their families.
In 1985 a PD story detailed how O'Brien let his customers put together the wine list.
"'They invariably select more Riesling and Gewurztraminer than I would,' said the Zinfandel lover," he told the paper.
Every October O'Brien would look through the Harvest Fair gold medal winners to determine which ones he could sell for $15 a bottle or less, tasting through the wines and selecting five or six of each variety. Those would then be tasted by 300 of his customers to get to a top 50 for the wine list for the next year or so.
Local wines, prime rib, French onion soup, Liar's dice and the fireplace bar were all a part of its enduring charm for power lunches, prom dinners and quick bites before events at the Luther Burbank Center. At one point it even had a literal watering hole for horses.
Along the way, local celebrity chef Guy Fieri even recommended the Cricklewood French Onion soup as not only his favorite hometown food, but the best French Onion soup he's ever had on the Food Network show, "The Best Thing I Ever Ate."
He praised O'Brien's version as "Vesuvius-hot" and "just a hair under the temperature of the sun," and acknowledged how the Cricklewood chef took his time to make it perfect. See the video about it here.
O'Brien passed away in 2021 from cancer at the age of 76. In his later years he became a student of Buddhism. His widow McGee keeps a Facebook memorial page going to keep in touch with patrons of the past. Have a memory of Cricklewood?