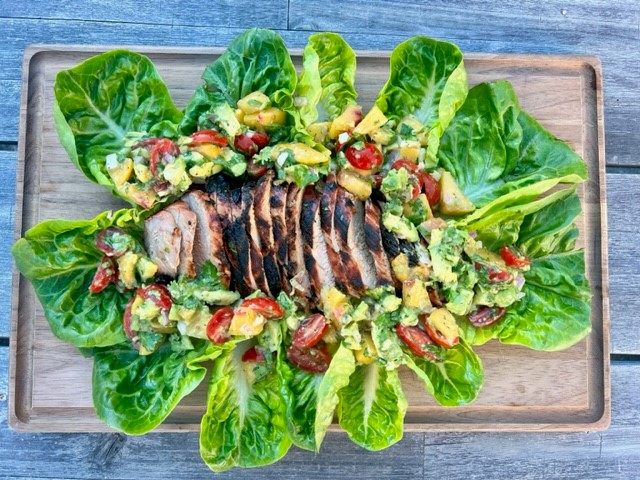 It's officially barbecue season and what better weekend to fire up the grill than Father's Day weekend. This barbecue pork tenderloin is a delicious recipe to celebrate this weekend or enjoy all summer long. It is full of flavor, textures and pairs well with Sonoma County Zinfandel. The peach salsa brightens up the dish making it the perfect topping.
Zinfandel, known for its versatility, showcases a wide range of styles, from light and fruity to rich and bold. Zinfandel's robust nature, often accompanied by notes of blackberry, raspberry, spice, and pepper, makes it an ideal match for the complex flavors of barbecue. The wine's fruity characteristics help balance the smoky and savory aspects of the food, while its tannins and acidity cut through the richness of the meat, enhancing the overall dish.
Looking for a perfect pairing? Try one of the following Sonoma County Zinfandels:
Nalle Winery Dry Creek Valley Classic Zinfandel
Martinelli Zinfandel Martinelli Road
St. Francis Old Vine Zinfandel, Sonoma County
Rafanelli Dry Creek Valley Zinfandel
BBQ Pork Tenderloin with Peach Salsa
Serves 6
Recipe by Rachel Thralls
Ingredients
2 lbs pork tenderloin
1 cup barbecue sauce (see below for homemade recipe or use your favorite store-bought)
4 peaches, pitted and diced
2 avocado, diced
½ cup red onion, finely diced
1 cup grape tomatoes, cut into halves or quarters
½ lemon, juiced
1 cup cilantro, chopped
Sea salt & black pepper to taste
6 cups favorite greens- little gems, baby arugula or spinach
For the homemade barbecue sauce:
½ cup tomato paste
1 cup water
1/3 cup maple syrup
2 tablespoons fancy molasses
3 tablespoons apple cider vinegar
1/2 teaspoon cinnamon
1 tablespoon cumin
2 teaspoons paprika
1 teaspoon onion powder
1 teaspoon garlic powder
1 teaspoon black pepper
1 teaspoon sea salt
1/2 teaspoon ground mustard
1/4 teaspoon cayenne pepper
Directions
If you are making the homemade barbecue sauce, in a saucepan over medium-high heat, stir together all ingredients and bring to a boil. Reduce heat and let simmer for 20 minutes, stirring occasionally. Transfer to a jar and let cool.
Place the pork and barbecue sauce in a ziplock bag and massage until well coated. Refrigerate overnight or at least 3 hours.
Meanwhile, make your peach salsa. In a bowl, combine diced peach, avocado, red onion, tomato, lemon juice, cilantro, salt and pepper. Refrigerate until ready to serve.
When ready to cook, preheat grill on medium heat. Place pork on the grill and cook for about 20 to 25 minutes. At the halfway mark, flip over and baste generously with leftover marinade.
Increase the grill to high heat and cook an additional 2 to 3 minutes until pork is a bit charred and completely cooked through. During this time, baste the pork with the leftover marinade 1 to 2 more times. Let rest for at least 10 minutes.
Slice BBQ pork and serve over your choice of greens with a side of leftover barbecue sauce. Top with peach salsa and enjoy!
Recipes Notes:
No BBQ: Roast marinated pork in the oven at 350ºF and follow the same instructions. Switch to the broiler for the final 2 to 3 minutes.
Make it Spicy: Add chopped jalapeno pepper or cayenne pepper to the salsa.
Serve with: Rice, roasted potatoes or pita bread.