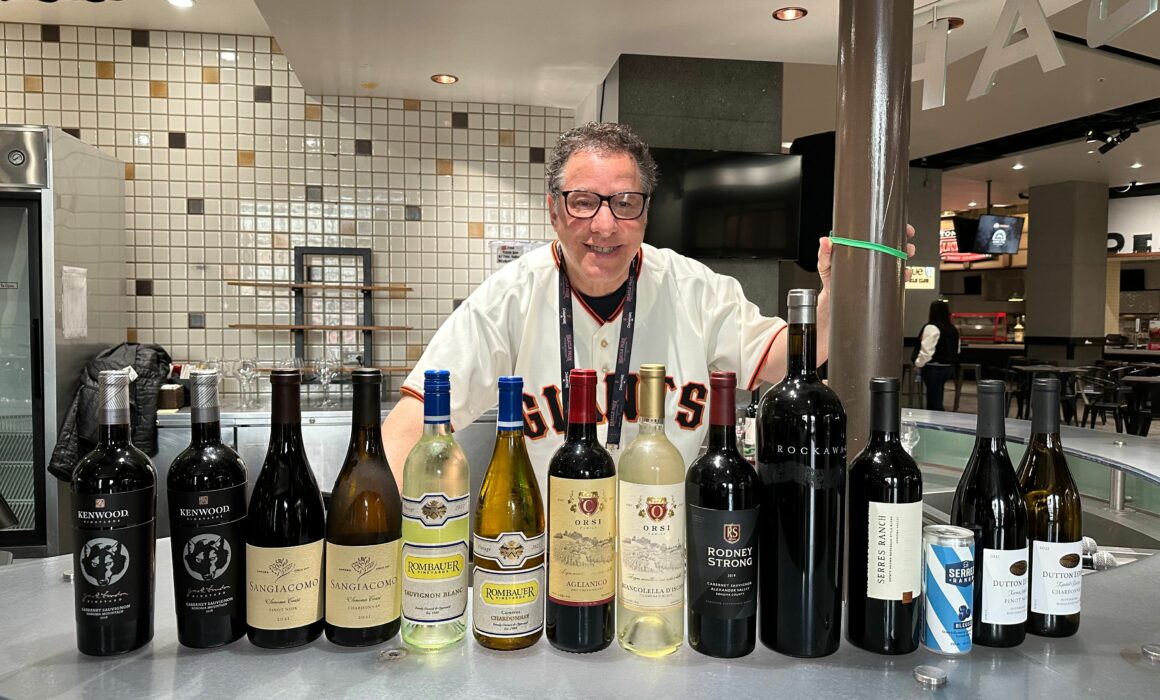 The Good Stuff
April 5, 2023
Virginie Boone
Baseball and Sonoma County Wine Will Always Go Together
The San Francisco Giants return to the West Coast after playing away this past week and will host their home opener on Friday, always a great way to ring in spring.
And while there are new players and new hopes for the season, the number one improvement from last year to this is the amplification of wine, namely Sonoma County wine, at Oracle Park.
This year Sonoma County Winegrowers were the exclusive sponsor of the San Francisco Giants annual FanFest, an event that takes place each February to celebrate the upcoming season. It made for a magical way to reach sports fans who love wine as much as baseball. And a chance to make wine more accessible, something Sonoma County has always done. Even better, Sonoma County Winegrowers is about to announce a longer-term partnership with the SF Giants and the possibilities seem endless, both to be a part of their fan experience at Oracle and to invite Giants fans here to Sonoma County.
In addition, for the first time ever, an American professional sports team has added a Master Sommelier to its roster, Evan Goldstein, MS, a San Francisco native and lifelong Giants fan, wine author, educator and wine industry consultant who has often lended his talents to the Sonoma County wine community.
In his role with the Giants, Goldstein will host in-person and virtual wine tastings, create wine pairings, help elevate wine selections and put together Wine Country field trips and such. At FanFest, Goldstein and the Winegrowers put on "Sluggers and Sommeliers," with several Sonoma County winery partners on hand pouring wines.
There were seven winery partners from Sonoma County at FanFest – Dutton Estate Winery, Kenwood Vineyards, Orsi Family Vineyards, Rodney Strong Vineyards, Rombauer Vineyards, Sangiacomo Family Wines and Serres Ranch Wine. Sonoma County is unique in that we grow over 70 different grape varieties that end up in commercial wines, so there are lots of ways to showcase this diversity to consumers. Many of these producers might also be new discoveries for a Giants audience.
While there's lots more to come for Sonoma County wine and the Giants this season, wine is nothing new to the Giants organization.
In 2015 I had the distinct pleasure of spending time with Bruce Bochy, then-manager of the SF Giants, who had led them to three World Series Championships (2010, 2012 and 2014). Bochy was a huge lover of wine. I had originally met him at a lunch for Rob Davis, the longtime winemaker at Jordan Winery; the two were great friends and Bochy a regular buyer of Jordan wines.
I asked Bochy how often he enjoyed wine.
"I'll have it four-five times a week," he said. "During the season it's sort of a fun thing we have, I tell the players, I only drink wine when we win. We play 162 games, it's a pretty done deal you're going to lose about 60 for sure, depending on the year. You play .500 you're going to lose 81 games, that's a lot of days without wine, so I tell the players I want wine tonight."
He also told me that one of the greatest perks of managing in San Francisco was the amount of season ticket holders in the wine industry, who would regularly drop off or send wines to him. In addition to Jordan, Bochy was a big fan of Williams Selyem and Rochioli Pinot Noirs.
But there are players that got into wine, too. Rich Aurilia played shortstop for the SF Giants from 1995 to 2003 and again from 2007 to 2009 and is currently a sports commentator with NBC Sports Bay Area. He lives part-time in Healdsburg with wife Amy.
Together with a pair of partners the Aurilias own Red Stitch Wine; Rolando Herrera makes the wines, which include several Pinot Noirs from Sun Chase Vineyard in the Petaluma Gap, and a Friends and Family Pinot Noir from a pair of vineyards in the Sonoma Coast. The latter is in collaboration with Dan Kosta of Kosta Browne, AldenAlli and now DK Wines/Convene, which runs a tasting lounge in the Bacchus Landing in Healdsburg.
Of course maybe no connection between Sonoma County wine and baseball shines brighter than the "Field of Dreams" regulation-sized baseball diamond in the middle of Balletto Vineyards in Russian River Valley.
Past right field there's Chardonnay growing; past left field it's Chardonnay, Pinot Noir and Pinot Gris. Many years ago, winegrower John Balletto put aside 4 acres to create this place for his employees to enjoy playing ball.
As we all look forward to a winning Giants season, let's raise a glass of Sonoma County wine to baseball, one of the world's greatest games.