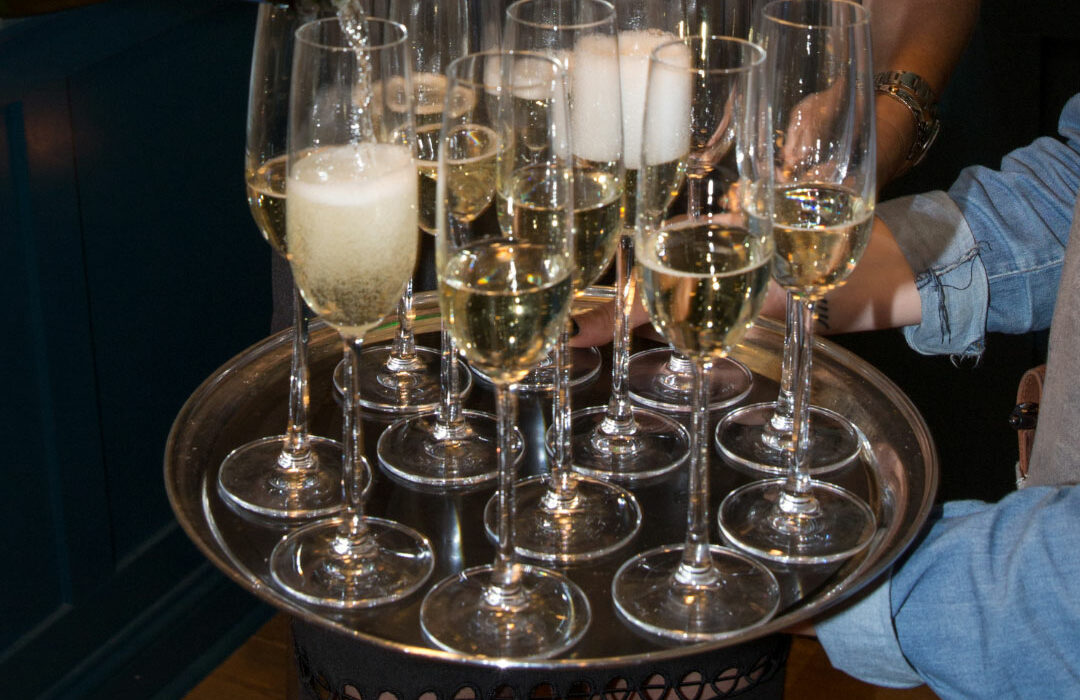 Sparkling wine has long been an important part of the Sonoma County wine and grape growing story, and the bubbles grown and made here enjoy worldwide recognition for their quality and appeal. 
Made from grapes that enjoy a cool climate, namely Pinot Noir and Chardonnay, Sonoma County sparklers remain a testament to the region's diversity – that this region can grow both heat-loving Zinfandel and Cabernet Sauvignon and the grapes needed for traditional sparkling wines is not something every area can claim. 
Carneros may be thought of as beating heart of this cool-climate grape production, but let's not forget the contributions of the colder pockets of the Russian River Valley and Green Valley, where much of Sonoma County's sparkling wine history began. 
The great old winery and brandy tower at Korbel Champagne Cellars were built in the 1880s along the Russian River on River Road between Forestville and Guerneville. This was after decades of the site serving as Sonoma Mills, a steam-powered lumber company also referred to as Big Bottom or Stumptown.  
Francis Korbel was the eldest of nine children. Anton and Joseph were two of his younger brothers. The three took over the 2,200-acre property and mill and established F. Korbel & Bros. in 1862 after immigrating to California from the Czech region of the Austrian Empire known as Bohemia.  
After buying the property, the Korbels were able to get Northern Pacific to extend the railroad out to their location, a key to their success. Built in 1876, it was the terminus of the Fulton-Guerneville branch until 1935. 
The brothers grew tobacco and had a cigar box operation for a time and also made redwood tanks from the wood harvested for lumber. As land was cleared, wine grapes increased in value and prominence. Korbel brandy was sold in large quantities to European immigrants living in the Midwest. 
Korbel sparkling wine had been made since 1882 without much fanfare. That changed with the hiring of fellow Czech Franz Hazek in 1896, whom the Korbels sent to France to study the traditional methode Champenoise techniques for making sparkling wine. 
By 1907, Korbel Sec and Grand Pacific made Korbel one of the top three producers of bottle-fermented sparkling wines in North America, according to "A Companion to California Wine" by Charles L. Sullivan.  
After Prohibition, John Hanuska continued to work for the second generation of Korbels and to make it famous, specifically via its Brut, made in a drier style. The business was sold to the Heck family in 1954. Adolf Heck was a third-generation winemaker from Alsace-Lorraine whose father had managed Cook's Champagne Cellars in St. Louis. 
Adolf himself worked at Cook's and served as president of the Italian Swiss Colony when it was the largest winery in the United States. At Korbel, he designed and patented the first automated riddling device for methode Champenoise production. 
In a 1953 "Press Democrat" story, Hanuska explained how the winery used Blue Portuguese, Pinot Noir, Petite Sirah and Charbono for its sparkling Burgundy; Pinot Chardonnay, Sauvignon and Franken Riesling to make its famous Korbel Sec and Brut. 
By the 1990s, Korbel was producing more than 1 million cases of sparkling wine a year and half-a-million cases of brandy.  
Iron Horse Vineyards was developed in 1970, just south of Forestville, cold enough to grow sparkling wine grapes. Rodney Strong planted the original 55 acres of Chardonnay and 55 acres of Pinot Noir.  
It has belonged to the Sterling family since 1976, who added a winery a few years later, and were instrumental in establishing Green Valley as its own American Viticultural Area. They now farm 160 acres of certified-sustainable vines that are divided into 39 blocks. 
A sense of place has always been elemental to Iron Horse and as a result, it has represented Sonoma County well at the White House, where Iron Horse bubbles have been served through six consecutive presidential administrations, beginning with Ronald Reagan. 
Piper Sonoma came next, founded in 1980. A partnership between Piper Heidsieck of Champagne and Rodney Strong's Sonoma Vineyards (now Rodney Strong Vineyards) when it was owned by Renfield Importers, the joint venture sought to produce a methode Champenoise sparkling wine from Sonoma County grapes. 
An $8 million facility was built in 1983, and thousands of cases were made before Piper-Sonoma was bought by Remy-Cointreau USA. Remy-Cointreau sold 118 acres of Russian River Valley vineyards and the production facility to J Vineyards in 1996 and continued to make Piper-Sonoma at the site until 2007, when it moved the brand to Rack & Riddle Custom Wine Services in Hopland. 
J was the vision of Judy Jordan, a geologist whose parents had founded Jordan Winery in Alexander Valley. Founding J in 1986 when she was only 26 years old, she operated the business until 2015, the year she sold it to E. & J. Gallo. 
1983 was also the year the Ferrer family of Freixenet sparkling wine in Spain came to Carneros. They bought 160 acres of pastureland and started planting 50 acres of three quarters Pinot Noir and one quarter Chardonnay, knowing the cool and windy conditions would be ideal for sparkling wine.  
Three years later, a Catalonian-style winery named for the family matriarch, Gloria Ferrer, was built for methode Champenoise production, becoming the first sparkling winery in Carneros. 
Today, Sonoma County is also home to Breathless Sparkling Wines, a partnership between sisters Sharon Cohn, Rebecca Faust and Cynthia Faust. The two Faust sisters also run Rack & Riddle, which is home to hundreds of winery clients looking to make a methode Champenoise sparkling wine. The consulting winemaker there is Penny Gadd-Coster, who was one of the earliest winemakers at J. 
Lastly, for all things sparkling wine, spend some time with Sparkling Discoveries, a site founded by Vicky Farrow of Amista Vineyards in the Dry Creek Valley. It features conversations and resources about one of the world's favorite drinks. 
So raise a glass this New Year's Eve to Sonoma County's long lineage of bubbles, among the best in the world.