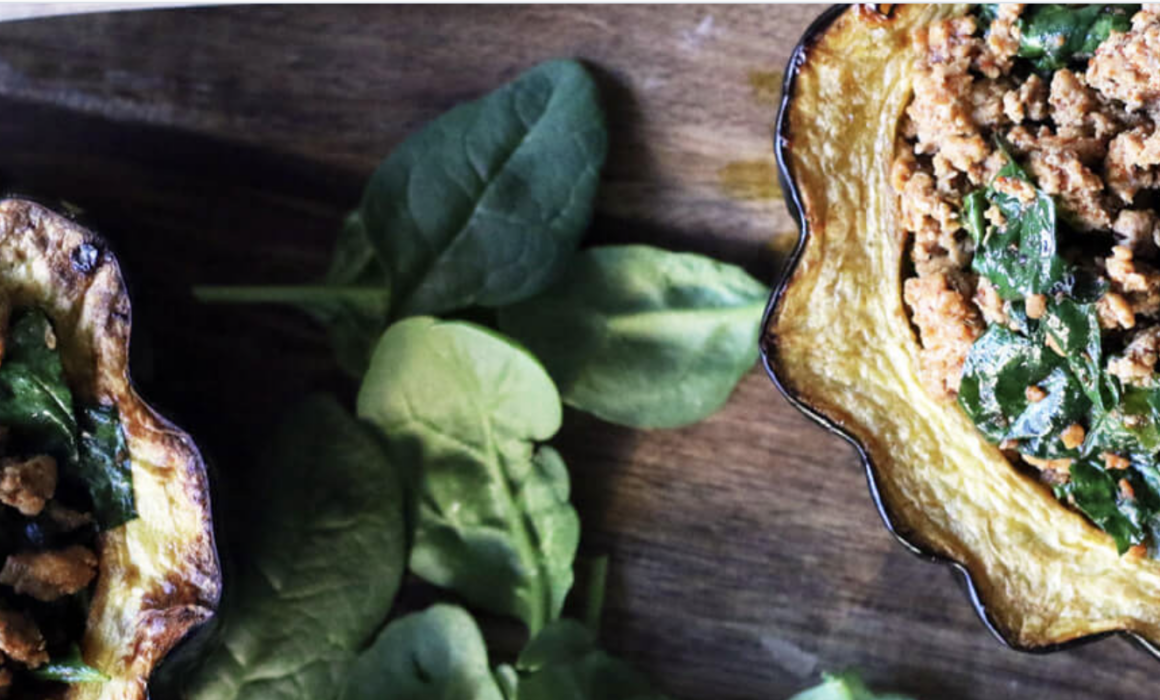 By Rachel Thralls
We are all enjoying the cooler, crisp air here in Sonoma County during this beautiful fall season. One of the things I love most about this season is creating comforting and warm roasted dishes that are easy to make, taste delicious and can even use up some of that leftover Thanksgiving turkey! This stuffed acorn squash bowl recipe is not only beautiful to serve, it's packed with healthy ingredients and pairs well with a variety of Sonoma County wines! Enjoy throughout the holiday weekend using up that leftover turkey or make for an easy week night dinner this fall.  
Sonoma County wines to pair and enjoy: 
Cartograph's Gould Family Vineyard Riesling 
Peay Vineyards Estate Chardonnay
​Rafanelli Winery & Vineyards Zinfandel
Stuffed Acorn Squash Bowls 
Serves 4 
Ingredients: 
2 acorn squash 
1 teaspoon olive or avocado oil  
Salt/pepper 
1 cup cooked wild rice 
½ onion, chopped 
2 stalks celery, chopped 
2 cups cremini mushrooms, thinly sliced 
1 tablespoon oregano 
1 lb leftover Thanksgiving turkey meat (chopped or shredded) OR cooked ground turkey meat 
3 cups baby spinach 
¼ lemon, juiced 
Salt/pepper to taste 
Fresh parsley to garnish 
Directions: 
Preheat the oven to 425ºF. Cut the acorn squash in half across. Drizzle the oil and sprinkle salt/pepper on the squash. Place cut side down on a baking sheet lined with parchment paper. Bake for 20 to 30 minutes, or until tender when pierced with a fork.
2. In a pan, over medium heat, add the onion and celery and cook for 4 to 5 minutes, then add the oregano and mushrooms, cook for 4 to 5 minutes. Add the leftover Thanksgiving turkey and spinach and stir until turkey has warmed through and spinach has wilted.
Remove the pan from the heat and add the wild rice to the pan along with the lemon juice and salt and pepper to taste. Mix all the ingredients well. 
Spoon the turkey mixture into the baked squash and garnish with parsley. Enjoy!
Recipe Notes: 
Vegan & Vegetarian: Use lentils or black beans instead of turkey meat. 
Save Time: Roast acorn squash ahead of time and warm it at the time of meal. 
Leftovers: Store covered in the fridge up to 3 days. Reheat in the oven, toaster oven or slow cooker. 
Extra Protein and Healthy Fat: Top with a fried or poached egg. 
Waste Not, Want Not: Set aside the seeds from the acorn squash. Rinse them and spread them across a tea towel to dry. Roast in the oven for a delicious snack!