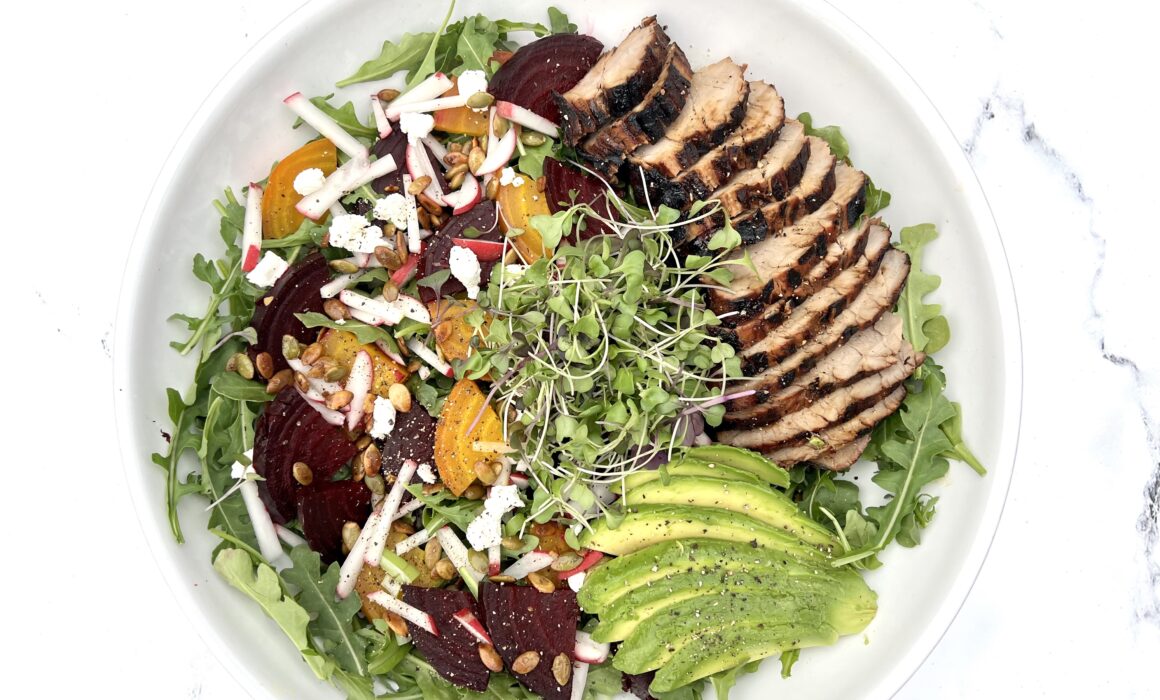 Spring has finally sprung here in Sonoma County which means warmer temperatures, new in-season produce to add to our daily meals and of course the start of grilling weather! A few of my all-time favorite ingredients to use in a salad are in season this month: arugula, avocados, beets and radishes. Each of these ingredients brings a unique taste and texture to the salad. I also love pairing Sonoma County Pinot Noir with a wide range of salads and especially with a beet salad since they complement each other's earthiness. Head to your local butcher or grocery store to grab the pork tenderloin and fire up your grill to officially kick off the season! 
Looking for a perfect pairing? Try one of the following Sonoma County Pinot Noirs: 
Bucher Wines, Bucher Vineyard, Russian River Valley Pinot Noir 
Davis Bynum Russian River Valley Pinot Noir 
The Calling Wine Russian River Valley Pinot Noir 
Lynmar Estate Russian River Valley Pinot Noir 
Spring Beet & Arugula Salad with Honey Dijon Pork Tenderloin 
Serves 4 
Recipe by Rachel Thralls 
Ingredients: 
For the salad: 
2 small to medium red beets, skin on & washed 
2 small to medium golden yellow beets, skin on & washed 
5 cups baby arugula 
1 cup radishes, sliced or chopped 
4 green onions, sliced 
1 avocado, sliced  
¼ cup roasted pumpkin seeds 
½ cup local Sonoma County goat cheese, crumbled 
Top with Sprouts or micro-greens 
For the salad dressing: 
¼ cup extra-virgin olive oil 
2 tablespoons balsamic vinegar 
1 tablespoon honey  
1 tablespoon Dijon mustard 
¼ teaspoon fine sea salt 
Freshly ground black pepper, to taste 
For the pork tenderloin 
1.5 to 2 pounds pork tenderloin 
1/2 teaspoon salt  
1/4 teaspoon black pepper  
1/3 cup balsamic vinegar  
2 tablespoons honey  
1 tablespoon Dijon mustard  
Directions:  
In a medium mixing bowl, add all of the pork tenderloin marinade ingredients and mix well to combine. 

Place the pork tenderloin in a large zip lock bag and add the marinade. Carefully close the bag and move the pork and marinade around with your hands to completely cover the steak. Add to the refrigerator to let the steak marinate for up to 12 hours, 2 hours minimum. 

Remove the pork tenderloin from the refrigerator about an hour before grilling to bring it to room temperature. 

Preheat the oven to 400ºF. Wrap the beets in foil and bake for 40 to 45 minutes, or until cooked through. Remove the beets from the oven, let them cool then peel and slice into quarters.

5. Preheat your outdoor grill (or indoor grill pan) to medium-high heat. Sprinkle the pork with a little more salt and pepper on both sides. Grill on lightly oiled grill rack over medium-hot fire, turning frequently, until an instant-read thermometer inserted diagonally 2 inches into meat registers 145 degrees F, about 20 minutes. Transfer to a cutting board, then tent loosely with foil and let stand 10 minutes before slicing. 

While the pork is resting, mix together the salad dressing ingredients and set aside. 

Add the arugula to a large salad bowl. Add the roasted beets, radish, green onions, avocado, pumpkin seeds, goat cheese and micro-greens on top of the greens. Add the dressing and toss to combine. 

Divide salad into bowls and top with slices of pork tenderloin. 

Serve and enjoy with your favorite glass of Sonoma County Pinot Noir!
Recipe Notes: 
Dairy-Free: Omit the goat cheese, or use a plant-based cheese instead. 
No Pumpkin Seeds: Omit or use sunflower seeds instead. 
No Honey: Use maple syrup instead. 
Save Time: Roast the beets ahead of time.