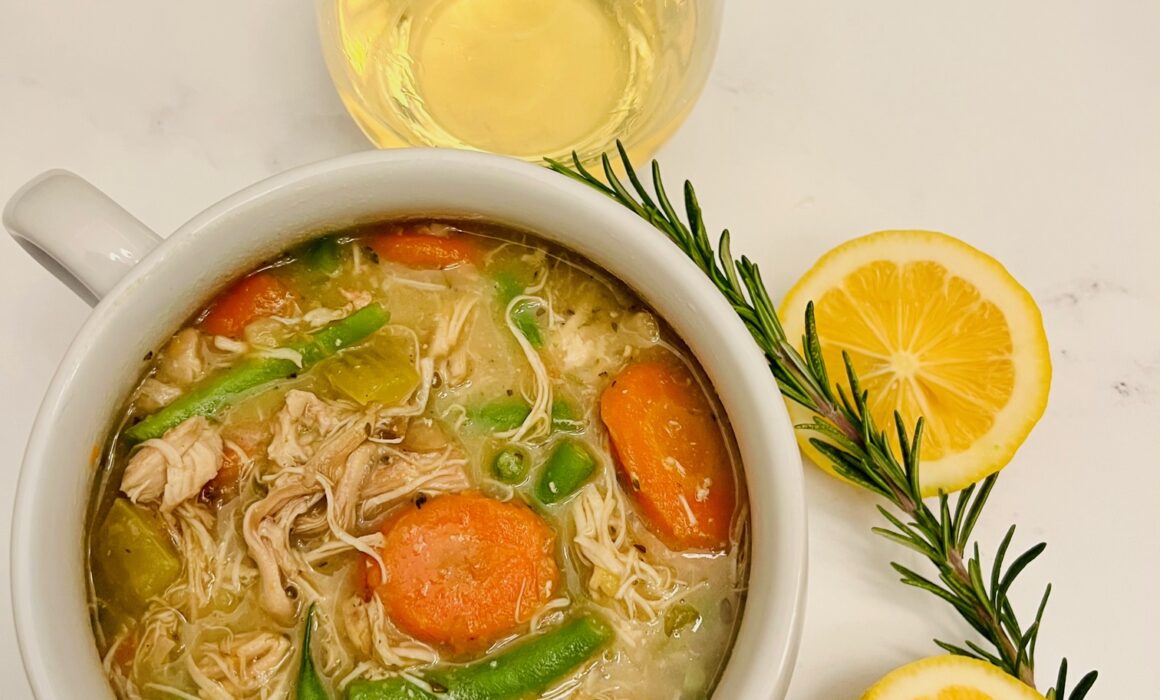 Although springtime has sprung here in Sonoma County, we are still getting record breaking rain and cooler temperatures. I am still enjoying making cozy stews to enjoy during this weather but with a spring flare by adding in lighter white wine and spring vegetables. This slow cooker chicken stew is thick and creamy without being too heavy, filled with a wonderful blend of herbs and flavors and of course, includes wine! I love enjoying a glass of wine while I cook and using that same wine in the recipe. For this slow cooker chicken stew, I love pairing it with local Sonoma County Sauvignon Blanc with just enough acid to cut through the creaminess of the stew.  
Looking for a perfect pairing? Try one of the following Sonoma County Sauvignon Blancs: 
Dutton Estate Kylie's Cuvée Sauvignon Blanc 
Kokomo Timber Crest Vineyard Sauvignon Blanc 
Rodney Strong Vineyards Charlotte's Home Sauvignon Blanc 
Slow Cooker Chicken Stew 
Serves 6 
Ingredients: 
1 ½ lbs. boneless, skinless chicken thighs 
1 tablespoon extra-virgin olive oil 
Salt/pepper (to sprinkle on chicken) 
1 large onion, diced 
3 large carrots, sliced into ½ inch chunks  
2 celery stalks, chopped 
3-4 garlic cloves, minced 
1 lb. baby potatoes, diced 
2 cups chicken stock 
½ cup white wine (pairing with Sauvignon Blanc works best!) 
1 tablespoon Worcestershire 
1 teaspoon balsamic vinegar 
2 teaspoons fresh rosemary, chopped 
2 teaspoons fresh thyme, chopped 
½ teaspoon dried oregano 
Sprinkle of salt/pepper 
1 cup green beans, trimmed and chopped into 1-inch pieces 
¼ cup flour 
½ cup unsweetened almond milk (or your favorite milk!) 
Directions: 
Heat olive oil in large pan on stovetop to medium-high heat. Add chicken thighs to cover in single layer (be careful not to overcrowd), sprinkle with salt and pepper. Brown on each side for about 3 minutes, remove from pan and add to slow cooker. Repeat for all pieces of chicken thighs. 

Add onion, carrots, celery and garlic to pan and brown for 5-6 minutes until soft. Add drizzle of white wine to scrape up all of the browned bits from the bottom of the pan. Add to slow cooker on top of chicken thighs. 

Add diced potatoes, chicken stock, rest of white wine, Worcestershire, balsamic vinegar, rosemary, thyme, oregano, salt and pepper to slow cooker. 

Cook on low for 6-8 hours, adding the chopped green beans for the last hour. 

Once done, take 2 forks and pull apart the chicken thighs which will easily fall apart. 

Take ½ cup of slow cooker stock/liquid and add to a bowl. Add the flour and whisk until well combined, then add your milk. Add back into slow cooker and turn to high for 15-20 minutes to thicken the stew. 

Serve in bowls and enjoy immediately with your favorite glass of Sonoma County Sauvignon Blanc!
Recipe Notes: 
Serve with: Crusty local bread, cornbread or homemade biscuits.  
Leftovers: Refrigerate in an airtight container for up to three days. Freeze for up to one month. 
Serving Size: One serving is equal to approximately two cups. 
Additional Toppings: Lemon juice and/or fresh herbs.