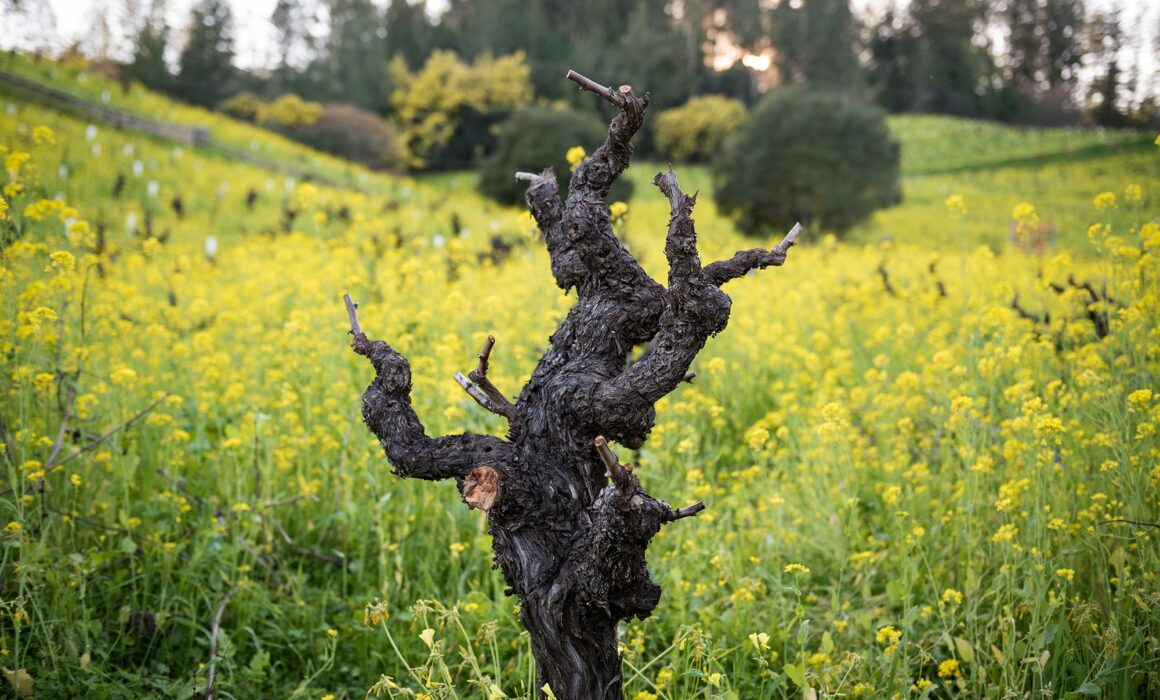 By Rachel Thralls
Happy National Zinfandel Day! Zinfandel is a versatile red grape variety that has a rich and intriguing history. While its origins were long debated, it has been established that Zinfandel has deep roots in Croatia, where it is known as Crljenak Kaštelanski. The grape made its way to the United States in the 19th century, particularly to California, where it flourished and gained immense popularity. 
Zinfandel is celebrated for its bold and robust characteristics. It typically showcases flavors of dark berries, like blackberry and raspberry, often accompanied by spicy notes such as black pepper and cloves. The varietal is known for its diverse range of styles, from the jammy and fruit-forward to the more complex and nuanced, depending on the region and winemaking techniques employed. 
Sonoma County Zinfandel begins with the legacy of the vines. With a history dating back to the 19th century, these gnarled and resilient vines have weathered the test of time, surviving both droughts and the ever-changing landscape of winemaking. The combination of warm days and cool nights, thanks to our county's diverse microclimates, imparts a unique character to the grapes, setting the stage for the creation of exceptional Zinfandel wines. 
Sonoma County's geography is a patchwork of microclimates, each contributing its own nuance to Zinfandel. From the fog-kissed Russian River Valley to the sun-drenched Dry Creek Valley, the diverse terroir shapes the grapes in distinct ways. The Zinfandel from the cooler regions tends to showcase bright acidity and red fruit flavors, while those from the warmer areas boast bold, jammy characteristics. This diversity allows winemakers to craft a spectrum of Zinfandel styles. 
Fun & Fast Facts About Zinfandel: 
Zinfandel has been touted as "America's grape," but it actually comes from Croatia and was likely brought to the USA in the early 1800's. 
The Italian name for the grape, Primitivo, comes from the Latin word "primativus" and the old Italian word "primaticcio," both mean "early ripener" or "first to ripen." 
Zinfandel berries are thin skinned, but they are also quite small, which means less skin-to-juice ratio and therefore potentially higher tannins. 
About 8%, a little more than 4,600 acres of Sonoma County vineyards are planted to Zinfandel. 
Our Favorite Zinfandel Food Pairings: 
Barbecue, barbecue, barbecue! Try ribs, brisket, spicy sausages, grilled chicken, roast lamb, pulled pork, bacon-wrapped tenderloin, game meats, and burgers 
Thanksgiving turkey! 
Meat-topped pizzas 
Veggies too! Caramelized onion, fire roasted red peppers or tomatoes, grilled eggplant, mushrooms, olives, zucchini and more. 
Looking to Celebrate Today with a Sonoma County Zinfandel? Try One of Our Favorites from the Following Wineries:  
Photo by Dry Creek Vineyard