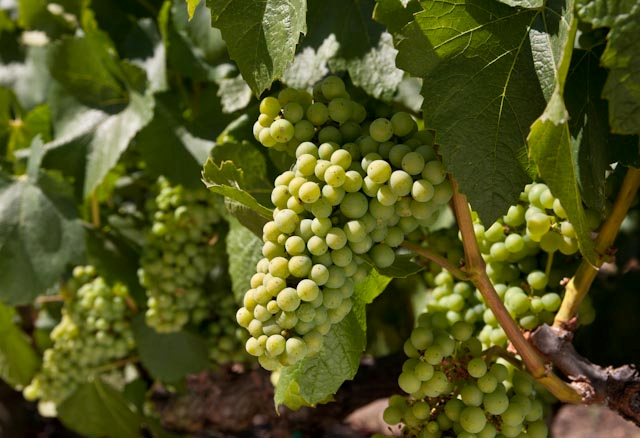 Happy International Chardonnay Day! It's time to celebrate one of the most beloved and celebrated wines in the world, Chardonnay. Every year, on the Thursday before Memorial Day weekend, wine lovers from around the world come together to honor this white wine varietal on Chardonnay Day. When it comes to white wine, few varietals hold the same level of allure and global recognition as Chardonnay. Renowned for its wide range of styles, complexity, and ability to reflect the terroir of its origin, Chardonnay has firmly secured its place as one of the world's most beloved and esteemed grape varieties. In honor of this day, we wanted to share more about the origins of Chardonnay, it's place here in Sonoma County, along with some fun Chardonnay facts and food pairings.
Originating from the Burgundy region of France in a small village in the Mâconnais region, Chardonnay can trace its roots back centuries. The name originally meant "place of thistles" or "thistle covered place." This noble grape variety gained international prominence in the late 20th century, as winemakers around the world recognized its potential for crafting exceptional white wines. Today, Chardonnay is cultivated in diverse wine regions across the globe, from California to Australia, and from South Africa to New Zealand and is one the most widely planted grape variety, globally.
Here in Sonoma County, Chardonnay is the number one variety planted in a little over 15,000 vineyard acres, which makes up about 26% of total vines planted. It was first planted in Sonoma County by Hanzell in Sonoma Valley in the 1950's followed by the Dutton family in the Russian River Valley in the 1960's. It can now be found planted all across the county in many different AVA's. Chardonnay thrives in Sonoma County's diverse microclimates and varied soils, allowing for a range of styles and flavors in the wines produced. Sonoma County's cool climate, influenced by the Pacific Ocean and the Russian River, creates ideal conditions for Chardonnay grapes, resulting in wines with vibrant acidity and expressive fruit flavors.
One of the remarkable aspects of Chardonnay is its versatility. From crisp and unoaked to rich and buttery, Chardonnay offers a wide array of styles to suit different palates. Burgundian Chardonnays, characterized by their elegance and minerality, showcase the grape's true essence. On the other hand, New World Chardonnays often exhibit bolder flavors, with oak aging lending creamy textures and notes of vanilla and tropical fruits. Chardonnay wines showcase a diverse spectrum of flavors and aromas, influenced by factors such as climate, soil, winemaking techniques, and aging processes. In cooler climates, Chardonnay tends to exhibit crisp acidity, along with notes of green apple, citrus, and minerality. In warmer regions, the wine develops riper fruit flavors such as tropical fruits, peach, and melon.
Chardonnay's flexibility extends to food pairings, making it a fantastic companion to a wide range of dishes. Its medium to full body and balanced acidity allow it to pair beautifully with seafood, particularly buttery lobster, grilled shrimp, or creamy scallops. Poultry dishes, such as roasted chicken or turkey, are also enhanced by the wine's richness and complexity. Chardonnay's ability to handle cream-based sauces and buttery preparations makes it an excellent choice for creamy pastas, risottos, and even mild cheeses.
Let's raise a glass of Sonoma County Chardonnay today in honor of International Chardonnay Day!